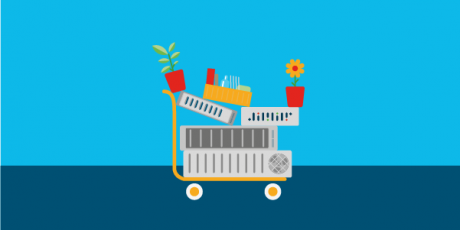 Small and Medium Business
Outgrowing the office – it's a nice problem to have
Your business is growing. Business is booming and you are taking on new staff.  On the one hand, brilliant news.  Your business is a success.  Result!
Then you hit an all too familiar issue, you are running out of space.  There simply isn't enough room to give everyone a desk.  Often it's not just your physical space, your IT infrastructure is also starting to creak and groan with the increased demands you are placing on it.
There's the rub though: Your lease still has some time to run, it's going to be a huge upheaval to relocate, or there simply isn't anywhere suitable to relocate to.  Be it down to cost, location or configuration.  And, frankly, you like your current location.  Plus, you hadn't scoped for a network refresh just yet.
Sound familiar? It's time to think smart to find an alternative solution.
Before you start reaching for the estate agent details, consider:
Smart investments now could save you significant sums in the future – choosing IT solutions designed for scale and elasticity could be the solution you hadn't thought of yet.
Plan with intent – rethinking your operations could enable you to do more with what you have now.
Be smarter in the way you manage your workloads to make more of the infrastructure you have. So, you can optimise, get full visibility and be secure.
Do you really need to move?
It's time to think space for tasks not for job roles, creating a more agile workspace where more people can be effective in the same or even less space.
For many job roles, it could be time to embrace remote working. Maybe it's time to start thinking of the home-office as the extra square footage you are looking for.
Are you really overflowing? What is your true space utilisation? By understanding who is where and when, you may unlock untapped potential in your existing space.
Do you all need to move? With the right IT infrastructure and collaboration tools, maybe you could operate from multiple locations.
The challenge with all these potential solutions is ensuring not only your physical space shapes up, but that you also have the right IT infrastructure to support your objectives.  Without impacting productivity, team morale and effectiveness.
And of course, whichever route you go down, you need to figure out the budget. The right IT investment upfront could save you in operational costs, enable you to do more with less, or faster. Which in turn could free up the budget for rethinking your existing space, or for moving on up when the time does come.
From cloud based solutions to software-defined networking and the latest collaboration solutions, discover the ingenious ways the right approach to your IT infrastructure can solve your office space conundrum, perhaps without having to move at all.

Tags: