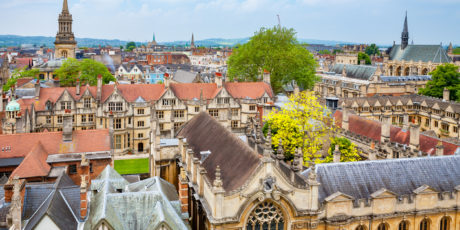 Cisco UKI
UK productivity is in a long-term slump: how can we reverse this downturn?
The Cisco UK Productivity Index reveals vast disparities and inequalities – but with investment and the right policies, we can buck this trend.
The UK has been a productivity leader since before the Industrial Revolution. However, the global financial crisis has resulted in productivity stagnation for well over a decade. The UK now produces a third less each per hour than France, Germany and the US, with productivity growth reportedly at its weakest since the 1820s.  But why have we fared so badly since 2007?
Examining UK productivity
We wanted to obtain an accurate assessment of current UK productivity levels, examine why some regions are more successful than others and explore how we can end this stagnation. The result is The Cisco UK Productivity Index, developed with Oxford Economics and covering 391 UK areas, as defined by local government boundaries.
The Cisco UK Productivity Index differs from other studies in that it removes the usual productivity measurement biases caused by dominant industries – the 'industry effect'. This has allowed us to evaluate the impact of non-industry factors such as local transport, infrastructure and IT investment, revealing the 'area effect'.
The results
On a positive note, the most-productive areas – Wandsworth, Camden and Slough – rank alongside some of the world's most successful areas, ahead of Amsterdam, Copenhagen, and Frankfurt.
And while it's probably no surprise that 15 of the 20 strongest-performing areas are in Greater London, there are other pockets of local success: Ribble Valley; Reading, Wokingham and Slough in the M4 corridor; Warwick and Stratford-upon-Avon in the West Midlands and North East Scotland.
Sadly, the extensive disparities revealed in The Productivity Index are probably no surprise either, with eight of the 20 lowest ranking areas in Wales and many in rural locations. Worryingly, our 10 core cities – Birmingham, Bristol, Leeds, Liverpool, Manchester, Newcastle, Nottingham, Sheffield, Glasgow, and Cardiff – are all under-performing.
Solving the productivity puzzle
While there are regional trends (London's overall success being a case in point) Core City underperformance combined with intra-regional variation (including areas in the West Midlands and North West), indicate that geographical location is only part of the answer. Which is why the Index identifies four key pillars associated with productivity:
1.     Technology: access to high-quality technology has a positive effect on company productiveness.
2.     People: there is a clear correlation between local productivity and workforce skills.
3.     Business structure and innovation: structure and size influences productivity levels, as does investment in innovation.
4.     Geography and physical infrastructure: transport links and infrastructure plus proximity to other businesses aid recruitment and productivity.
Turning the tide
It sounds obvious but tackling underperforming areas would greatly improve national productivity. For example, if every UK area achieved its benchmark productivity level, this would result in an extra £140 billion to our annual GDP, adding 7.5% to the economy. Success in the 10 Core Cities alone in 2018 would have generated around £18 billion (approximately 1% of national GDP).
How we're supporting productivity growth
I've said before that digital technologies can help bridge productivity gaps.
These include:
5G, which is making the world more readily accessible to remote (and other) locations
Super fast Wi-Fi, for example on trains, which we've proved enhances passenger productivity and train operations
Cyber security to protect organisations from damaging security breaches.
Technology can't succeed in isolation though, which is why alongside digital innovation, we provide digital skills training through our Networking Academy and in hundreds of libraries across the country. It's also why we recently committed an additional $100 million to help accelerate the UK's digital transformation, working in partnership with public and private sector.
A more productive nation
The Cisco UK Productivity Index has been developed to support central government policymakers, local authorities, industry and businesses leaders consider which of the four pillars will sustain productivity levels in successful areas while helping boost underperforming ones.

Although there is no silver bullet for raising productivity, technology can be a big part of the answer and there are a number of actions we can take as a country to maximise the opportunity. On a national level, overhauling our existing IT infrastructure structure to address our low full-fibre penetration rate is one example alongside ensuring sufficient spectrum for future Wi-Fi and enterprise networks.

Policy changes focusing on digital skills and life-long learning are another, as are improvements to national and local transport links. And there is also an onus on businesses to invest in technology and skills and learn from their best performing peers.

For more information, read an overview of the Index and download the full report.

Tags: