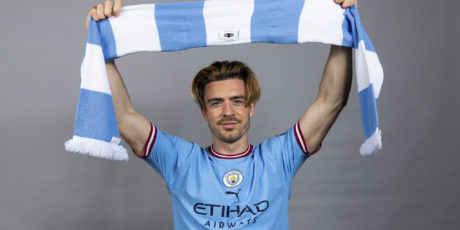 Innovation
The Scarf That Binds Us
There are so many different items fans wear to show their affinity and passion for their favorite team. While hats and jerseys are found in sports around the world, one that is truly iconic to the football world is the scarf. Colourful scarves started to appear nearly 100 years ago in England, but today they are mass-produced and nearly every football club has a scarf that fans can buy to show their fandom. Yet still, in the right colour, they mean more than words.
In our work with Manchester City FC over the past few years, we've continuously looked for ways to connect fans to the sport they love, on another level. The pandemic showed the rest of the world the power of a song (Blue Moon) sung together, and the importance of watching matches together via Webex when physically apart. It made us think about what else might be possible, and that brought us back to the scarf.
We knew that no matter what team you follow or where in the world you live; whether you watch every match from your favourite seat at your favourite stadium or from your lucky spot on the sofa, every football fan can relate to the emotional ups and downs that come with a passion for the game. From the heart-stopping moment before a game-winning goal, to the gut-wrenching agony of a last-second loss, football impacts its fans to the very core. And not just emotionally, but physically too.
Fandom is Physiological
We looked to whether there was a way to measure those ups and downs and get a better understanding of the emotion at the heart of the world's beautiful game. Welcome to the 'Connected Scarf:' a first-of-its-kind project in which sensors embedded in an iconic football scarf track and measure physiological data from fans during a match. The project anonymously tracked a range of data points from a control group of fans, including heart rate, temperature and emotional arousal, showing us how the body reacts at different key moments during a match. All of this insight will allow us to better understand fan behavior and reactions to potentially shape and enhance the fan experience through curated approaches.
From this season, Cisco and Manchester City will be exploring ways to bring the Connected Scarf to fans more widely. We are excited by what we'll discover and look forward to giving fans a unique and memorable experience. And looking further into the future, we are uncovering opportunities to bringing the Scarf to fans and teams around the world.
A Look Ahead
And, while we are just at the outset of exploration and measurement, the ambition for the project goes far beyond the empirical results. We want the scarf – an item that typically divides us by fan allegiance – to serve as a study in shared passion. A way for clubs, and fanbases everywhere, to revel in their love for this game that elicits such incredible emotion.
Find about more about the project:

Or find out more about
Tags: