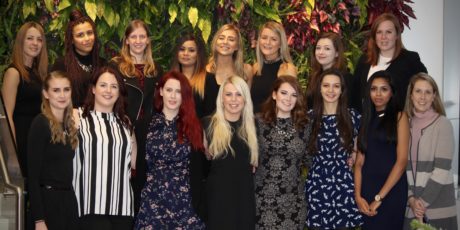 Our People
The Bridge Beyond my Apprenticeship

"Where do you see yourself in 5 year's time?"
Truthfully, 5 years ago I didn't see myself working within sales, let alone sales at an IT company. I graduated from my Cisco Apprenticeship coming up to nearly 3 years ago, and still to this day, reflect on the skills and experience that I learned whilst being an apprentice.
This week marks National Apprenticeship Week – a fantastic time to celebrate the amazing achievements of past and current apprentices, congratulate employers that offer apprenticeships and celebrate the effects that apprenticeships have on the wider community. As part of that I wanted to share my Cisco story.
What I learned in Cisco's Apprenticeship programme
Cisco is a multi-billion, worldwide leader in IT business, at the forefront of transforming how people connect, communicate and collaborate. It has a huge focus on those early in career with an award-winning apprenticeship programme.
It allowed me to experience a variety of roles and a heap of opportunities that I know I wouldn't have got elsewhere. I've completed professional qualifications, personal development trainings, led Woman in Tech projects.
On top of that, I've been an ambassador for a charity event, attended entrepreneurial events and even got the chance to go to San Diego for ten days during my time spent with our global HR team. I enjoy Cisco's ethos, from the flexible working environment to meeting so many different people.
No two days are the same at Cisco!
Looking back at my time as my apprentice, it was my eagerness to learn and openness to try new things that has got to me to where I am today.
Since starting at Cisco, I've been in 17 different teams and come to learn that I am very resilient; not everything will be easy but it's focusing on what I'm good at and what brings out the best in me and being able to apply that to the team I am in.
The bridges I've created from the experiences that I've had and the people I've met led me into a role within sales. I'm passionate about our technology and what it enables customers to do, I very much enjoy working with people and relish working in a more pressured (good pressure!) environment.
I graduated into the UK Small Business team in 2017, as a project specialist and I am still working in the same team as an Territory Account Manager. Even within my role now, I am still learning new things and encouraged to keep developing both professionally and personally.
Find out more about Cisco's Apprentice programme
Tags: