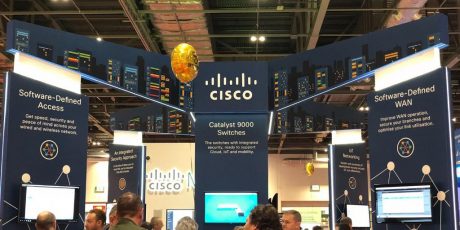 Innovation
Tech conferences should be more than a marketplace: they are our forums for the future
Every year, thousands of the world's IT professionals descend on London's ExCel centre for the European leg of IP EXPO.
It pulls in experts and exhibitors looking to ruminate on everything from cyber security to AI, IoT, blockchain and more – and for Cisco presents an ideal opportunity to showcase the work our innovation teams across the globe have been doing.
At this year's expo, we were demonstrating three of our innovation projects in particular.
Visitors were invited to don hi-vis jackets and hard hats to test out our AI-enabled workplace safety solution – AI-SAFE.
📽 alert! Follow the thread to hear our innovation guru @myro_ give us the low-down on some of our favourite projects…

First up: AI-SAFE 🛠👷‍♀️#IPExpoEurope pic.twitter.com/njtnKeVY8O

— Cisco UK & Ireland (@CiscoUKI) October 4, 2018
Some who had travelled long distances by train to be at the show were intrigued by Project SWIFT and its goal of connecting the world's railways.
An interactive demo of the solution's capabilities struck up conversations about the vast and unexplored potential of better connected railways – going far beyond just communication and entertainment, and illuminating how the technology will aid real-time security and maintenance reports, among other things.
Alight here for a demo on super-fast in-train WiFi 🚂

Want to learn more? Read up on Project SWIFT here 👉 https://t.co/ZGOkVlrJ5i #IPExpoEurope pic.twitter.com/vfQPBpQ5eO

— Cisco UK & Ireland (@CiscoUKI) October 4, 2018
Our Farming Decision Platform, meanwhile, had travelled perhaps further than anyone – all the way from our innovation centres in Australia.
The solution brings together a variety of cutting-edge technologies to demonstrate the benefits that improved connectivity could offer remote farming locations in rural Australia.
Last but by no means least..here's how we're helping farming moo-ve on with Farming Decision Platform 🐮🌾🚜 #IPExpoEurope pic.twitter.com/4wrbcSeXo5

— Cisco UK & Ireland (@CiscoUKI) October 4, 2018
Of course these are just three examples of Cisco's innovation projects from around the globe, but they offered a strong vision of how we're implementing both new and existing technologies in innovative ways – including AI, IoT, big data, and endless combinations of these ingredients.
As might be expected from a show at which curiosity and debate is encouraged, some of our ideas were met with very interesting and new points of view about where technology is today and how can this work in a real working environment. With these discussions and demonstrations, we're able to act as a bridge between what's seen as possible now, how that will shape the future and how we can help achieve transformative innovation.
In many ways, from an innovation perspective at least, that's the real value of events like IP EXPO.
Proof of concepts, by their very nature, exist to stir thoughts and spur on conversations about the possibilities of technology. Open-minded events and their patrons provide the ideal forum for these conversations to take place.
And as technology continues to develop ahead of the pace of policy-making, these conversations will only become more important. The gig economy and the rise of connected and autonomous vehicles are just two examples of legislators being forced to play catch-up. Greater public awareness of the power of data is also contributing to enhanced scrutiny of the companies responsible for the world's valuable information.
Demonstrating our ideas to the world and engaging our peers in critical discussion gives us the chance to generate invaluable feedback loops. This, of course, is what we share back with our broader innovation ecosystem, and what informs the direction of new projects and partnerships along the way. Open discussion, innovation, and investment are key to solving the challenges we're working to tackle every day.
Because ultimately, it's not just about the technology itself. It's also about working out how to introduce these advances into society in a way that's cohesive and conducive to making the world a better place.