Start-up Hub
#SundayStartup no. 4 – the top five stories for tech start-ups this week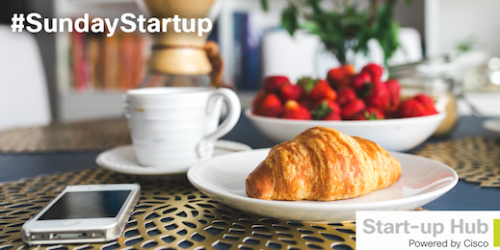 Welcome to this week's edition of #SundayStartup, where we pull together all the best news and views from the past seven days. This week saw record breaking funding rounds, some forward thinking initiatives from the UK government, a man riding a working hoverbike and more.
If you've seen something over the past week that you think might be of interest then get in touch over on Twitter using the #SundayStartup hashtag:
Rare Beasts – Why Does UK Startup Culture Produce So Few Gazelles
Forbes investigated the UK start-up scene's apparent growth stunt problem. Citing a Barclays Bank report including research from Oxbridge business schools, the article notes a discrepancy between the number of technology start-ups in the UK – second in volume only to the US – and the percentage of those achieving 'scale up' status. Relatively low levels of VC funding are seen as a key contributor.
UK government exploring blockchain tech to distribute taxpayer money
Tech City News reported that the government is looking into how it might use blockchain technology for distribution of taxpayer money. The proposed move is seen as part of the government's efforts to stay up to date with the Internet age and the increasingly digital way in which people want to interact with service providers and public bodies. This is something that we're already familiar with at Cisco, and our very own Alison Vincent recently took a look at some of the many potential use cases for blockchain technology.
Ant Financial, the Alibaba affiliate that operates Alipay, raises $4.5bn at a $60bn valuation
Following Alibaba's record busting IPO last year, its financial services affiliate company announced the completion of a staggering $4.5bn Series B funding round this week. TechCrunch covered the news, noting that it is the largest investment in a tech company to date and pegs the company at a valuation of as much as $60bn.
Canadian who took on Facebook named UK information commissioner
Elizabeth Denham was approved by the Department for Culture, Media and Sport Select Committee to take on the role of UK Information Commissioner, The Guardian reported. Pending the Queen's approval, Denham will take up the position this summer and intends to focus on issues including "retention of emails as official records, the extension of FOI and directors' liability for data breaches."
And finally…
We're not sure how much impact this is likely to have on drone market forecasts (you'll find Business Insider's more useful report on that over here), but we have to admit that it makes for an impressive watch. Serial mad-hat inventor Colin Furze has developed a working, Star Wars-esque 'hoverbike'. Looking like an oversized rotor drone, the machine functions remarkably well and, despite not always offering the most stable of riding conditions, could well encourage a host of imitators.

Tags: