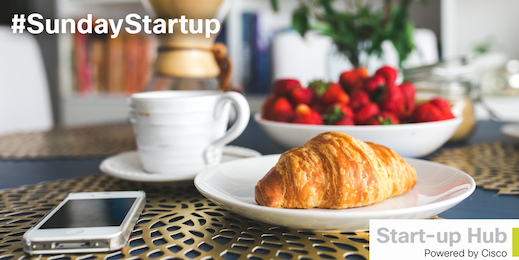 Start-up Hub
#SundayStartup no. 12 – the top five stories for tech start-ups this week
Good morning all! Time again for #SundayStartup, where we handpick the best of the week's tech and start-up stories so you don't have to.
Inescapable on the news agenda this week was Thursday's EU Referendum vote –  even the home nations' various successes at Euro 2016 couldn't get a word in. Facebook announced the start of summer, the skies responded with a thunderstorm. Not that this dampened spirits at the various events held across the capital as part of London Technology Week – including Tech City UK's birthday bash. And there were the usual technological oddities too, of course, with KFC doing the honours this time around with its 'Watt-a-Box'.
Scroll on for the full low down – you can use the #SundayStartup hashtag on Twitter to let us know of any bits we might have missed.
The big story: Britain votes to leave the European Union
The week's biggest news came in the form of voting results indicating the desire of the British public to leave the EU. But what does this mean for the UK and Ireland's tech sector, and start-ups in particular? Tech2 collated the various ways in which the vote will impact the technology world, and Fortune looked at where the decision leaves foreign and global tech firms.
ComputerWorld, meanwhile, spoke with IT leaders from across the UK to find out their views on how the result will affect regulation, reputation, trade, prospects and the skills gap. There has been some positivity, though, with Rohan Silva for one calling for Britain to maintain its "open, creative and entrepreneurial" spirit in the face of an uncertain short-term future.
Britain leads Europe in tech, with 18 of 47 $1bn companies
"Europe is a successful Unicorn ranch," said The Guardian, reporting on news that the number of billion dollar tech firms in Europe has risen to 47. More than a third of those are based in the UK, according to research by tech investment bank GP Bullhound, and high profile failures are few and far between. Spotify, headquartered in Sweden and valued at $8.5bn, is the continent's most valuable unicorn.
Happy birthday, Tech City UK
Five years ago, Prime Minister David Cameron cut the ribbon on London's Tech City. The Memo took a look back to assess the impact that Tech City UK has had, and turned up some pretty rosy results. As well as countless new businesses, jobs and more than a few successful exits, Tech City UK has helped put London on the global tech map and encouraged an inclusive, accessible environment for some of the UK's brightest minds.
Start-up and corporate co-innovation: the pros and cons
Tech City News and our good selves ran an event down at IDEALondon which aimed to tackle the various aspects of effective collaboration between start-ups and corporates. Our own Tom Kneen was on the panel, which was hosted by Emily Spaven, a familiar face on these pages, alongside representatives from Nesta, Energy Deck and BGF Ventures.
Discussion included how best to scale, forge effective partnerships and ensure a mutual value add. To borrow a favourite phrase from one of our Start-up Hub community members: it's all about avoiding 'start-up tourism.'
And finally…
KFC in India is bringing a whole new meaning to the phrase 'recharging your batteries.' Well, sort of. The fast food chain has debuted a set of limited edition boxes which also double up as mobile phone chargers. Innovative charging isn't a new concept for burger chains, with McDonald's already offering wireless charging solutions in select UK restaurants. KFC's latest move, then, is just another opportunity to wipe greasy goodness all over your otherwise pristine smartphone screen…
Make sure you join us at the same time next week for another round of #SundayStartup. Until next time!

Tags: