Um, excuse me? Salsa dancing at Cisco London? Yes – you read right!
I've always known Cisco is one of those places that encourages you to step up, start new things and change old ones… I just never knew that would extend to getting my colleagues to dance!  Then came More Together Week, an event dedicated to inclusion, collaboration and celebrating diversity at Cisco. 
Being from Colombia, Salsa is literally in my blood and I knew right away that would be a great way to get to know people better and to bring some fun into the office.  So my colleague Sylvia Wong and I set about organising an official Evening of Salsa as the finale to Cisco's More Together Week 2016. 
It took a little work from ECN (Early in Career Network) and CBP (Connected Black Professionals), we set out to find professional teachers (who definitely put my skills into perspective!) and convincing some of the more recalcitrant engineers that dancing is for everybody (props to everyone that gave it a go with no previous experience!)
We promoted through all the usual channels (Jive, leaflets, posters) but also by a live demonstration in the canteen that enlivened the lunch hour on a busy Monday (thank you Sylvia and Boris Dosen for getting your groove on in front of the entire canteen).
Eventually with a bunch of willing dancers signed up, we met last Thursday after work ready to bailar!  We warmed up with some drinks, snacks and conversation before moving to the "dance floor" – actually the VEC (Visual Event Centre at Building 10 in Bedfont Lakes) all decorated fancy and set up for dancing. Our skilful teachers patiently demonstrated each step in an easy to follow way, so even those of us with the rhythm of a vending machine were able to follow. 
Then, once the basic steps were mastered and practised in a circle, we began the free dance hour where beginners learnt to add more advanced moves with the teachers and the more experienced dancers showed off their best twists and turns. 
Going forward and back, side to side and round and round, the night unfolded with some syncopated rhythm and not a few giggles to a soundtrack of swinging Salsa sounds.
For me, the event was unbelievable fun and the feedback from others has been really positive too.  Loads of people have asked us to repeat the event or even to organise an outing in London to show off those new moves!
As always stay tuned for future events, Cisco Salsa has just got started!!!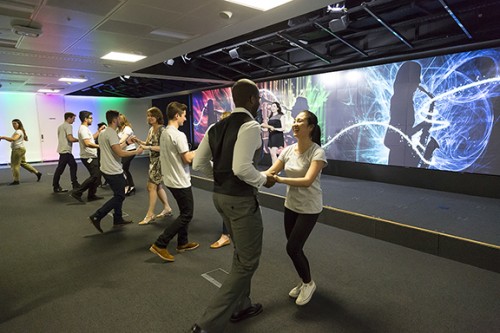 Tags: