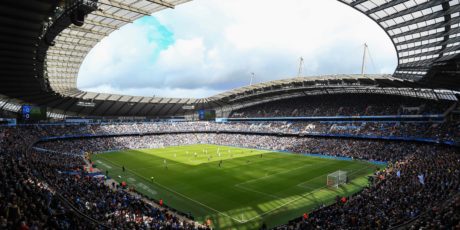 Cisco UKI
Playing in the big leagues
We're in the business of making connections, so when we heard that Premier League champions Manchester City Football Club, and in turn the global City Football Group (CFG), had the same ambition, to us it was a match that was meant to be (excuse the pun).
For both of us, connecting people starts with technology yet goes beyond what physically connects, to the impactful experiences delivered. Which is why today we are excited to be announcing a global partnership with CFG that will see Cisco become an Official Technology Partner for Manchester City Football Club (both men's and women's teams), New York City FC, Melbourne City FC (men's and women's), Yokohama F. Marinos and CFG's most recent acquisition, Sichuan Jiuniu FC in China.
There are a hat-trick of things that we are particularly excited about, and that are driving this partnership for us in the UK; 1) our shared desire to have a positive impact on the communities that we are in, and everyone we are connected to, 2) our joint focus on helping to make sure that everyone is set up for success, with the skills that they need for the future and 3) not to be missed, the technology that will help make CFG's stadia and broader experiences that connect their clubs and fans, some of the most advanced in the world. (Side note: Not to mention, quite a few of us are massive football fans…).
As Damian Willoughby Senior Vice President of Partnership at City Football Group, put it: "CFG is an organisation built on people and we are excited to embrace Cisco's technologies to better connect our clubs, players and fans across the world.
"This partnership will be driven by its shared values of innovation, pushing the boundaries of our industries and providing a positive impact to the communities in which we operate, and we are delighted to welcome such a prestigious brand into the CFG family."
Needless to say, there are exciting things ahead. This is our first major partnership with a football organisation, but not the first time that our technology has been used to help enhance fan experiences – including at the Etihad Stadium, as Cisco Connected Stadium has connected fans through some of the most memorable seasons in history.
Going forward, we'll be helping CFG explore how our technology can enhance their operations and strengthen connectivity across the group, and we'll be collaborating with their global foundation, Cityzens Giving, which aims to empower young leaders around the world to tackle social issues affecting their communities through the power of football.
If you'd like to learn more about the partnership, you can read the press release here, or keep an eye on the Cisco UK & Ireland blog as we'll be sharing updates as this exciting partnership develops. Here's to kick off!

Tags: