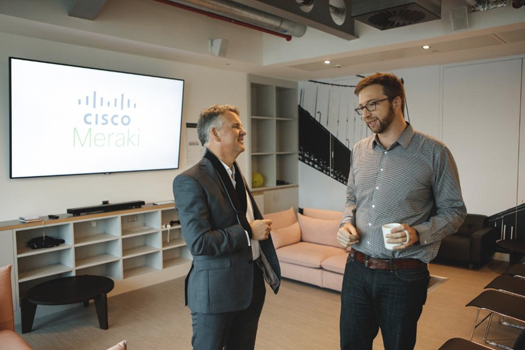 Cisco UKI
Our next chapter in London
Last week was highly significant for us at Cisco here in the UK as we proudly opened a new Central London office space in Finsbury Square, which coincidentally is just a few minutes' walk from our existing London premises in Finsbury Circus . It's an exceptional space that will house over 300 of our colleagues from our cloud technology division focused on mobility and security, which includes Meraki Networks, one of the fastest growing business areas within Cisco since it was acquired in 2012. The new 27,320 sq ft office space will double our central London office footprint, meaning we have also secured essential capacity to support its continued growth in the UK.
That's important to us. In July we made a big commitment to support UK growth and the country's wider digitisation plans and the new office is just the latest realisation of our pledge to invest over $1bn in the UK over the next three to five years. From a separate investment track, Cisco acquired Portcullis a privately held UK-based consultancy that provides cybersecurity services to enterprise clients and the government sector, and last week we announced an intent to purchase Acano, a UK-based collaboration technology firm. In addition, our office expansion into the Finsbury Square office is yet further proof that we continue to be fully committed to the UK and to assist in driving the national digitisation agenda, grow GDP, create new jobs and invest in sustainable innovation.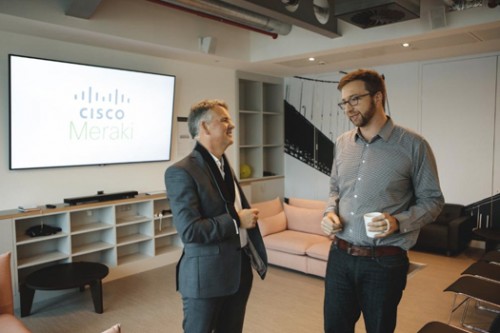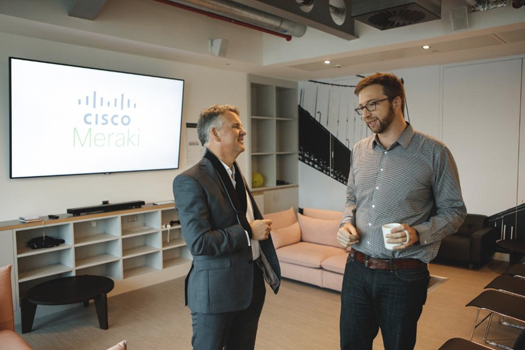 Speaking of investment, that's exactly what is required in the UK.  Investment in a sophisticated and forward-thinking IT network ecosystem is important to ensure the UK has the technological backbone to deliver greater connectivity, productivity and security, which are essential to realise the full potential of any digitisation programme, be that for a government, or a business. Digitisation has the potential to create sustainable and positive impact for every area of society as well as drive a stronger economy and foster increased opportunities for the UK on a global stage.
It's also essential for businesses to thrive. Research revealed earlier this year by the Global Centre for Digital Business Transformation (an initiative between Cisco and the International Institute of Management Development (IMD) in Lausanne, Switzerland) predicted that digital disruption continues to impact businesses and it is expected to displace four in 10 incumbents within the next five years. Yet only 25 percent of companies are taking proactive steps to address it. Digital disruption is more than a business issue; it also has an impact on the running of cities, even countries. Becoming digital is no longer a competitive advantage, it's a necessity. 
Harnessing data is an integral part of what powers digitisation. Businesses and governments must understand how to extract digital value from their data sets to overturn incumbents, shake up markets and change the way we work and live.
Just last month, we revealed in our Global Cloud Index that global cloud traffic is expected to more than quadruple by the end of 2019, from 2.1 to 8.6 zettabytes (ZB), which is proof that cloud environments are becoming more trusted by enterprises, government organisations and even consumers.  In addition to the rapid growth of cloud traffic, the Internet of Everything (IoE)—the connection of people, processes, data and things—is also expected to have a significant impact on data centre and cloud traffic growth.
Not only will a broad range of IoE applications generate large volumes of data, predicted to be 49 times greater than the projected data centre traffic for 2019 (10.4 ZB), but as demand to harness intelligence from data through analytics to inform strategic decisions increases, more of this content will be stored in data centres. This presents us with a tremendous opportunity for the future.
It's fair to say Cisco as a company has come a long way since our UK operations were set up in High Wycombe in 1992 – we've been on our own digitisation journey which has allowed us to grow to the point where we now have offices across 14 sites in the UK, from Manchester to Edinburgh. 
Our new Finsbury Square office in London will be a significant location for us as we continue on our growth trajectory in the UK and will function as an important hub for the development of innovative new products that will help us realise not only our own potential and that of our customers, but as we continue to support the country's growth and digitisation plans, too.