Our People
New Career, New Me
Starting a new job can always be daunting, but I always think it's a great opportunity to have a change in yourself. Obviously it's a new job, so it's going to be different, but it gives you a chance to make what I call "New Work resolutions". They're similar to New Year's resolutions but lots of little alterations that you can make in your work life day to day.
So you've probably guessed by this point that I've got a new job and I've moved on quite a bit since my Apprentice days
One of my main new work resolutions this time around was to make sure I dress smart everyday, in my words "office chic". My thought behind this was that it might make me look a bit older and be taken more seriously. Whenever I tell people that I have worked for Cisco for 3 and a half years I always get the surprised reaction, and I know its because I look young which, I always find a gift and a curse. It's a curse because I get ID'd for everything!! And I mean everything (I even got ID's for petrol once, I didn't even know that was possible). And it's a gift because I hope to look ever youthful.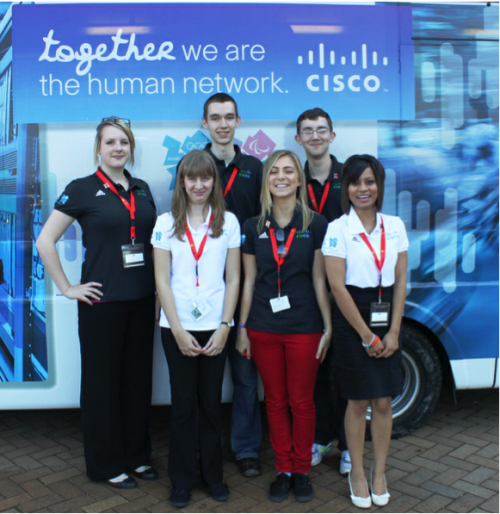 I am the innocent one in the red trousers with the rest of the first Cisco Apprentices back in 2011

So when I walked into the office on the first day of my new job in the UK&I Marketing team I thought I looked the business. After all the introductions and giving most of the team an overview of my career in Cisco so far I thought "This has worked, I look the part, I look older than 16" Which I should, as I am 22! So overall a good result, so I'm keeping this up.

When I talk to people about how I joined Cisco through the apprenticeship scheme, most of the time they're unaware that this scheme actually exists. When I start talking about what a fantastic opportunity it is, to be able to work in lots of different departments and get a taste for lots of job roles, they start to get jealous.

It wasn't until the last year of my apprenticeship that I really found what I wanted to do as a job. I had been given the opportunity to work in Service Marketing, something I knew little about, but it really sparked an interest. After working on various projects and with lots of great people I realised this is for me. When my apprenticeship came to an end in August 2014 I knew I had to get into marketing long term and create a career for myself. I reached out to the Directors to ask the key question of whether there were any opportunities for an aspiring marketer. I was so grateful to receive a response, from I think, the best possible person. Someone who was prepared to spend time with me highlighting the importance of a marketing role, the various roles we play and most importantly keen and interested in me and my career aspirations. Conversations went on for a couple of months and then I was offered a role working on digital marketing. This couldn't have been any better for me really. I love social media, I love seeing what's trending, I love the Internet and all things digital.

After working in the team for just over a month now, things couldn't be going any better. I am still yet to understand everything the team are involved with in their different areas, but that will come in time. I have a good overview and I know who's in charge of what so that's good for now. Being part of a team where everyone is there to support you is great. You get motivated by each other and it makes for happy work.

Working on lots of different projects and getting requests from all over the place can be quite overwhelming. But when you're doing something that you enjoy and keeping busy (another one of my new work resolutions) I think it makes it all worth it.

Starting a new job means starting with a new you. And this has been a great start to my long term career. I am looking forward to getting even more stuck in, bringing some fresh ideas and being a valued member of the team. And knowing that I have continued support from my team inspires me to do well everyday!

Tags: