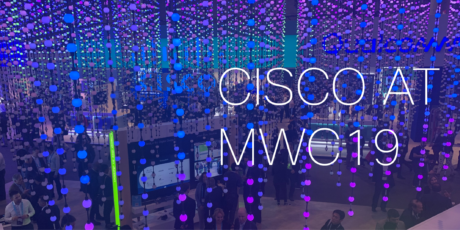 Digital Transformation
MWC: 5 things you need to know about 5G and the future of mobility
Mobile World Congress landed in Barcelona once again last week – with the largest tech showcase in Europe attracting thousands of visitors from around the world.
And while it has been a technology trend which has been growing in prominence in recent years, 2019 has undoubtedly been the year of 5G at this year's MWC.
So with that in mind, here are 5 things we've been talking about at Cisco during this year's show…
1) It goes without saying, but when 5G arrives its going to be bigger than anything we've seen before
A stat from Cisco's recent Mobile VNI Forecast shines a light on just how big. By 2022 we believe the average 5G connection (22 GB/month) will generate nearly three times more traffic on networks than the average 4G connection (8 GB/month). It means service providers will have to expand their networks to support this growth, while also investing in 5G services to stay competitive. You can find more insight from the VNI forecast here.
2) Taking 5G Beyond the City with 5G RuralFirst
At MWC we saw lots of talk about connectivity in urban areas. In the UK, many rural areas were left behind when 4G, and even 3G was rolled out. There is actually great opportunity for looking at how connectivity can improve the lives of people living outside our major population centres. Cisco is a lead partner in the 5G RuralFirst consortium, which is building 5G testbeds in Somerset, Shropshire and on the Orkney Islands. This is to test use cases for 5G and show how this technology can benefit rural communities – expect connected cows, autonomous tractors, and more! The team were proudly sharing this message at this week's MWC.
3) 5G puts us in the driving seat for driverless cars and more
Driverless cars (or CAVs – Connected Autonomous Vehicles) will have huge ramifications for the way we view and use transport in the future. 5G connectivity will make it possible for the huge volumes of data needed for these vehicles to safely and quickly communicate with each other, or our transport infrastructure. Connected cars were another big trend at MWC this year – and Cisco is also part of another consortium as part of Smart Mobility Living Lab London (SMLL) bring this to life.
4) We're getting cloud-native mobile networks ready for 5G
One announcement from MWC 2019 was Cisco has helped Rakuten Mobile Network to build the world's first end-to-end fully virtualized, cloud-native mobile network, ready for 5G. This next generation of mobile network is a fantastic demonstration of the power of cloud and automaton together. For the future of mobility, it underlines how a software-driven mobile telco-cloud can serve millions of subscribers, and be ready for 5G.
Fast is about to get faster. The world's 1st #cloud-native ☁️ #5G-ready network presented by @RakutenToday and Cisco! Learn more: https://t.co/wLgEzvcUXc #MWC19 #CiscoMWC #DigitalTransformation pic.twitter.com/YRgHMl28rt

— Cisco (@Cisco) February 28, 2019
5) It's not just about mobile – 5G supports a new standard for WiFi too
On the Cisco stand at MWC, we demonstrated how 5G supports the latest generation of Wi-Fi: 802.11ax – also known as Wi-Fi 6. This new wireless standard can deliver three to four times the throughput of previous standards, sub-millisecond latency, and the ability to support up to 70 devices per 100 square metres. Wi-Fi 6 will dramatically improve the wireless experience, and supports a much a higher density of connected devices. Check out our infographic on WiFi 6 here.

Were you at this year's MWC? What were your highlights? Let me know by leaving a comment below:

 

Tags: