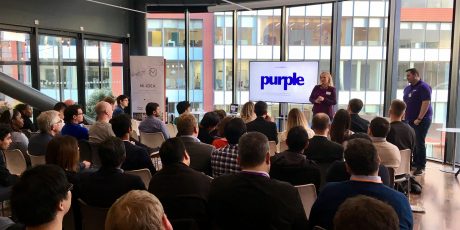 Start-up Hub
Mi-IDEA recruits Manchester's top tech start-ups
Safe to say, we like a get-together here in Manchester and as good an opportunity as any presented itself as we played host to the city's great and good to show off our Mi-IDEA post-accelerator programme.
The programme will launch later this year with a cohort of the region's finest tech start-ups, and this final recruitment event in the run up to the ribbon being cut was a chance for entrepreneurs to come along and find out more about what's on offer.
Tom Kneen kicked off the evening, introducing the teams and partners in attendance and walking them through the IDEALondon and Mi-IDEA programmes.
The microphone handed over to Kerry Wright and Tom Young from Purple, who talked about their experience of growing from a small start-up in Manchester through to a successful 120-employee, 125-country business, including their involvement, and alliance, with Cisco along the way.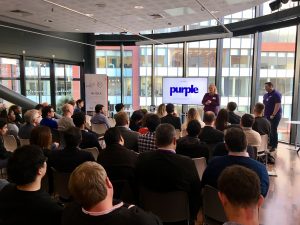 "Cisco has been a really big part of our journey. It helped us navigate our way through its business, get on all the right programmes and get introduced to the right people, gave us opportunities to speak at events, and really hand-held us through the journey," said Kerry.

"We've been introduced to other entrepreneurs at IDEALondon, who we're already talking with to see how our products can potentially fit together."

Purple is also working on a developer ecosystem, utilising its amazing technology to help thousands of venues across the world, which they want to open up via their APIs to start-ups, corporates, single developers, scale-ups.

Outside of offering APIs, Purple's goal is to give back by providing mentorship and partnership opportunities to help the local Manchester community and beyond, giving all involved the opportunity to grow and perform faster.

"It helps to have peers who can tell you what they think of your business and any ideas they have," Kerry added. "That has really helped inform the direction we've taken."

After Purple's presentation, Tom came back on stage, joined by myself for a Q&A panel discussion.

The panel answered some great questions around finding your minimum viable product (MVP), how to hire the right people as a start-up and more.

Once the session was over, it was on to everybody's favourite part: canapés and networking! Anybody with an orange or purple lanyard was fair game, and the pitches started to fly faster than the pizza did.

From urban farming and food delivery, to mental health tech-related ideas, the attendees came to play. And by the sounds of it Mi-IDEA will have some great companies through its doors very soon.

For more updates on everything Mi-IDEA, you can find us over on Twitter.

Tags: