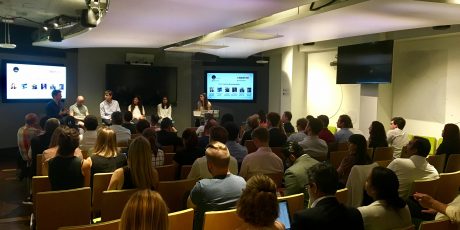 Innovation
Making the case for co-innovation at London Tech Week
With London Tech Week (LTW) in full swing, Wednesday night it was IDEALondon's turn to get involved.
In a collaborative effort between Cisco and Tech City News, we invited a panel of experts to share their views on co-innovation – discussing how established corporates and up-and-coming start-ups can work together for the benefit of all.
Despite the uncharacteristically glorious weather and the huge number of brilliant LTW events to choose from, the room was packed.
With the atmosphere buzzing, Tech City News editor and host for the evening Emily Spaven kicked things off.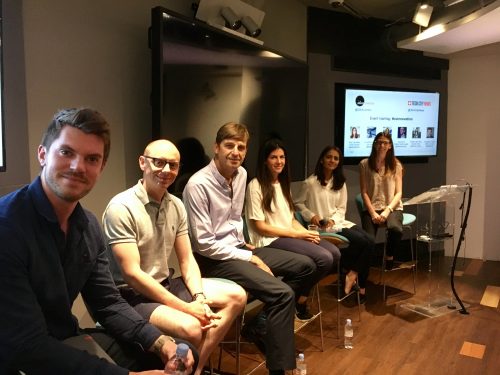 She began by asking the start-up founders in the panel about their motivations for joining a co-innovation programme.
Bright Little Labs owner Sophie Deen, whose Detective Dot character helps teach kids to code, joined accelerator programme Bethnal Green Ventures. She said the best thing about it was the "ongoing support and network" it provided.
"If I needed to speak to somebody in a particular industry or with a certain set of expertise, there was always someone there," she said.
Different models for co-innovation
The thing about co-innovation spaces is they're not exactly few and far between these days. As an entrepreneur this can make it difficult to pinpoint the right programme for you.
Thankfully we had a fairly eclectic mix of different models represented on our panel.
IDEALondon, for example, runs a 'post-accelerator' model. As Cisco panellist Tom Kneen explained, this centre's programme is all about taking relatively established start-ups (i.e. ones with a minimum viable product) and giving them everything they need to scale up and flourish.
"It's a partnership model," Tom explained. "We don't take equity, but one of the two partners here will get behind every start-up that joins us.
"We give them space, mentorship and access to our network. But most importantly we give them access to some of our biggest customers, which opens up all sorts of doors."
Tom was keen to stress the difference between IDEALondon's model and a traditional accelerator programme.
"It's less intense," he said. "More like a university-style setup. We create a supportive environment, and start-ups stay until they achieve a series A funding round or grow their team enough to go out and support themselves."
Fellow panellist Nick Le Fevre helps run an altogether different type of co-innovation programme at Founders Factory.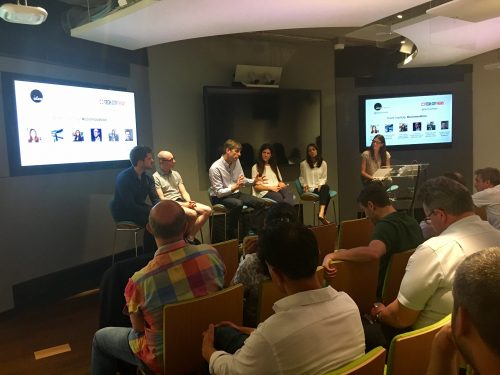 "It's more like a corporate incubator," he explained. "We have six corporates backing six different sectors, and we invest in the five best start-ups from across the world under each of those sectors."
The idea behind Founders Factory's model is to give start-ups access to the same resources as larger organisations – people, data, the ability to test and so on. This helps those young companies scale in a way they wouldn't ordinarily be able to.
At EDF Energy there's yet another type of co-innovation programme happening, called Blue Lab, and the company's Head of Innovation Partnerships Shetal Edwards was there to give us the lowdown.
A relatively young programme at just 18 months, Blue Lab focuses on start-ups in the field of connected building technology and runs a significantly shorter programme than either Founders Factory or IDEALondon.
"We give start-ups a home for 10 weeks," Shetal said. "And in that time we see if there's a market for their products or services."
Out of 60 companies that pitched for the debut programme, Blue Lab took on just five.
"Some were more mature than others," Shetal explained. "And off the back of (the programme) we're still working with four of them to build a proof of concept. From that we're hoping one or two will result in something we can offer to our customers in future."
As you can see, there is a huge amount of choice out there for start-ups wanting to grow their companies in a co-innovation environment. And who you choose depends entirely on what you want to get out of your time on a programme.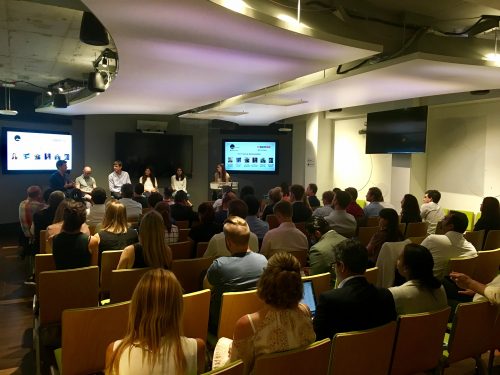 The benefits go both ways 

It's easy to think the main beneficiaries of co-innovation are the start-ups. After all, they're the ones who need a leg up.

But one thing became clear by the end of the panel session: the corporates who run co-innovation programmes get just as much value in return.

As Tom Kneen explained, some of Cisco's best ideas come from outside the organisation.

"We're not so arrogant that we think we can do everything," he said. "We're getting into areas like smart cities and the internet of things, and we need start-ups to really make those projects sing. So it's a very good partnership for us as well as them."

Shetal agreed that the benefits go both ways, and that corporates like EDF Energy increasingly need to look outside their industry bubble to find the kind of disruptive innovation that can help them stay competitive.

"We used to talk about the 'big six' in energy," she said. "Now there are about 45 suppliers for consumers to choose from. That represents a huge challenge for us, and we're aware someone from outside the energy market could come in and disrupt our industry."

She pointed to Amazon's Alexa device, which lets users access their energy account through Echo and ask important questions like when their next payment is due.

"I don't think anyone in the energy sector would have thought of that," she admitted. "Those ideas come from outside, and often they're born from start-ups. So working with those up-and-coming companies benefits us not just from a products and services point of view, but also in terms of our culture and being able to think more like a start-up."

***

After hearing from the panellists it was time for a healthy dose of networking (and an even healthier dose of prosecco and snacks) to round everything off, and I was proud to see so many exciting conversations sparked throughout the evening.

That's what London Tech Week is all about: celebrating the best and brightest in our industry while encouraging people to learn from each other.

Hopefully we convinced a few of our guests about the benefits of co-innovation in the process.

How has co-innovation helped you grow your business? We'd love to hear your story!

Tags: