Cisco UKI
Introducing Cisco FOX: new era (and face) for WebEx
Facial recognition and augmented reality has the potential to totally transform the way we communicate with each other for the better.
That's why we're excited to announce the launch of Facial Overlay for WebEX (or Cisco FOX) in the UK later this month, and we can't wait to see your faces.
Let me explain how it works. The software records your pictures from the days when you're looking your best. You're wearing smart clothes, your hair is inch-perfect, and you're clean-shaven (for the discerning non-beard wearing gentlemen out there).

Using common facial recognition techniques, FOX matches 16 points of reference to overlay these pre-recorded images onto your live image. Advances in the facial recognition and augmented reality in the last 12 months have made this all possible.
Driven by the mass of activity in the consumer market, it was only a matter of time before applications in the workplace would come into play.
And we're super excited by what this can mean for our customers, and especially our own staff. FOX will help end-users better communicate with their colleagues, clients and customers.
Using WebEx we want to enable people to work from any time, any location. So that horrible feeling when you might not be looking your best for a transatlantic board meeting will be no more. Here's what one of our early adopters had to say.
"I jumped at the chance to be a part of the BETA testing group," said Boris Brush, a 23-year-old green-tech entrepreneur.
"My wardrobe isn't the greatest at the best of times, and part of the joy of working from home is being able to wear my Star Wars pyjamas with zero judgement from colleagues or investors.
"Using FOX means I'll be looking my best for those Friday morning WebEx calls when I might not necessarily be feeling my sharpest."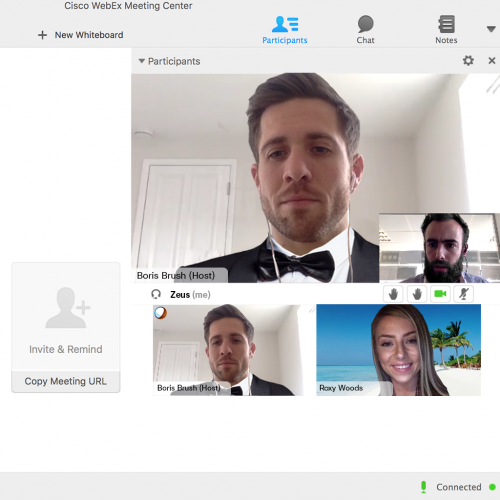 By using FOX, you can always look your best, no matter the state of your wardrobe (or hangover). From adding a suit and tie to getting rid of stubble, or even to adding make-up for those who want it, FOX has got you covered. Pretty fantastic eh? And we're not stopping at just your appearance…

"One of the new features I'm looking forward to Cisco developing is changing the setting of the call. That would be awesome," said Roxy Woods, another one of our BETA testers.

"Rather than my lifeless wallpaper of my guest bedroom, people will see that I'm sat on some sweet beach somewhere, or on the moon. Yeah! Oh wow that would be sweet."

Cisco FOX is being gradually rolled out to UK and Ireland markets starting April 1st.

** thanks everyone for commenting on and sharing our April Fool's Day prank for 2016! **

Tags: