Innovation
Inspiring youngsters and shining a light on IoT at the Get North Family Expo
A weekend of family fun, creativity learning
Across virtually the whole of the UK, it's been a glorious summer so far, which has been perfect timing for the Great Event of the North (GEOTN). And last weekend was no exception, as visitors were treated to the Get North Family Expo.
With St. James' Park – home to Newcastle United FC – as the venue, and part of GEOTN's stunning programme of activities, the Get North Family Expo weekend was a free action-packed pop-up family showcase, designed to feed children's and young people's minds and fuel their imaginations. It also gave parents and youngsters a chance to work together to innovate and create and develop new skills, in a great combination of learning and fun.
By the way, if you don't already know, GEOTN is a summer-long event filled with exhibits, live performances, innovation, art and technology. Already in full swing across Newcastle upon Tyne and Gateshead, it's a celebration of everything that makes the North of England special.
Family fun with a purpose
From technology to sport to music, the weekend saw families immersed in a wealth of exciting, creative and workshops, experiments, interactive games and demonstrations.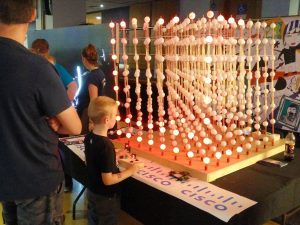 We were really pleased to be involved by offering visitors the opportunity to explore our giant RGB LED cube containing 512 lights in an 8x8x8 grid pattern. Split into four sections and housing one family per section, each group used a micro:bit (a small programmable computer) to individually control the lights and generate paint effects, recreating patterns they had previously designed on paper before entering the cube.
Families received a copy of their design – created by a Raspberry Pi camera – to take home, and the designs were also published on social media (with adult permission, of course). But as well as being hugely enjoyable, the cube gave families hands-on experience of Internet of Thing (IoT) technology and offered a fun introduction to an important aspect of technology.
Guiding young minds to future success
Of course, with almost every Internet connection in the UK enabled by Cisco and as a global IT leader, we have a vested interest in equipping our young people with the digital skills they'll need to be the technology pioneers of the future. That's why we were delighted to bring our legacy of innovation, connectivity and digital to such a fun-filled weekend, and hope we gave participants food for thought in terms of their potential career choices.
GEOTN – offering a world of digital opportunity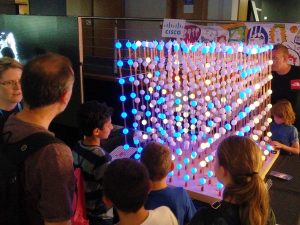 And our commitment to skills doesn't stop there. As we set out in our Skills Manifesto, we believe in digital opportunity for every person, community and organisation. We also want to inspire education, high-tech business and technological innovation across all regions, helping people achieve their maximum potential and improve their life chances. That's why we're so pleased to be supporting GEOTN in three key areas; infrastructure, innovation and skills – both during the event and by helping to create a connected region through a range of ongoing programmes.

Over the last five years, Cisco Networking Academies in Newcastle and Gateshead have trained nearly 1,500 students in digital skills, and for the duration of GEOTN, along with our start-up partners, we're encouraging young people across the region into studying and considering STEM. And we're working with local libraries to make available digital training and free access to courses – from the basics of getting online to cybersecurity and IoT.

In this Get North Employability Skills video, I talk about the importance of technology, connectivity and access to data to all our lives, and explain how we encourage our graduate apprentices achieve their very best:

Going digital for success

And across the UK, through a host of training and other programmes, we're helping grow the nation's digital competence, from offering schools the support they need to teach complex subjects like networking, to helping our police officers attain essential cyber security skills.

A digital Britain requires unique thinking, a disruptive mind-set and a willingness to invest time and money into helping resolve nationwide challenges. One of our key goals of our involvement in GEOTN has been to demonstrate our willingness to make this happen, as well as proving that technology is both purposeful and enjoyable.

Which takes me back to the Get North Family Expo, where I hope we played a part in delivering an enjoyable weekend with a tangible purpose.

For more information on our digital skills programmes or our participation in GEOTN, visit our website, or contact us directly at geotn@cisco.com.

Tags: