Cisco UKI
IDEALondon celebrates second birthday
Last night we toasted the second anniversary of our Shoreditch innovation centre IDEALondon. Happy birthday!
We've been working in partnership with DC Thomson and UCL to fund and support the hub since it was opened by Prime Minister David Cameron two years ago.
And what a two years it's been. You could even say "outstanding" – the words of Tech City UK Chair Eileen Burbidge who was a special guest at yesterday's event.
"Given what we've accomplished, we're looking forward to many more great things in future," she said.
In total, IDEAL has had 31 start-up residents through its doors so far, creating nearly 100 jobs, and there have been more than 130 Cisco customer and partner visits to the entrepreneurs based at the centre. Among them are big names like Amex, GSK, Heathrow Airport, BT, and Network Rail.
It's those meetings with our partners, customers, and people from in our own network that can be real gold dust for start-ups.
Having that validation, and the backing of a company like Cisco can make that extra bit of difference for a start-up looking to win a new pilot project, a new customer, or make that next round of funding.
And the numbers speak for themselves. In two years, the start-ups residing at IDEAL have secured more than £10 million in funding, as well as generating £2 million in revenue. With seven start-ups also becoming Cisco Solution Partners, seeing them gain "Cisco Compatible" status.
And behind those numbers sit a lot of hard graft from the start-ups. We've seen a total of 1,563 brainstorming sessions conducted by IDEAL residents, with more than 146,000 coding hours. That's a lot of code.
IDEAL has also produced its first MBE, in the form of Snap Fashion CEO Jenny Griffiths.
Speaking at last night's celebration, Cisco UK and Ireland Phil Smith said London's tech start-up scene was helping drive the necessity to innovate in the UK, as well as spur on economic growth and help the UK bridge the productivity gap.
And of course, helping start-ups with amazing ideas turn into companies and 'real things'.
Phil argued big businesses see the value of tapping into this network of start-ups working on the very cutting edge of technology – indeed more than 50 pilots have been conducted with Cisco's customers.
He said: "It's the benefit of thinking differently, for those companies that touch this environment and experience some of the magic when you unleash innovation."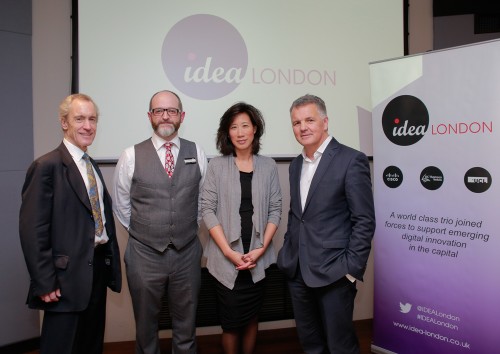 He added the model of IDEAL has become a blueprint that is replicated in other countries around the world, such as Australia and South Korea.

As a result, UCL's Timothy Barnes argued the model of big business working with academia to support start-ups had become an innovation in itself.

"If we can get a fraction of the corporates and universities around the world to do their bit, that will make a massive difference," he said.

Richard Hall from DC Thomson, said what makes IDEAL special it's bright ideas, fantastic energy, and seeing what the world might be in 5 to 10 years time.

And as we look to the future, it feels nice to finish on the quote Richard used from Winston Churchill, on the challenges start-ups can face:

"Success is not final, failure is not fatal: it is the courage to continue that counts."

Congratulations IDEALondon, and a massive thank you to everyone who has been involved so far. It's been a great two years and may there be many more to come!

Tags: