It was three years ago that self-confessed 'scary Scouse mum' Angela Whitty had a pretty unique view of the London 2012 Olympics which gripped the nation.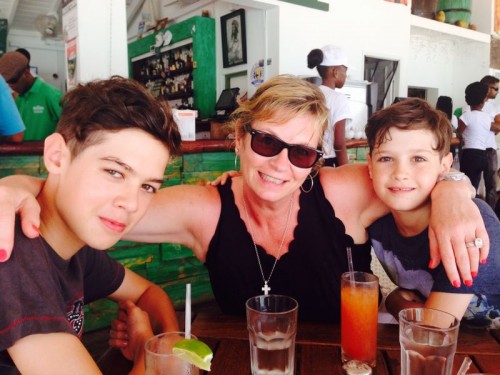 Team GB recorded their best ever medal haul and the country was united in a celebration of sporting achievement.
For Angela, the Games also marked the 'pinnacle' of her career so far. Responsible for the Cisco delivery team behind getting the network infrastructure in place for all the venues was no mean feat.
"It really was a once in a lifetime experience. 'Plan, plan, plan, and test' was the motto – you can't really go wrong with that!

"The atmosphere through the whole games was fantastic, but there was a real sense of achievement when it all came together and the games kicked off.
"We were a group of less than 100 people but we really were the best team for it.
"I'd worked on the BT account for about 10 years, which was fantastic as they were always doing something different and interesting. As they were one of our technology partners working on the Olympics, it felt like a natural transition for me."
But with all that (network) power, comes great responsibility, right? You could imagine the headlines and the state of Twitter if it had all gone wrong?
"It was quite scary having the eyes of the world on you. But it was also such an exciting thing to do.

"You looked at the number of cyber attacks which were hitting the network at the time of the opening ceremony – it was quite phenomenal. The fact that everything went off without a hitch is testament to the teamwork to all the partners involved, and there were no service impacting issues at all.
"There was loads of stuff going on in background, but nothing which impacted the enjoyment of public. We all knew if anything were going to go wrong, it would have happened for the opening ceremony.
"We all felt very tense, but from a team perspective after getting through all of that it was difficult to reach that level of buzz and excitement for the rest of the games!
"Overall, it was also about doing things the same but differently for us. At Cisco we build networks to last. But instead here more time was spent on deploying the network, just for a really intensive six weeks and then taking it all down at the end.
"Around 30% of network was deployed in first three years, and 70% in last year. It was all of our usual processes turned on their head!"
The lasting sporting inspiration of the Games has had a mixed response for some. But it seems timely that as we reflect on that time three years ago, the conversation moves naturally towards the sport she's finding the time for at her own leisure.
The big focus at the moment is dusting off the running shoes and getting some training done for a charity Santa Dash back in her hometown in December.
"I started running at the age of 40 – it's something that I never thought could do. I am not a glamorous, athletic runner – I am literally red in the face by the time I've finished!
"The kids are signed up for the Santa Dash as well, and as a lot of my family still live in the city it's going to be a real family affair.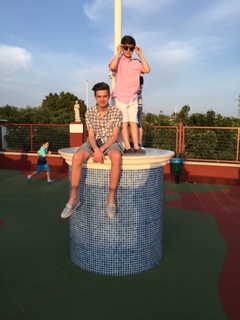 "Nearly ten years ago I did the Race for Life as I wanted to do something special for a landmark birthday. I did it in honour of my workmate's wife for cancer research – that way there were no excuses. I had to complete it."
A mum-of-two, (her sons are 12 and 14) Angela said finding the balance between her personal and professional life never stops being a challenge.
Like the other busy tech mums that I've interviewed, I sense its incredibly rewarding having the degree of flexibility in her working life that helps her keep on top of everything.
"Between 1999 and 2000 I went from being carefree to having a mortgage and a baby, with a second two years later. You have to find a way to make it work.

"You have to focus solely on what you do during the day and be as organised as you can. Nobody is perfect. You never feel like you're in the right place – when you're at home with the baby you feel like you should be at work, and when you're at work you feel guilty that you're away from home."
It sounds like she's enjoying the time she gets with the kids now though. The eldest is football crazy, and Angela will trek out to watch him play every Saturday.
Her youngest is an aspiring actor and is "even more career-focused" than Angela. "He's hugely passionate and expressive. He knows what he wants to do more than I do!"
However, she does admits to being a 'firm ruler of the roost' when it comes to the discipline element of being a parent.
"I hate tantrums in the supermarket. You could almost call me a 'scary Scouse mum'!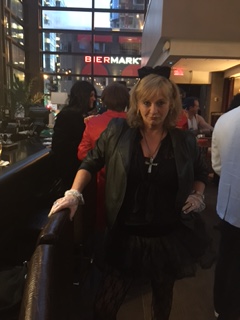 "It comes from my parents – I was brought up to be grateful and not take things for granted, I was one of four girls and was taught the value of respect.
"I use it to this day. I feel lucky to be in a position where I can give my kids a stable secure life, but you can't forget that things can change any second."
I'm keen to discover how she's experienced the immense change the company has seen over the last two decades.
Angela keeps things modest as we chat, but its difficult not to be impressed considering she was the first sales leader at the company, as well as the first sales leader from a non-sales background.
Despite being a relative newbie on the partner-side of the business, Angela can be considered a true 'Cisco veteran' with more than 22 years with the company under her belt. Born and raised in Liverpool, Angela left in 1989 and worked in the Midlands with DHL, before moving to Brussels with the logistics firm. It was in 1992 that she joined Cisco as an administrator on a three-month contract. Since then, she's never looked back.
Over that time she's experienced first hand the growth of the company into the international global player it is today. And now she is two months into her new role as Managing Director, of Cisco UK & Ireland Partner & Commercial Sales. Quite the transition!
Tomorrow marks the start of Cisco's London Partner Forum 2015, where she's gearing up to meet more than 650 guests. Naturally, Angela is to go.
"I've been really looking forward to the challenge," she said.
"Partner Forum is about showing the best of what Cisco has to offer.

"It's always great to bring everyone together under one roof. As a tech company it's important we do events like this to speak to people directly. Those interactions and live conversations are so important."
Angela has been busy helping the team finish their final preparations for the event, hosted at London's Grange Tower Bridge hotel. So what can guests expect this year?
"It's a full on event. The presentations are short sharp insights into key topics that are top of mind for Cisco right now.
"The big difference people will see is the bringing together of the product and services teams – we want to make this a single conversation for partners.
"People will have access to the complete Cisco team – all the different segments, and people representing different parts of the business. It's a great opportunity for partners to have that face-to-face contact, and let us help them to be successful."
Angela said her first role with Cisco was 'just a job to me', but her role grew as the company did. She said it was a 'dramatic learning curve' when she moved from delivery into sales.
"I didn't see myself as a traditional sales person. But I thought it was time to do something else."
"I've never been bored as there's always a different opportunity and a new challenge if you want it.
"The thing I love about Cisco is that you can get to the point of thinking there is nothing more you can learn in your role, and then a fresh opportunity comes along to try with something else. It never gets stale."

And how is she finding her latest role? She said while it offers another change of direction for her personally, it has given her another new lease of life.
"Cisco's partner organisation is already a well-oiled machine and our big drive now is to integrate our product and services teams together. On paper we've created an integrated organisation, now its about making it a reality.
"I think its important for us to be thinking ahead to how we can help the partner community make sense of changes in the market, and how they are adapting their business models."
Angela admits she 'fell into' her various roles at Cisco, but she now feels her work here defines her. Despite never having a 'well thought-out plan' for her career, she's been able to evolve and grow as she goes, and its meant she's never had to think about the next career move.
She says it's the people-focused aspect of her job that she enjoys the most, and she gets 'great satisfaction' out of being a manager. I ask what principles she follows as a people manager.
"Treat people how you'd like to be treated – it's a cliché but true. I think being a good manager is about being honest, approachable and fair. It's not all about what happens in the workplace.
"For your overall career, its important to make sure you have your customers, your partners, and the company's best interest at heart.
"I also think its easier to ask forgiveness than ask permission – so don't be afraid to take risks as long as they are well thought-out.

"Just be prepared to learn when it doesn't go well. It's about not being deterred about things that don't go well, you should use it as a learning experience.
"It's fair to say I've been around for a long time. You meet people on that journey and it shows the power of networking. I often say: it's not about needing to be the cleverest person in the room, but knowing the right person to phone."
She's also been able to draw on some inspiration from her father, who spent 46 years of his working life at the same telecoms company. The parallels are clear.
"I always used to wonder how you could possibly spend that long at the same company. However, it shows if you have a passion for what you're doing, and fit into the culture of an organisation it allows you to grow and learn.
"Self-awareness is so important. A company changes all the time, so you have to continue to develop and learn on the same path.
"As you become more senior it becomes easier to forget about the impact you have on other people. Be conscious. Take time and make time."

And at that moment our time was up. Angela headed back to the Grange Tower Bridge Hotel to check on the final preparations for Partner Forum.

Her excitement for getting stuck into this fresh challenge was palpable, and I leave feeling suitably inspired. All the best to everyone attending, it sounds like its going to be another great event!

Tags: