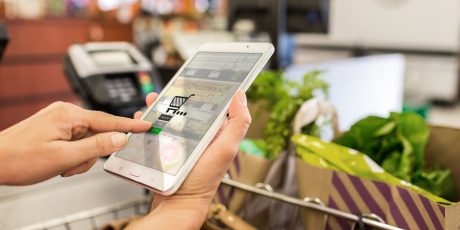 Small and Medium Business
Frictionless Payment – the Final Frontier for Point of Sale?
During a recent trip to London, drawn in by the smell of delicious fresh coffee, I ordered an espresso in a bustling gourmet coffee bar. Having almost recovered from the shock of needing to find sterling to pay for it, I nearly abandoned the idea after waiting in line for 10 minutes while, it felt like at least, they harvested and roasted the beans. I usually order and pay via an app and my coffee is waiting for me, just the way I like it, when I arrive.
This got me thinking about how close we are to frictionless payment methods becoming the defacto standard across retail, how central this is to a truly digital customer experience, and how fast that transformation is taking place.
Contactless payment cards, one of the simplest forms of frictionless payment were actually only introduced to Europe in 2008, the year after the first iPhone was launched. Yet today, the tech-evangelists and millennials among us have come to expect a seamless method of payment regardless of channel. I'm sure that I'm not the only one who routinely orders from particular online retailers primarily because their 'one-click' experiences are hassle-free and don't involve me locating my wallet or recalling the correct security code.
In a perfect illustration of the pace of change in this area, only this week the original digital disruptor – Amazon-  announced plans to open physical grocery stores without any checkout. Its 'Just Walk Out' concept, which will trial in Seattle in early 2017 will detect items being removed or replaced on the store's shelves, track them in a virtual shopping trolley, charging their Amazon account when they leave and automatically sending a receipt via email. If it works, it will be an end to abandoned basket – a common problem for in retail, where customers' desire for a particular item disappears as soon as they see the queue at POS.
So what are the key barriers to frictionless payment being rolled out across the board and retirement of the fixed in-store cash register? After all, the technology exists right now. For consumers, it's trust. For retailers, it's risk. Two sides of the same coin, although this is probably a poor analogy given the subject matter.
Although 'digital natives' are happy to trade personal data for a more personalised service, relatively large consumer segments are still wary. And research shows the brand damage following a breach is far-reaching and extremely costly in terms of lost business. In response, online payment platforms such as PayPal and digital brands such as Facebook, Apple and major challenger Alipay, are investing heavily in their consumer offerings, making it as easy as possible to pay, and offering guaranteed compensation in cases of fraud.
For retailers, risk is inherent in all payment methods. Counterfeit bank notes are still an issue, while stolen and cloned cards are still behind a significant number of fraudulent in-store transactions, however it's easy to see why digital channels represent such rich pickings for cybercriminals. Yet, security can be built in end-to-end across retailers' operations, facilitating rather than inhibiting innovation – Cisco works with many retailers who are taking this approach as the digitally-led experience means customer data is spread across a much wider surface.
Any physical risk can also be addressed with digital technology. With the Internet of Things (IoT), retailers can now connect endpoints including IP camera, RFID security gates at the store entrance, mobile payments via Wi-Fi –  allowing them to reinvent the checkout process.
Innovation in Action:

A graduate of Cisco's own technology innovation accelerator IDEALondon, MishiPay has great frictionless payment technology solution with inbuilt security.  It allows consumers to complete transactions in stores themselves by scanning the barcode with their mobile. Once the transaction is completed, the product will no longer trigger the alarm when leaving the store.
On a final and cautionary note, a new hurdle in the otherwise unstoppable progress of frictionless card payments arose recently in the form of a European Banking Authority directive proposing more stringent consumer authorisation on payments over 10 Euros in value. A backward step in the view of this tech-evangelist, so I will be keeping a watching brief.

Tags: