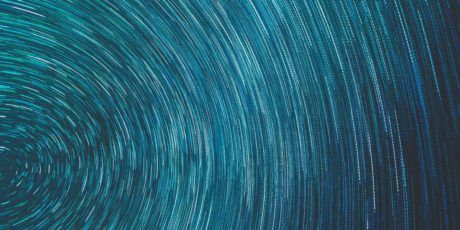 Digital Transformation
Disrupt or be disrupted… but how?
Today, every business is a digital business and our customers are transforming by leveraging digital technologies to create:
New customer experiences – 9 out of 10 companies are competing primarily on customer experience
Innovative business models to improve performance – 23% faster time to market is achieved with digital processes in manufacturing
Empowering workforce experiences – 50% jump in earnings per share happens with 10% drop in employee dissatisfaction, according to Gartner
The need to change is well understood and digital companies are 26% more profitable and achieve 12% higher market valuation than their competitors. However, too many companies see transformation as an episode they must endure, just like weathering a storm. Organisations are continually transforming, and business model reinvention occurs on average every 1-3 years.
$2.1tn is being spent on digital transformation in 2019, but our customers are struggling with the 'how' to transform and recent research suggests that only 5% meet or exceed expectations of the business.
Cisco alongside our partners are helping customers to evolve their infrastructure to achieve digital business agility – the capacity to change, raise greater awareness of the threats that disruption presents whilst maximising the opportunity of seeking new forms of value.
Cisco is focusing more on how we become the Secure, Intelligent Platform for Digital Business. Just like a building, a digital business needs strong foundations and we describe these as the 5 technology pillars.
Intent-based Networking – simplify and scale network operations
Enabling the Multi-Cloud World – productionise cloud deployments
Unlock the Power of Data – better decisions faster
Personalise customer and employee experiences – new customer experiences
Security Everywhere – reduce business risk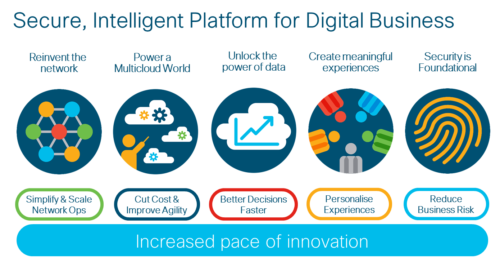 How should businesses execute digital transformation?
Fundamentally, transformation is change, which is inherently difficult and, in general, businesses are risk-averse and take a traditional approach to change management – siloed initiatives and small-scale pilots.
The transformation dilemma exists as organisations are entangled, just like a knotted rope, by three characteristics:
Scale – data, processes, tasks not just high in volume, but variety
Interdependence – outcomes and capabilities of one process feed another
Dynamism – change is a constant
To have a real impact a connected approach to change is needed – operate within the Orchestration Zone. Organisations have to conduct transformation just like an orchestra playing a symphony.
Start with guiding objectives of the transformation that you are hoping to drive.
What is the value creation opportunity (Cost Value, Experience Value, Platform Value)
What is the strategy – harvesting (winding down), retreating (exiting), disrupting (disrupt your own business or create a new market) or occupying (outcompete rivals) a market
Just like an orchestra, there are different sections and instruments. Go-To-Market (Channels, Offerings), Engagement (Customers, Partners, Workforce) and Organisation (Structure, Incentives, Culture). Think about enabling connections and mobilising resources. Businesses need digital business agility, which consists of three core attributes all delivered securely…: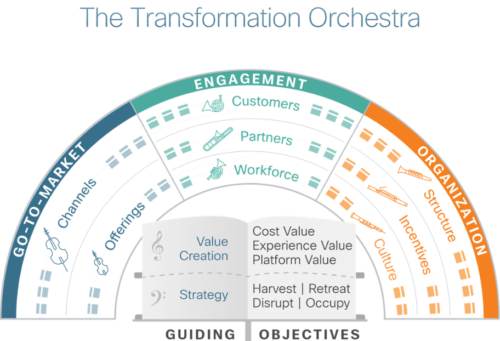 Hyperawareness – sensing changes in the company's environment, workforce and customer base. Cisco Collaboration, IoT – connected service business etc…
Informed Decision Making – Know what to act on! Cisco DNA and AppDynamics insights and analytics
Fast Execution – Automate the response. IT assets, need to be dynamically orchestrated and shifted quickly and seamlessly when priorities change. Cisco Multicloud, programmable and software-defined infrastructure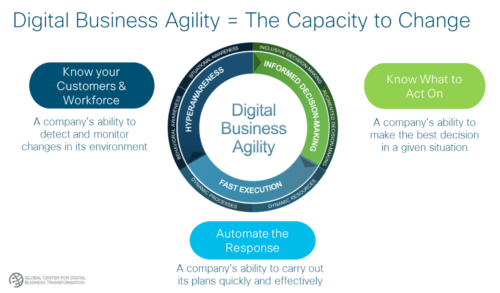 We are starting to see consistencies in the journey that our customers are taking towards becoming a digital business. Breaking a multi-year transformation programme into manageable phases really resonates, as each of the building blocks like Software-Defined Access (SD-Access), Software-Defined WAN (SD-WAN), Application Centric Infrastructure (ACI), and Cloud Edge solutions and services deliver value and help achieve business outcomes.
Building the foundation for digital business = Identify and simplify IT
Cloud Ready = Modernise applications and productionise cloud deployments
Orchestration = Central control with insights for informed decision making
End to end = Automated execution, assured services, and consistent security policy
Self-Managing = Constantly learning, adapting, and protecting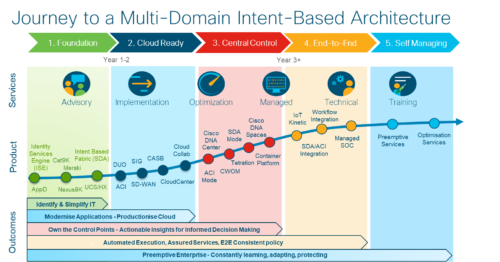 Why choose Cisco for digital transformation?
Cisco gives you a solid foundation for digital transformation. We bring software, processes, and systems together in a digital-ready infrastructure that is simple, intelligent, automated, and highly secure.
Simple – Cisco makes things simple. Our products and services are cloud ready with flexible consumption models
Intelligent – We provide analytics to unlock the value of data. Its insights will help you make rapid decisions
Automated – We can automate many parts of your business to help you become more lean and agile
Secure – We help secure your infrastructure from end to end so you can detect and remediate threats quickly
Tags: