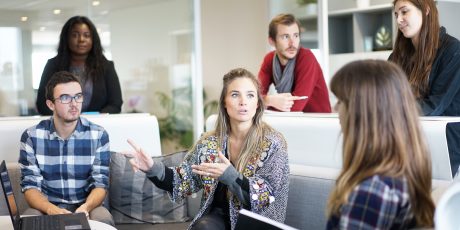 Digital Transformation
Corporates might be learning from start-ups, but how can entrepreneurs benefit from this too?
It goes without saying that when disruption occurs, you're only aware of it by the time it's too late.
Part of the problem here – or the opportunity, if you're the one disrupting – is a general complacency in the face of the danger new, more innovative competitors can pose.
Cisco research from 2015 found that only 4% of execs consider disruption to be an existential threat, despite evidence to the contrary that suggests many of the companies currently leading their industries won't exist in the same form (or at all) in less than a decade's time.
The message, however, is slowly getting through. As more casualties fall by the wayside – Blockbuster is a commonly offered example – the threat becomes harder to ignore.
The tide is slowly turning, with it becoming more and more common for large enterprises to engage with and learn lessons from start-ups in a way that goes beyond product ideas and intellectual property.
The opportunity for start-ups to contribute to, grow with, and benefit from this change in corporate attitudes is enormous.
Learning from the best
As larger enterprises look to adopt agile working and problem-solving approaches more commonly associated with start-ups, there comes the realisation that sometimes the best way to learn is to do.
There's often a cultural hurdle to leap in pursuit of this new mind-set, but the stakes would suggest that it's worth making the necessary changes.
Similarly, there's an opportunity to pass on a 'fail fast' sensibility. Provided you're prepared for it and prepared to learn from it, failure is rarely the end of the world, regardless of the size or age of your company.
Old habits can die hard, and more often than not the best way for enterprises looking to innovate in these ways is either through direct partnership with start-ups or to bring serial entrepreneurs in as consultants.
Or, of course, there's the more traditional M&A route – which plenty of start-ups plan for as part of their exit strategy.
Inside out
Disruption doesn't always have to be something that comes in from the outside either.
Netflix, which arguably played a pivotal role in Blockbuster's downfall, is a great example of a company that has retained a disruptive, entrepreneurial spirit even as it's grown into a global brand operating in more than 190 countries.
Having displaced the traditional rental store by offering mail-order DVDs, the company then effectively disrupted its own model by bulking out its online streaming offering. And now, with a firm foothold in that market, Netflix is going after the content producers themselves, commissioning and developing original productions in-house.
This growth, and incisive direction, has seen the company take on not just those in the rental market, but the production and distribution sectors too. Significantly, all of this has been done on the company's own terms – including turning down a $50m acquisition offer in 2000 from, yep, Blockbuster.
But what can start-ups learn from this?
The key is control. Netflix took charge of its own destiny, and came out on top as a result.
At Cisco, our Alpha Projects are an example of disrupting from the inside out. We start with a small team, working on a specific solution. Crucially though, these teams remain a part of Cisco and have access to the resources most start-ups wouldn't have access to.
Unless, of course, your start-up is working in partnership with a larger corporate, that is…
Shared spaces, shared ideals
Far from simply providing desk space and drinks on a Friday, post-accelerators like IDEALondon provide unique opportunities for start-ups to plug into larger organisations, their customers and partners.

Plenty of past and current residents at IDEALondon have stepped from the centre into direct working partnerships with Cisco – the CityVerve smart city demonstrator in Manchester being just one such example. Our Mi-IDEA innovation centre, also based in Manchester and opening soon, will build on this heritage too.

Ultimately, like any sustainable business transaction, there needs to be benefit for both sides. This isn't about start-up tourism, but nurturing genuinely collaborative innovation.

Tags: