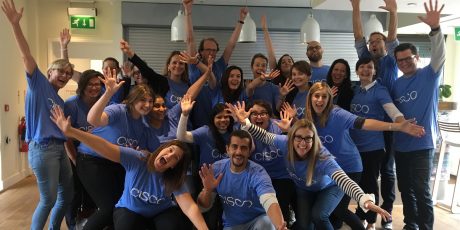 Our People
People and Programmes Drive Cisco's Success in the UK Best Places to Work

This week Cisco UK was proud to be awarded 4th place in the UK's Best Workplaces – Large Category. So how do we do it? In the US parlance, what's the secret sauce? What makes Cisco a Great Place to Work*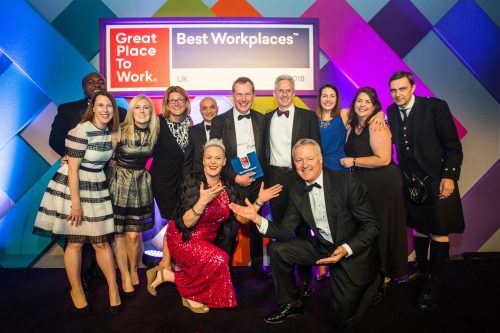 Our Cisco employees do amazing things. Like Sam, Iain and the Cisco team who visited Malawi with the One Foundation to help local people map the locations of water pumps and, perhaps more importantly to teach local children how to repair them if they go wrong. And Sarah who is approaching organising her 6th Connected Santa, bringing gifts and smiles to young people in UK and Ireland hospitals before Christmas.
We think it's a combination of the amazing people and the great programmes they run.
Recognising Colleagues
Recognising each person's contribution is a critical part of our culture of gratitude, for all employees at all levels. Thanking does not only come top down at Cisco. 80% of our recognition is peer-to-peer through our Connected Recognition programme.
We want appreciation to be immediate and specific, so rewards can be given at any time for any reason as part of this programme. To make the thanks more memorable, the person giving the award can include a personal message. Of course, we always let our leaders know when someone on their team is nominated for an award, so they can convey their appreciation too.
"Recognising the great work that people do has always been an important part of growing happy enthusiastic teams, and at Cisco, Connected Recognition provides us a way of sharing those great accomplishments to everyone, and helping the individuals involved know they are valued for what they do."  Paul Gammon, Software Development Engineering Manager
In addition to all this, we take care to celebrate each individual by giving employees a paid day off for their birthday. It's our way of saying thanks for the amazing people who make Cisco what it is. This day off is different than planned holiday time arrangements – no reporting is needed.
Ensuring Cisco is Family Friendly
Flexible working recognises that productivity isn't measured by time spent in an office; it's measured by results. We know that globalisation requires Cisco employees to work across distance and time zones. Our people consistently tell us that the Cisco flexible working practices are a great part of our culture and one of the top things they love about working here. I've worked at Cisco through having a family and flexibility has helped significantly to make sure I have been able to balance the requirements of young (or not so young children now!) with the demands of my role at Cisco.
10% of our employees now permanently work from home. We have over 60% of employees classed as 'mobile workers' meaning that they can work from any location whenever they want; office, home, customer site or even a local café. Regardless of their worker status, everyone in Cisco can work flexibly.
Every 18 months we throw our doors open and celebrate what we do by inviting employees' children to come into the office and see what we do and have some fun. They love our futuristic technology, especially our green screen set up that allows them to dance with their favourite pop stars.
But last year we took this one stage further. What if your child has needs that mean that accessing our Bring Your Kids to Work Day just isn't possible? That's easy, we created a new event so we can extend the experience – Bring Your Special Kids To Work Day. Celebrating and welcoming diversity within our workplace.
"I just wanted to say a HUGE THANK YOU to you and your team for organising the Bring Your Special Kids To Work Day. It was so appreciated by all of us and I know he will remember the tour and the different experiences for a very long time!! My daughter posted this, which I think says it all about the day. 'It's been lovely having the Cisco staff embrace his chattiness and unique ideas and special ways. Feels so lovely and inclusive and I've felt relaxed and at ease and not felt like I've needed to apologise for him or try to limit what he says.' Many thanks again!"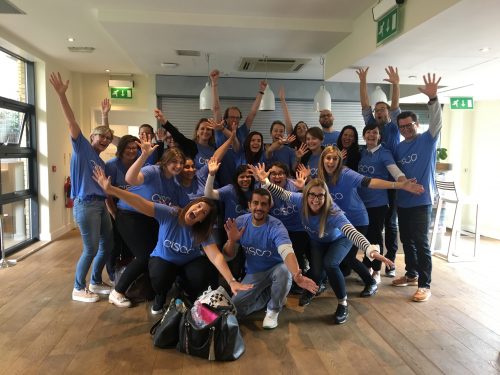 Healthy Mind, Healthy Body
At Cisco we inspire a culture of health and wellbeing by providing employees and their families with world-class resources they need to take good care of themselves. As well as the wide range of 'usual' benefits we have two programmes which look at being healthy in different ways.
We're really pleased to be working with Jessie Pavelka, a health and fitness specialist. We've set up the Pavelka House to promote health and wellbeing across the four dimensions of 'Eat, Sweat, Think, Connect' – we're taking a holistic view and not just focusing on one dimension. Jessie and the team help us to organise challenges and discussions right across the spectrum – we're midway through a team 'Sweat' challenge which encourages everyone to make small changes to add movement to their lifestyle. Lots of people at Cisco love a challenge and even I've joined a team – although I don't see us challenging the top of the league I know it's encouraged me to do more.
It's not escaped our attention that mental health issues are increasing amongst the population and we wanted to do something to help remove the stigma from talking about mental health and this was reinforced when one of our employees approached HR and our Chief Executive to help do something different in Cisco. We now have 45 Mental Health First Aiders trained by Mental Health First Aid England across all of our UK locations. As well as being available for individual discussions, they also lead on awareness programmes across the sites, ensuring people feel more able to talk about the issues they have with leaders and their colleagues. The list of Mental Health First Aiders is near the First Aiders list in the sites further normalising the programme.
Using Celebrations to Create A Community
We plan a variety of parties and events each year to give employees meaningful occasions to engage with each other away from desks, deadlines, and to-do lists. Above all, the events foster unity, camaraderie, and a relaxed environment for our employees to have fun and be themselves. We enjoy being creative and finding ways to use our technology to bring us all together virtually and the chance to get together in person.
Events are site specific events created and delivered locally. From a huge Barn Dance BBQ in our main campus in Bedfont Lakes, to a day at the races for our site in Manchester, it's all down to what works best for that community.
Twice a year we host the virtual pub quiz. Connecting a 'pub' full of people in Bedfont Lakes to all other sites across the country using TelePresence video conferencing and Cisco TV. It's one of our most successful events and is hotly contested. Each time we do the Pub Quiz the number of teams increases. Teams from pretty much all UK & Ireland sites take part and people love the opportunity to compete and celebrate with each other.
Giving Back – Volunteering & Time2Give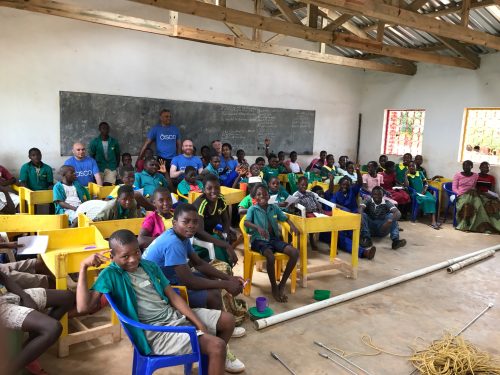 One of our core values is to run our business in a way that benefits everyone—not just our employees but our local and global communities as well. We regularly contribute time, talent, and financial resources to organisations doing meaningful work. We provide time for employees to volunteer on their own for causes they are passionate about, and we match their charitable donations with company funds. And we actively run our business in a socially and environmentally responsible manner to positively impact the well-being of our global community. (Cisco CSR Report)

We believe in digital opportunity for everyone. That is why we run, support and fund a number of initiatives to help train people in the UK. Our global Cisco Networking Academy, which celebrates its 20th anniversary in the UK this year, has helped nearly seven million people around the world – and 240,000 people in the UK alone.

By 2020, we are committing to help improve the digital skills of a quarter of a million more people in the UK. However, the ambition of our programmes goes further. We are extending our reach to all levels of education, and into the heart of the community. We've launched an initiative, in partnership with The Open University, to provide free training and resource to support teachers in the delivery of computing courses to the over eight and a half million school age students in the UK (Learn more)

When our employees care enough to give their time and money to a cause, we back them. Cisco offers a generous $10,000 match for employee donations and volunteer hours (at $10 an hour) to approved charities. In addition, employees can receive a match of up to $10,000 for contributions to specific organisations that respond during times of disaster around the world. Employees nominate charities for approval in the matching gifts programme. Through a rigorous, third-party vetting process, Cisco evaluates charities to ensure they meet the highest standards of financial stability and impact on underserved communities. Once approved, employees are then encouraged to generate matching funds by donating and volunteering.

For our last fiscal year to July 2017, our UK people spent a total of 27,343 hours volunteering – almost 9.5 years! An increase of 98% on the previous year, driven by increased adoption of Time2Give, our volunteering programme.

All of us want to help others and make the world a better place. Our Time2Give programme is the direct result of employee feedback. Time2Give is simple and powerful. Each employee gets five days a year – with full pay – to volunteer in whatever way is most meaningful for them.

*As a matter of full disclosure, I'm fast approaching 20 years as a Cisco employee. I've done roles in the UK, Australia and global roles in that time and I believe it really is a great place to work.

Tags: