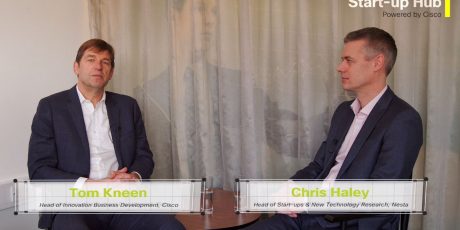 Start-up Hub
Cisco Start-up Hub: Tom Talks to… Chris Haley, Nesta
2016 was a remarkable year for many reasons, most of which have been covered exhaustively in the press already. And while some might have reflected that it wasn't always the most positive twelve months, there has been plenty of good news for the UK's start-up scene.
Entrepreneurship continues to boom, funding is still rolling in (London raised more than any other European city), and the UK is considered an ideal place to start a digital business.
But, as much as there's plenty to learn from looking back, in true start-up style we're always keeping our eyes on the future.
With that in mind, we invited Chris Haley, Head of Start-ups and New Technology Research at Nesta, into the studio to find out not only what his predictions are, but why it's important to try and make predictions at all.
Nesta's projections are always a closely watched thing, and Chris was able to reflect on what they got right for 2016 (such as the rise of blockchain and the increased threat of cybercrime).
He also filled us in on what he's hoping to see in the year to come – you can read up on all of Nesta's 2017 predictions here too.
For more from the 'Tom Talks to…' series, head over to the Start-up Hub playlist on the Cisco UKI YouTube channel.
So far in the series, Tom has spoken with experts from the worlds of media relations, start-up accelerator programmes, intellectual property law, crowdfunding, talent spotting and more.
***
Would you like to get involved or is there any topic you'd like us to explore? Just leave a comment below or drop us a line at startupsupport@external.cisco.com.
Do you know someone who would benefit from this content? Feel free to share with your social networks and help us spread the word.

Tags: