Our People
Cisco Networking Academy at the Royal National College for the Blind update
The Royal National College for the Blind (RNC) as it name implies – specialises in teaching industry applicable skills for Blind and Vision Impaired students in the United Kingdom. Having done so for over 142 years, RNC is considered to be a national leader with an international reputation for teaching in this field.
Since July 2014, RNC has been actively involved in the Cisco Networking Academy (NetAcad) programme, working closely with employees of Cisco as well as academic staff at The Open University. In a combined endeavour, all three parties with the support of international accessibility experts at Curtin University, Perth, Australia, ventured to co-develop the UK's first Cisco Academy for the Blind and Vision Impaired.
Having trained the experienced teaching team in all things technical regarding Cisco network engineering, the teaching of the first group of students commenced early 2015. Using adaptive technologies, innovative practices and a range of Cisco technologies, students are passing the Cisco networking courses (CCNA Routing and Switching) at above average grades – helping them towards employability.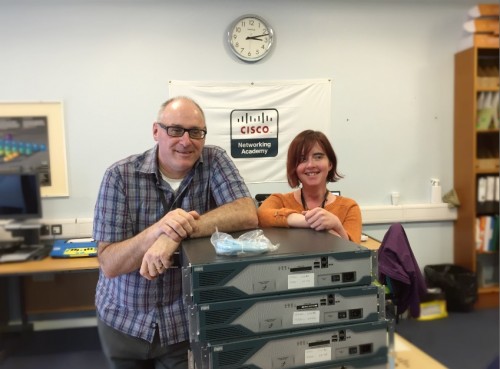 "The Open University considers it a privilege to help develop skills for staff and students at RNC", said Andrew Smith, Senior Lecturer in Networking at the Open University.

Currently the programme is moving from strength to strength enrolling additional students as well as having students from the first intake already supporting the new learners.

"Our students are already benefitting from the work they are doing on the Cisco course. As a result of their studies, the standard of their work has been raised considerably", said Leanne Moore a lecturer and instructor at RNC, who is also blind.

RNC have now incorporated the Cisco Academy into their main steam teaching. Offering it to adult and young learners alike. They plan to develop their work in this respect and are already exploring how Cisco CyberSecurity and Internet of Things/Internet of Everything courses will be used to enhance their students study profiles.

Tags: