Digital Transformation
Building a team for digital success
The drivers for digitisation are becoming increasingly clear: 4 out of the 10 top incumbent companies are expected to be displaced by disruptive competitors in the next 5 years. Doing nothing – or simply doing the same thing you've always done is just not an option, even for the strongest industry leaders. However the results revealed in the recent Cisco Digital Readiness survey were eye-opening in showing just how far there still is to go in truly digitising the UK. It appears there can be a big gap between recognising a risk and knowing how to respond to it. We need to turn our attention therefore to how we embrace digitisation, and it's becoming increasingly clear that technology alone does not hold all the answers.
Consideration needs to be given to business processes, operating models, and perhaps most importantly: people. Whether that is the culture you've created internally, the skills that your teams possess (and those they need to develop) or how you acquire and retain the right people for your business, your employees are your most valuable asset…and the secret ingredient in your journey to digitisation success.
A study published this week by the Global Center for Digital Business Transformation explores exactly how you can empower your workforce and increase the capacity of your organisation to respond to digital threats and opportunities. In a report entitled "Workforce Transformation in the Digital Vortex", the DBT Center introduces the notion of digital business agility, which it sees as being made up of 3 core capabilities: hyperawareness, informed decision-making and fast execution. It also identified six specific "digital accelerators": digital tools – seen in the diagram below – that apply to workforce management and support these core capabilities of digital business agility. These combine people, business process change, and technology to give voice to employee insights; apply analytics at the point of decision; and identify and allocate talent to execute those decisions as efficiently as possible.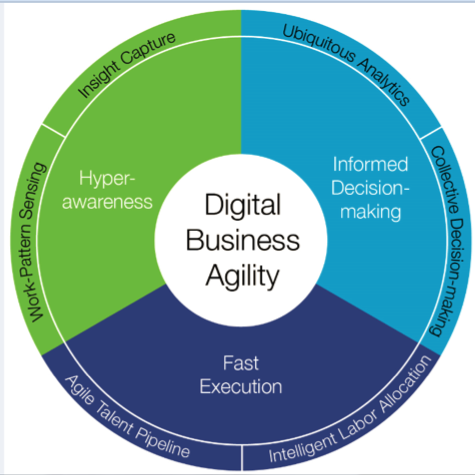 Hyperawareness
Your frontline employees are your best source of insight into the market, your customers, competitor activity and the reality of which of your processes are working – or not. Embracing what the report terms Digital Accelerators – combining people, process and technology – to capture those ideas and honest insights can help identify trends and patterns, to ultimately drive company decision-making and action.
Informed decision-making
It's not just the C-Suite that needs to be able to make decisions. In today's digital age, employees throughout the organisation should be informed with analytics tools in their everyday workflow and empowered to use their expertise to influence decisions.
Organisations that instigate a culture of collective decision-making can capture the share intelligence of the workforce, ideally made up of diverse backgrounds, experiences and cognitive perspectives to drive smarter decision-making.
Fast execution
Once smart decisions are made, companies must be able to act quickly.  This can be achieved by ensuring you have effective teams made up of people with the necessary skills, experiences and perspectives to execute once a decision has been made.
Analytic tools, digital platforms and employee data can be used to ensure the right talent within the company is put to the most strategic use. Establishing effective team structures will drive not only innovation, agility and competition but also morale, retention and productivity, whilst maintaining an agile talent pipeline helps identify and integrate the right people where skills gaps exist.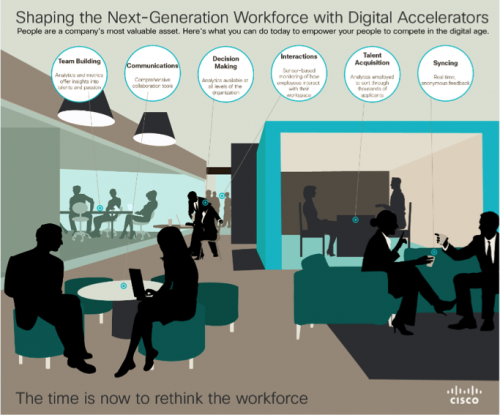 Implementing the digital accelerators outlined above give organisations the power to anticipate what is coming next, and to act with skill, purpose, and swiftness.  Above all, they empower people and transform the workforce to drive new levels of collaboration, innovation, and success for the whole company.

If you still need convincing about the value of workforce transformation, the financial upside of establishing digital agility makes for impressive reading. The DBT Center found significant correlation between high levels of digital business agility and companies reporting their financial performance as being "well above average" over the past five years. While Cisco's private sector Digital Value at Stake research predicts that people-centric connections will drive 64% of future value (2015-2024), compared to 36% from machine-to-machine connections.

The payback of workforce transformation is significant and will ensure your most valuable asset – your people – can compete and win in the climate of digitisation. To learn more about the survey insights and how you can unleash the full power of your people, download the full white paper here.

Tags: