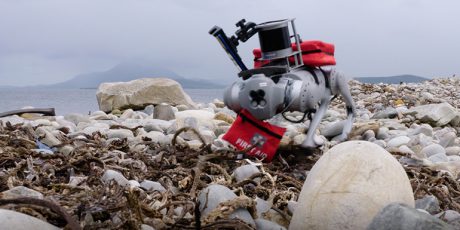 Cisco UKI
Bringing healthcare connection to the most remote communities
A pilot of telemedicine innovation off the west coast of Ireland works to improve access to quality care, reduce healthcare costs, and enhance patient outcomes.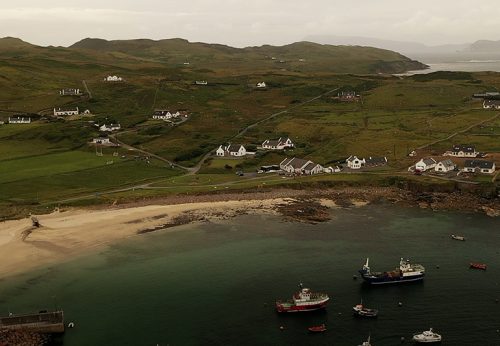 Clues to the future of community healthcare might be found on a tiny island, three miles off the west coast of Ireland. Clare Island is home to 160 residents and Home Health, a project created to test a raft of new, digital health initiatives. If successful, the project, part of Cisco's Country Digital Acceleration (CDA) programme, has the potential to reimagine healthcare worldwide.
Home Health aims to address a range of challenges common to the healthcare industry: the availability of General Practitioner appointments (community-based doctors who treat minor or chronic illnesses and refer those with serious conditions to a hospital), the scarcity of hospital beds and trained staff, and the upheaval of patients having to travel for check-ups or blood tests. Ireland's Health Service Executive (HSE) wants to investigate how new, digital approaches can impact each of these issues.
"At a broader level, the success of the project may have a profound effect on how we, as citizens, engage with healthcare," says Jim McGrane, digital innovation manager, Intervention Optimisation and Innovation, HSE.
"There will come a time, hopefully in the not-too-distant future, when we no longer use the term 'digital healthcare'. We'll refer only to 'healthcare'. Digital will be a natural part of all healthcare processes."
Generating momentum in a risk-averse industry
Traditionally, healthcare has been conservative in its attitude to new technology. Inaction has often been a sensible management plan. Clinicians don't want to risk using new technology if there is the possibility it could cause patient harm.
But we're in a new era. The retail and financial services industries have shown how to engage with the public via digital channels and protect sensitive data. Plus, the traditional bricks-and-mortar healthcare model is under increasing strain. The World Health Organization predicts a global shortfall of 18 million trained health professionals by 2030.
The Home Health trial comprises several strands.
Residents' vital signs are continuously tracked via smart wearables. GP appointments are handled via video calls, with GPs able to proactively book calls should they see something concerning in a patient's data. Drones will be used to fly in prescriptions. A robotic dog will triage emergency health issues. Always-on video screens are being trialed to combat loneliness. Virtual reality headsets will be used to deliver skills training for the two, part-time nurses living on the island.
Each require robust connectivity, something that was sorely lacking on Clare Island.
"We're calling it Project New York, because if we can make it in Clare Island, we can make it anywhere," says Professor Derek O'Keeffe, professor of medical device technology at the University of Galway, working alongside the HSE on Home Health.
"Atlantic gales cause frequent cancellation of the island's daily ferry," says Professor O'Keeffe. "You're talking about a place that only got electricity in the 1980s and until recently had barely functioning wireless connectivity. That was one of the reasons we chose Clare Island. If we are to transform healthcare across Ireland, particularly in rural locations, we need to prove we can stand up solid connectivity."
Engaging citizens in their own healthcare
Of the 160 residents on Clare Island, 82 are actively engaged in Home Health. The project is monitoring blood sugar, blood pressure, weight, and step count. The project's impact will be long-term, but within weeks patient monitoring revealed previously undetected health concerns in six residents. All six are now engaged with their GP.
Even without a dramatic healthcare intervention, the project is making a real difference to the daily lives of islanders. The islanders are talking about health; they've set up a walking group; there is much greater awareness of general health.
There will be no need to travel to the mainland for general appointments or medicines, which used to come in via the ferry – and with half of ferry crossings cancelled due to bad weather between November and March, they now arrive promptly.
"Initially, I think many residents were sceptical about the project's intentions," says Dr Noreen Lineen-Curtis, the island's GP. "Many saw this as a means to reduce their GP service. In fact, it's quite the opposite."
Dr Lineen-Curtis will continue to visit the island, but will be far more involved between visits. Video calls will be a great help, and there will be more current medical data to work with.
"Plus, local residents are now far more engaged in their own health. Conversations about general health are much easier," she adds.
Making an impact at a national and personal level
Better community health is key to reducing the strain on acute care. The more people healthcare providers can treat effectively at home, or the faster patients can return home from the hospital, the better.
"If you can imagine this working on Clare Island, transfer those same benefits to other parts of rural Ireland where people may have to travel one or two hours to their nearest hospital," says McGrane. "Less travel, fewer wasted trips, less stress…these benefits are incalculable."
At a practical level, it may also make the job of a rural GP more enticing.
"GPs want to know they can be effective, that they can engage with their community," adds Dr Lineen-Curtis. "Infrequent visits and endless travel are not ideal. I feel we can achieve a good balance with Home Health. There is a greater continuity of service."
The critical importance of reliable connectivity
Home Health is part of Cisco's CDA programme. Cisco wants to help identify transformation opportunities across Ireland, whether that is digital inclusion or cybersecurity. Digital health is clearly one area where Cisco can make a huge difference.
"Digital inclusion is so important. You cannot progress at a national level if you're leaving some regions, or some communities behind," says Brian Jordan, head of innovation and industry solutions, Cisco.
Running fiber across the island wasn't possible. Cisco Ultra-Reliable Wireless Backhaul enables Home Health to connect moving assets and extend the network, with 99.995 percent availability, and zero packet loss with seamless handoffs. Cisco Meraki MX Firewalls combined with Cisco Umbrella address cybersecurity – critical when dealing with personal and medical data.
"None of Home Health works without Cisco. Cisco technologies are the backbone of digital health," says Professor O'Keeffe. "We needed to put in place ultra-reliable private 5G connectivity across the island – the robot dog, the always-on Webex calls, hosted on Cisco Board and Cisco Desk Mini devices, need to work every time, all the time. Cisco has proven experience in the healthcare sector."
Exploring new, digital applications in the healthcare space
Home Health will have its unique success criteria. But it should also act as a gateway for other digital initiatives. The HSE is not looking at Clare Island in isolation. McGrane says new applications are constantly being developed. It is important Ireland demonstrates a willingness to explore new ideas.

"I think we'll see more specialised applications to help with the management of chronic diseases," he says. "I would also suggest that, as a population, we're also far more knowledgeable and engaged in our health. The future will see us using more apps or wearable technologies, and to be happy sharing some of that data with our GP."

Tags: