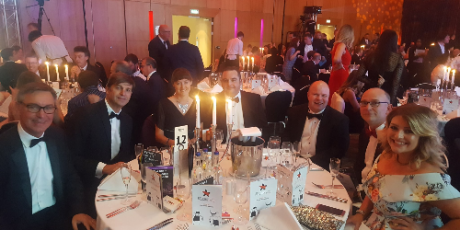 Start-up Hub
Big Chip Awards 2017 – finding the future stars of northern tech
Last month Mi-IDEA sponsored the Best Start-up category at the Big Chip Awards 2017 in Manchester.
The evening was a huge success, and really highlighted how far Manchester's tech scene has come in the six years since I first attended the event.
For tech start-ups in particular, the north of England is an incredibly exciting place to be.
That's exactly why we decided to launch our Mi-IDEA centre there in September this year, and it's why we sponsored this award in particular: to contribute to this thriving ecosystem.
I caught up with the founders of Best Start-up winner Helpthemove to find out what the award meant to them and what their future plans are.
Recognising local innovation
Of course doing business is about more than just awards, but they can give you a huge confidence boost early on in your start-up journey.
"It's always nice to get noticed for the hard work and effort you've put into something," Helpthemove founder Stephen Henesy said. "But as this was our first award, it felt amazing. Receiving this level of recognition from our industry peers was a real honour."
This award was particularly important for Mi-IDEA because it represents the start-up ecosystem to which we want to contribute.
Manchester's digital jobs contributed £2.9 billion to the UK economy last year and employ almost 63,000 people, according to the recent Tech Nation 2017 report. Start-ups are a huge part of that, and they're also the companies that may grow to employ thousands more people in future.
Of course, tech start-ups are popping up all over the UK. 68% of UK digital tech investment in 2016 was in regional clusters beyond London, according to the same report.
So why Manchester?
"There's a real energy about the city and a great community spirit," Stephen said. "A willingness to help each other and share ideas.
"This along with amazing talent, access to capital and good travel connections contribute to the thriving tech start-up scene here."
And Manchester already has a rich history of tech innovation.
Did you know, for example, that the first stored programme computer and the world's thinnest material, graphene, both began life at the University of Manchester?
The first passenger railway was built in Greater Manchester too. The first atom split. The first test-tube baby created. And scientist John Dalton made his name writing atomic theory in this not-so-humble part of the United Kingdom.
More recently Manchester has developed a thriving tech scene, with some of Britain's big names passing up the heady lights of London to call this northern city home (LateRooms, Boohoo and Auto Trader UK to name a few).
UK Business Angels Association CEO Jenny Tooth recently praised Manchester's tech investment potential, while the city's mayor Andy Burnham described it as being "on the digital frontier with some of the most cutting-edge tech firms in the world."
But for Manchester to really become the UK's digital leader, start-ups, corporates, academia and government all have to come together and co-innovate – creating something greater than the sum of our parts.
That's one of the key reasons we chose to sponsor the Best Start-up category at the Big Chip Awards this year.
Why co-innovation matters
The concept of co-innovation is nothing new in Manchester. You only need to take a trip to Manchester Science Partnerships' central campus to see that.
Manchester Science Park is home to more than 170 companies across health tech, ICT, digital and creative and other sectors. And the organisation exists to help fledgling tech firms connect with established businesses so both can learn from each other and grow.
This latter underlines exactly what co-innovation means to us: not just helping up-and-coming entrepreneurs but creating an ecosystem in which everyone becomes stronger.
Part of that comes from partnering with those outside the private sector.
That's what Mi-IDEA is all about. It's a post-accelerator centre – a joint venture backed by Cisco and Manchester Science Partnership that's designed to foster collaboration between business, academia and government.
Once opened, it will give local entrepreneurs the space and support to grow their companies, allowing them access to a whole range of new contacts, partnership opportunities and commercialisation programmes.
Check out the video below to find out more about how Mi-IDEA fits into the Manchester community:
What happens now?
With a company as entrepreneurial as this, it's perhaps unsurprising that Helpthemove is looking at ways to improve and expand.

"We're always considering new opportunities," Stephen said, "whether it's new strategies, entering new verticals or augmenting our proposition through additional services or partnerships. All of that is on the cards in the near future."

That's exactly the kind of entrepreneurial spirit that makes Manchester's future so promising.

The mayor himself has said he wants to make this region the digital leader for the whole of the UK.

Centres like Mi-IDEA will inevitably play a part in that – bringing creators, big thinkers and innovators together from all walks of life to make Greater Manchester the best place on Earth to start a tech business.

Get in touch with our Mi-IDEA team today to find out how you could get involved

Tags: