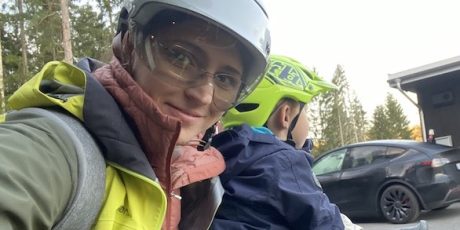 Life At Cisco
The green journey: Fast biking and slow knitting to the office
Tina Anneros Olderøy started as a Hardware engineer at Cisco Norway in February. Not only did she get an awesome job at our development center, but she also received a "Green Settle-In Bonus" – a whopping 10 000 NOK to enjoy a healthy and sustainable start to her new role. This is her story.
I'm an engineer, so immediately thought that I needed some gadgets. Who doesn't love gadgets that can make the travel to work easier and more sustainable?
I already had an electric bike, but the distance to my new office had increased. I love biking to work as there will be no traffic jam, and neither do I need to memorise the bus schedule nor get irritated over delays. But for the 1-hour trip I'd need some cool glasses to protect my eyes from the wind. At the bike shop they came up with something even better – a "fast" helmet. That's a helmet with a visor. For me wearing glasses and aversion to contact lenses, this is a great option. Now the travel to work goes effortless without me crying all the way.
Need for speed
You might have noticed by now that I like speed and efficiency. On my way to work I usually need to drop off a kid or two at school and kindergarten. With my youngest one not being steady on his bike yet, I found the perfect gadget for fun seating: Shotgun kids mountain bike seat. Perfect view for the little one and he loves the feeling of steering himself. With limited parking at the kindergarten, using the bike is so much easier.
Knitting on a train
Satisfied with my biking gadgets throughout the summer, I realised that rain and colder weather is coming way too soon. No gadget can fix Norwegian weather (yet). So, spending the rest of the bonus to make the train to work a bit cheaper is money well spent. The train ride takes about 30 minutes, which is perfect for reading and knitting winter gear. I've already finished "New pants in town" wool pants from Pickles – Instagram is my witness. Knitting will not only keep me warm during winter, but also make my brain stress down.
Health benefits
Another advantage with taking public transportation, comes with the fact that my train only departures every 30 minutes combined with me being chronically bad at leaving the office in time. This leads to almost daily running sessions of approximately one kilometer. I'll call it a short interval training close to threshold, most likely anaerobic. Usually rewarded by the fact that the train of course is delayed, and me not having to run in the first place. Still, I think running will keep me healthy and once safe on board the train, I start knitting and my pulse almost immediately drops back to normal.
To all of you who haven't started on a green journey to work yet, I hope you find some inspiration and start your journey even without the green bonus. The environment and your health will most definitely benefit from any effort.
What is a Green Settle-in Bonus?
To aid in making healthy choices for ourselves and our planet, all new employees at Cisco are given a Green Settle-in Bonus of 10.000 NOK. Whether spent on a new bicycle or public transportation to the office, this bonus gives you a healthy and sustainable start to your new role.
---
Tina Anneros Olderøy, Hardware Engineer at Cisco Norway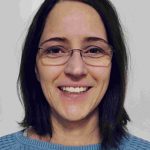 Tina is part of the Collaboration Devices Team. In her present role, Tina is responsible for hardware design with her main focus on display and touch technology as well as antennas and sensors. Tina joined Cisco in February 2022 with 10+ years experience in hardware development. She has a Masters degree in Electrical Engineering and Information Technology from Technical University of Munich. She enjoys biking on trails with her family, running, climbing and yoga as well as knitting of course.