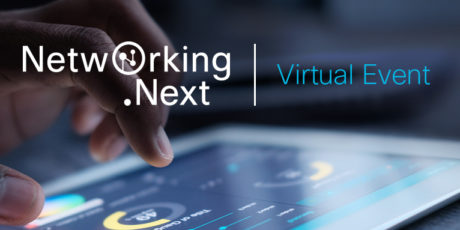 Enterprise Networking
Your invitation for the free, online, virtual event … Networking.Next
I am certain that you will agree that in the last few years, technology has radically transformed the way we live and think, creating exciting, new opportunities for businesses of all sizes. But market transformation is also placing new demands on businesses in terms of scale, security and agility. How to keep up with the changing customer needs, anticipate market evolutions, leverage the new opportunities and stay competitive?
In this constantly evolving technological landscape, the network's role is becoming more important than ever. The network becomes key in connecting people, applications and data, helping businesses leverage the new opportunities and embrace the change.
Prashanth Shenoy, Vice President of Cisco Enterprise Networks Marketing, would like to invite you to an exclusive virtual event "Networking.Next." dedicated to the presentation of the main findings of the Cisco 2020 Annual Networking Report. Cisco partnered with leading market analysts to conduct an extensive market research to provide a prescriptive and personalized guidance report on technology, operations and talent.
In just one hour, you will learn from Prashanth and other market experts:
How will AI, automation and Cloud change IT in the upcoming years and what steps can you take to take to leverage this opportunity?
How will the Network enable new business innovations?
What skillsets will be required in the upcoming years?
Speakers:
Prashanth Shenoy, Executive Host, Vice President of Marketing, Enterprise Networks, IoT, and Developer Platform at Cisco
John Apostolopoulos, Vice President & CTO for Enterprise Networking Business, and Lab Director for Innovation Labs at Cisco
Rich Plane, Customer Experience CTO at Cisco
Susie Wee, SVP and CTO of Cisco DevNet at Cisco
Radha Mistry, Strategic foresight specialist in emerging technologies
When:
Virtual event on 24th October, 10:30-11:30 CET.
Register for the event now to join us and receive your complimentary copy of the Cisco 2020 Annual Networking Report.

Tags: