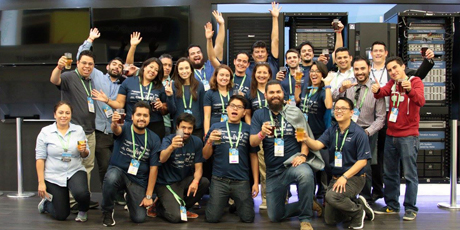 6 Reasons to Attend Cisco Live Cancun 2018
Are you a lover of technology? Are you passionate about how it has transformed the way you live, work, learn and do business? Have you imagined what the future would be like if that technology were intuitive? Then save the date and come to see it at Cisco Live Cancun, a unique space to experience the intuitive technology of Cisco, which informs, connects, predicts and enables organizations to transform and grow in the digital era.
The paradisiacal city of Cancun will open its doors from December 4 to 7, to house the thousands of technology professionals who meet year after year at Cisco Live, seeking to learn about the latest innovations in networking, security, collaboration and data centers, to incorporate them within their respective organizations and be generators of change.
Below you will find 6 reasons why you should not miss this 2018.
The technical education program this year has more than 120 sessions covering all the topics that are trending and have become a priority for the leaders of organizations such as security, cloud, mobility, software-defined networks, among others. Participate in the sessions of your interest, get inspire, learn and acquire the necessary skills to thrive on the road of digital business.
For those seeking more depth in specific technologies, Technical Seminars offer a much more detailed perspective that includes principles of design, configuration, problem solving and best practices. For the first time this year, these seminars will be offered at NO COST within Cisco Live, so it is advisable that you acquire your pass as soon as possible and schedule the seminar of your choice because the space is limited.
If you need to certify yourself in one of our technologies or you are looking to reinforce your resume and broaden your work panorama, during Cisco Live you have the opportunity to present any of our certification exams with an additional advantage: if you register for the exam before the event, you will get a 75% discount; if you do it during the event, the discount will be 50%.
The engineers, developers and programmers who visit us, have a unique training opportunity in the DevNet Zone, where through learning laboratories, demonstrations and workshops, they use the APIs of our products in a testing environment, to develop innovative solutions that connect Cisco's technology with the environments and applications of each organization.
Cisco Live brings together a large number of Cisco experts and leaders from different parts of the world. Through the Meet the Expert program, you have the opportunity to meet with them in private sessions, to review projects on the doorstep or challenges and particular problems to obtain recommendations and guidance in the preparation of action plans.
As a perfect complement to all learning sessions, at the World of Solutions, better known as WoS, you can see the Cisco solutions and its partners in operation. Experience the most innovative technology, try it, live it and take the opportunity to establish key relationships for your business and for your professional development.
In addition to learning and networking, Cisco Live Cancun also offers fun and leisure activities, such as the traditional 5k race, yoga sessions, the opening cocktail of the WoS, the closing party of the event and community support activities.

Register to Cisco Live Latin America before June 30 to obtain a discount on your entry pass and join us to imagine together a future with intuitive technology.

Traducción: María José López García.

Tags: