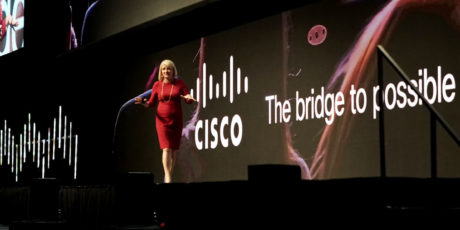 Cisco Live
Cisco Live Cancun 2018, a vision full of optimism about the infinite possibilities of technology
In Cancun, where the sun shines brightly and the colors of the sea are endless, innovation and inspiration grow thanks to the more than 6,000 professionals and IT experts, who have gathered this week to learn and imagine how to reinvent their organizations through technology. A technology that transforms, connects, predicts and enables. A more robust, accessible, flexible and mature technology; a technology that in Cisco we call intuitive.
The first day of Cisco Live Cancun began with an agenda full of alternatives in Vertical Summits, which became the preamble of a great event.

In the first edition of the Cybersecurity Summit, it was made clear that cybersecurity is an issue that concerns everyone; no company regardless of its size is exempt from being attacked. Ghassan Dreibi, leader of the security architecture in Latin America, commented how the weakness in cybersecurity is becoming a silent disease that threatens to disappear thousands of organizations daily. That is why the role of those responsible for security is becoming the orchestrator of solutions, as it allows them to protect their organizations in a universe in which we face the "unknown unknowns" on things that we do not even know that we do not know.
The Higher Education Summit gathered the CIOs of the Universidad de los Andes in Colombia, the ITESO in Mexico and the Catholic University of Campines of Brazil, who had an interesting debate about the challenges that higher education in Latin America is facing and how the technology is helping them to develop an avant-garde educational offer that allows them to train professionals at the service of a society embedded in a digitalized environment.
Meanwhile, at the Financial Services Summit, three institutions of great relevance, BAC Credomatic, one of the main banks in Central America, Compañía de Seguros in the North of Argentina and Serasa Experian, a Brazilian credit research company, shared their transformation experience with the audience, in which customers are increasingly demanding and it has become indispensable to adopt new business models that offer innovative, agile and safe experiences in this digital age.
More than 150 people gathered at the Industrial Summit, where the concept of Industry 4.0 was widely discussed and through collaboration, security and industrial connectivity demos, as well as the Kinetic platform, it showed all the power that exists in the data from the billions of devices that are connected to the network, which thanks to automation and advanced analytics, can be converted into intelligent information that facilitates and accelerates decision making.
The Government Summit was particularly interesting, considering that in Latin America, several countries are starting a new government cycle. Technology is definitely a key tool for these governments to offer efficient, inclusive and transparent services that generate a better experience for citizens. Participants in the panel from CUDI, ITESM and Observatel, made some recommendations to these new governments, which started from the essentials such as being humble, being open to listen, learn and not forgetting ethics, to more specific topics such as considering the young entrepreneurs, not dismiss private sector and not plan in reverse.
In the afternoon, the Healthcare Summit counted with the participation of important panelists, among them the National Institute of Neurology of Mexico, the Hospital of the Catholic University of Campinas in Brazil and the company Optum Health and Technology Services of Brazil, who shared their experience in digital transformation projects and talked about the challenges and opportunities they see in the future of medical care.
The day could not have had a better closure thanks to the keynote of Karen Walker, SVP Chief Marketing & Communications Officer of Cisco. Karen commented that by 2022, it is expected that there will be a 40% increase in the number of devices connected to the network in Latin America. This is a hopeful message considering that where connections grow, possibilities and opportunities multiply as well. Opportunities to transform the lives of people, to fight hunger and poverty, to offer a better education, more humane health services and, in general, to build bridges to everything we are capable of imagining.

John Stewart, SVP Chief Security and Trust Officer of Cisco, masterfully closed the keynote with a message about cybersecurity and how it is fundamental in the current environment, in which threats are increasingly sophisticated and where the most important trends such as cloud, IoT and BYOD, generate huge security breaches.

Tomorrow there is an enriching agenda: technical seminars, IT Management and dozens of sessions around our different architectures for the needs and interests of all attendees. And of course, the must visit of the WoS, to experience firsthand the way in which Cisco and its partners are innovating and creating more connections and opportunities in this digital world.

See you tomorrow!

Tags: