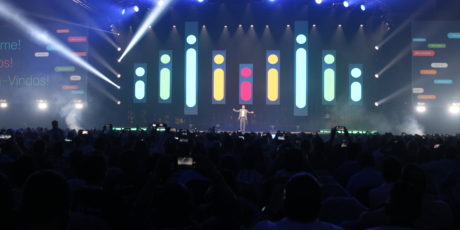 Cisco Live
Cisco Live Cancun 2019 | Tuesday Highlights: "Reimagining your business in a digital world"
Yesterday we received thousands of technology enthusiasts at Cisco Live Cancun 2019.  The day began with great enthusiasm, as attendees prepared early for a week of education and inspiration that will help them create the path to endless opportunities in this complex world with constant innovation.
We started with the Vertical Summits, events specially designed to meet the specific needs of each sector, where more than 1,200 attendees participated. At the Education, Manufacturing, Healthcare, Government, Financial Services & Retail Summits, Joel Barbier and James Macaulay, authors of "Digital Vortex" and "Orchestrating the Transformation", told us how to orchestrate the digital transformation and aligned their message by industry. IDC also presented the technological trends and the clients of each sector showed their success cases in a panel format. We also had the Service Provider Go-To-Market Forum and during the Cybersecurity Summit we learned how to make cybersecurity possible.
One of our favorite parts of the day was the Opening Keynote, where Jordi Botifoll, before Jim Walsh's amazing conference, introduced us to Uriel Bayona, a Cisco Networking Academy student, who thanked Cisco for his knowledge and left us with a very inspiring phrase: "There are times when you want to give up, but you must continue".
Jim Walsh, Senior Vice President of Growth Marketing Cisco, spoke from the main stage of Cisco Live about the importance of reinventing our businesses in the digital era. Walsh also told us that there has been more innovation these 5 years than the last 30, so Cisco wants to meet the expectations of its clients and partners, being interested in its objectives and challenges so that together we can change the game in a faster, safer and more accessible way. He also shared how Cisco is alienating its portfolio:
Reimagine your applications
Secure your data
Empower your teams
Transform your insfrastructure
After the most important conference of the day, the Opening of the World Solutions took place, a space in which more than 60 partners are participating to show you the latest products and technological solutions with which you can boost your business.
The atmosphere of the event throughout the day was stimulating. Attendees accompanied us in the activities of Give2Get and Save the Children to positively impact people, society and the planet. In addition, more than 300 clients joined The Gateway to build their personal and professional network, share stories and have a good time.
Furthermore, we remembered the winners of Cisco Innovation Awards, an Endeavor initiative to support entrepreneurs from different industries that included the participation of Vincent Speranza, General Director of Endeavor and great Cisco directors such as Isidro Quintana, Luzma Murguía, Ramón Vinals and Francisco Naranjo. The decision was not easy, because all the projects presented excellent innovative solutions, but after a long deliberation the first places were awarded to:
MCS – ClicknBox
TagSec – AIDICARE
Intelligent Networks – Enrútate
Did this day meet our expectations? Of course! And we are going for more, because we know that, to make a difference in the world, we can only do it with you. Thank you for joining us in the biggest technology event in Latin America!
If you are reading this and you are not in Cancun, remember that you can join the conversation with the hashtag #CiscoLiveLA and connect to the streaming to see everything that happens in real time. Almost as if you were here!