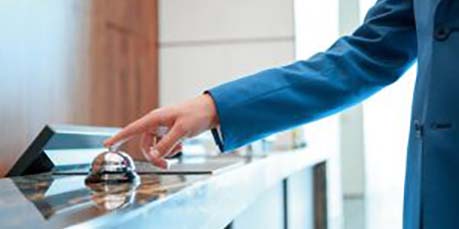 Digital Transformation
When 'sorry' isn't the hardest word
In 1977, Elton John scored a hit with the tune 'Sorry seems to be the hardest word', lamenting the difficulty of human relationships.
In contrast, 'sorry' may be the most common word being used in the customer service industry today. Does apologizing provide great customer experience? Or solve the customer's problem? Not likely!
During my recent stay at a well-known hotel, I simply wanted to extend my stay. My experience made me realize how easily customer experience and loyalty can be at stake. This risk is amplified when there is no platform that can enable employees from different business units to collaborate and leverage a single view of the customer journey.
After a busy and productive day at work that evening I walked up to reception with a request to extend my stay. The first issue was the same as a 'transfer' – they suggested I call their reservation contact center as there was no visibility to corporate rates. I left the reception after hearing 'sorry'. I chose to relax and send an email to the reservation group instead. When I did not receive a timely response, I decided to call them. It was not possible to take time out of my meetings and call the contact center, not to mention, repeat what I was looking for when I called – which is exactly what happened.
The contact center agent was well trained, polite and happy to help with my request but started with 'sorry' for the experience I had so far. She was not sure my stay could be extended in the same room as contact center reservation ironically had no visibility to the rooms allotted to the guests. They had to put my call on hold and contact the reception desk. After a long period of hold, the next word I heard was "'sorry' for the long hold, but we are all set". Everything sounded great! In the evening, it was a surprise that hotel reception had no visibility of the extended booking, again within a fraction of second I heard another 'sorry'. I could feel that 'sorry' was just a word employees were trained to say when not enabled to address the customer's frustration. One simple request and four 'sorries'!
This made me think, though the hotel has invested in technology and staff, even trained the workforce with the best communication skills; is that leading to the best customer experience? Maybe not!
In today's digital world having a single view of the customer journey no matter where the journey starts from is essential.  This attribute should be available on digital channels (website/mobile app), the contact center through voice, email, SMS, or when a customer walks up to the branch/reception. This way we can preserve the context and provide our customers with consistent service throughout their journey. We can have a platform where groups don't work in isolation, rather become stepping stones in the entire cohesive customer journey.
This capability not only helps in providing great customer experience, but also increases the productivity of resources, ensuring small customer needs to stay small and get solved easily at the first contact.
Today, staff from different businesses often have to put a lot of effort compromising their productivity in ensuring customer satisfaction. Having an integrated customer view will drive First Contact Resolution (FCR), and reduce employee burnout and attrition. Most importantly, customers will leave with a good feeling that your business understands them in their journey and 'sorry' can become a thing of the past.
For an overview on how we plan to help companies deliver exceptional service in the age of the digital consumer, watch our vision clip.