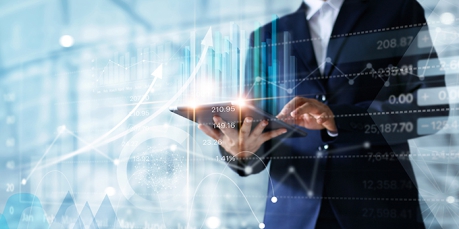 Digital Transformation
Welcome to the era of WiFi 6
Technological innovations have inundated mankind with the power and ability to outdo and outperform at ease. With so many exciting things happening at a constant pace, it's just getting bigger and better for enterprizes and individuals to explore myriad options and advantages – opening up new vistas of growth propelled through performance. And to anchor such performance, we have seen the emergence of a pool of highly scalable yet cost-effective solutions that can redefine the way we communicate and collaborate. Welcoming you all to the era of Wi-Fi 6 which is going to give a whole new meaning and dimension to wireless data speed and consumption habits.
What is Wi-Fi 6?
Wi-Fi 6 is the upgraded next-generation wireless standard which is faster than IEEE 802.11ac (Wi-Fi 5). As per the guidelines and standards set by Wi-Fi Alliance, Wi-Fi 6 carries the version IEEE 802.11ax and gives users the efficiency and speed required in the most demanding Wi-Fi environments. More than just speed, Wi-Fi 6 will ensure stable and enhanced performance in congested areas, thus making the overall wireless data consumption experience more exciting and meaningful.
Key Benefits of Wi-Fi 6?
Lag-free performance in multi-device connected environments
Increased speed and capacity
Higher and faster data rates
Improved power efficiency
Ultra-high bandwidth and concurrency
Networks can handle multiple data streams at same time
In areas with poor reception, it can offload wireless traffic from cellular networks
 

Cisco and Wi-Fi 6 Advantages Together

Cisco has always been at the heart of innovation and technological excellence that makes us what we are today. As Wi-Fi 6 is redefining what's possible for businesses, we have embraced the technology whole-heartedly to make the world a place where enhanced speed, flexibility and accuracy will be the driving force in the days to come.

Along with unmatched speed, Wi-Fi 6 is also about providing better performance in congested areas such as from stadiums to large lecture halls, from conference rooms to your home, where multiple devices co-exist. Latency is vastly improved and also easier on connected devices' batteries. Result is near real-time use cases and predictable user experience.

With already hundreds of IoT devices and sensors in place and more in the upcoming stable, Cisco ensures that the modern world will leverage the power and efficiency of Wi-Fi 6 at an unparalleled level. We, at Cisco have already gauged the level of engagements and actions that will unlock once Wi-Fi 6 comes to its full spectrum. For a fully immersive, unmatched and uninterrupted unplugged experience, Cisco is committed to create a 'wireless-first' world. "Best-effort' wireless for enterprise customers doesn't cut it anymore. There's been a change in customer expectations that there will be an uninterrupted unplugged experience," said Scott Harrell, senior vice president and general manager of enterprise networking at Cisco.

Meet Some of Cisco's Wi-Fi 6 Ready Products

Keeping an eye on how your network handles upcoming explosion of data, we have come up with a range of trend-setting products showcasing our continuously growing Wi-Fi 6 portfolio.

Catalyst 9800 Wireless Controllers: Catalyst 9800 Series wireless controllers combine RF excellence with IOS XE benefits. These highly reliable and highly secure controllers are ready to deploy anywhere -including the cloud. They are compatible with the new Catalyst 9100 Series a​​ccess points that support Wi-Fi 6. Click to read more.

Cisco Catalyst 9100 Access Points: Cisco Catalyst 9100 access points can handle the challenges of the next-generation network. Going beyond the Wi-Fi 6 (802.11ax) standard, Catalyst 9100 access points are resilient and intelligent and provide integrated security for mobile clients and IoT devices. Read more here.

Cisco Catalyst 9130 Series Access Points: The Cisco Catalyst 9130 Series Access Points are the next generation of enterprise access points. They are resilient, secure, and intelligent. Explore…

Meraki MR45 & MR55: The Meraki MR45 and MR55 product lines provide exceptional wireless distribution for higher density networking environments that require flexibility and performance. These cloud-managed wireless access points allow for easy, yet granular configuration for wireless deployments, ensuring seamless integration and manageability in your network. Know more about them here.

With reasonable cost to deploy, maintain and scale – Wi-Fi 6 is sure to sweep success in a befitting way.  And with the arrival of 5G cellular network, people and enterprises will now have more freedom, edge and advantages from these two highly advanced complementary technologies. Let's get exposed to the infinite possibilities that modern day technologies have in store for us!

Tags: