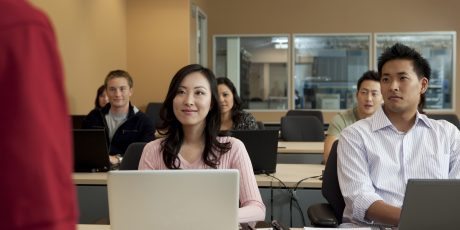 Digital Transformation
Transforming education for Gen Next
Education as we know it, is changing. Students today are no longer confined to traditional learning environments. Thanks to technology it is possible to learn from anywhere, on any device, in ways like never before.  Digital transformation is making it possible for today's students to learn, and for faculty to teach, in new ways, in new places, and with new connections to resources around the world. Cisco is leading this transformation with visionary solutions that enable students to learn without limits. All the Cisco initiatives and solutions in Education are designed to achieve one of these 5 outcomes.
This effort has got a boost thanks to the Government of India's Digital India program which promises broadband to schools across the country with free Wi-Fi in secondary and higher secondary schools (coverage would be around 250,000 schools). Included in this is the digital literacy program that would be taken up at the National level while Massive Online Open Courses (MOOCs) shall be developed and leveraged for e-Education.
Students can learn from anywhere
According to the Cisco Visual Networking Index, Digital transformation will continue to drive IP traffic in India with the projected increase in Internet users to 829 million in 2021. In addition, there will be 2.0 billion networked devices in 2021. Video will continue to dominate IP traffic and overall Internet traffic growth and India will reach 84 billion Internet video minutes per month by 2021.
'Video learning' will become more common in the future. While mirroring the traditional classroom teaching style, video lectures allow students to learn at their own pace and dedicate time spent in class towards interactions. In addition to video based learning, mobile learning has picked in India and will continue to grow offering students the flexibility to access educational content seamlessly across multiple digital devices like desktops, laptops, tablets and smartphones.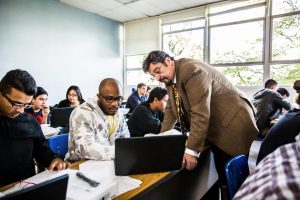 The increase in video-based learning on mobile devices will eventually account for 80 per cent of all internet traffic by 2019. As the smartphone users grow, (both urban and rural), the future will see users accessing most of their educational content through internet powered smartphones. Most educational content, including online courses, will be optimized entirely for mobile devices.

Facilitate faculty research and foster global connections

As formal learning changes, educators on their part (teachers, educational institutions and researchers) are innovating faster to enable students learn without limits of time and space.

Techers are getting technologically skilled and equipped to enable students gain access to an extensive array of study material and create a flexible environment to customize educational content for individual sessions.

The advent of Virtual Reality (VR) and Augmented Reality (AR) in e-learning will massively impact the efficiency of teaching. VR allows students using e-learning platforms on mobile devices to directly interact with study material. AR facilitates teachers and trainers in performing tasks, they previously haven't safely. Together, both are poised to become a lot more widespread in the future.

Meanwhile solutions that provide unlimited access to educational resources, regardless of location or device increase the potential for learning and teaching, through collaboration with peers and experts worldwide. Such solutions help transform physical campuses into collaborative workspaces and boost productivity. They give faculty and researchers the tools to empower students and support innovation.

Intelligent campuses and increased workplace efficiencies

Across 127 countries of the world, Cisco solutions have enabled nearly 10,000 colleges and universities to build efficiencies for delivery of education. Combining collaboration tools from Cisco such as Cisco Spark, Cisco Jabber, Cisco TelePresence, and Cisco WebEx with campus connectivity and mobility services helps teachers and students learn together across campus.

By optimizing facilities in lighting, energy, parking, and waste disposal it is possible to create sustainable connected campuses solutions to improve facilities and streamline operations. Such campuses provide extensive network analytics so that schools and universities can make data-driven decisions to increase efficiency and reduce costs.

Cisco solutions like Smart Parking, Connected Transportation and Smart lighting help save time and resources by giving students and faculty the ability to park easily on campus, provide safe transportation for students while increasing access and connectivity, and make campuses more sustainable by automating lighting to reduce inefficiency and waste.

Keep students & faculty safe

Fostering a safe and secure campus environment is another critical part of modern education. It is important to keep students and faculty safe whether they are on campus or en-route. Connecting physical safety with virtual security protects student and faculty information, university resources, and the valuable innovations and intellectual property that researchers create.  Cisco Physical safety and Cyber security solutions meanwhile help monitor campuses with surveillance and analytics to keep student, faculty, and research data highly secure.

Clearly for modern day educational institutions to operate efficiently in a rapidly changing environment, it is important to have a partner that can enable transformation in a seamless manner. Cisco for one, can be a good fit.

Click here to know more on Cisco's education initiatives

Tags: