Digital Transformation
'To See Or Not To See' – That Is The Question
To See or Not to See – That is the Question
These are the lines that most CEOs, CTOs and CDOs today are trying to answer. With video becoming an inseparable part of today's generation with services like YouTube, Facebook, WhatsApp forwards, the instant gratification that is sought can only be provided by video.
Further with the advent of Netflix, Satellite based television, Amazon Prime video or Facetime on your phone, plain text or images just don't cut it anymore. We like to see things as they are and if a picture is worth a thousand words then video is like reading a book in a few minutes.
Fast forward to the workplace of today and you realize that while video has become all pervasive in people's personal lives, it is not so at workplaces across India. There is a still a lot of scope with regards to video deployment in offices across the world where there are 20 million huddle spaces and this number is growing at a pace of 27% annually.
Huddle Spaces
With this rapid pace of growth, it is imminent that you need the tools to make these huddle spaces more intuitive and engaging. Not to mention, that today's workforce isn't all located in one place. Members of a team maybe geographically spread across different cities, countries and even continents. To further add to these complexities organizations, need to look at flexible work policies such as work from home, longer maternity and paternity leaves etc. Executives and sales teams might spend very little time in office and more on the field.
How does one then ensure that your teams still remain productive, connected and focused on the job in hand? This is where the need for more efficient Collaboration Solutions arises. Imagine a seamless tool that allows you to communicate with the same familiar interface irrespective of whether you are in office, at home or on the go.
Video First Experience
Enter Cisco Webex and the Cisco Collaboration portfolio. The industry's most advanced portfolio when it comes to keeping teams connected. With Webex teams, you can effortlessly communicate between internal and external stakeholders. With the Webex Room series video conferencing portfolio you can have a super advanced video conferencing experience in your meeting rooms. Features such as Voice activation, facial recognition, Ultra HD 4K sensors, Room utilization and many more are here to take your video conferencing experience to a whole new level.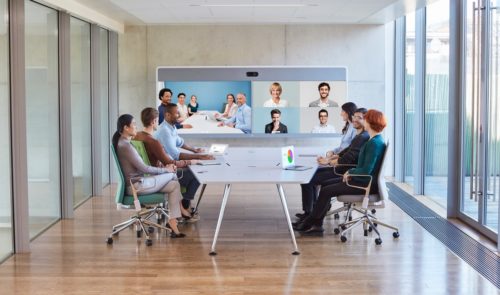 Webex meetings will ensure that no matter where you or your team mates are, they will always be available for that quick catchup or review meeting in splendid high definition detail. Cisco is making all of these technologies super easy to consume as well with the Collaboration Flex Plan where you pay for all this on a per user per month basis. The Collaboration Flex Plan takes it one step forward and even offers buybacks on some of your existing telephony platforms.

Now the question that still remains to be answered is "to see or not to see?"

Download Whitepaper,  to learn more.

Tags: