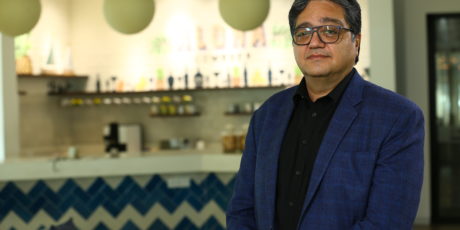 Digital Transformation
How Sales Leaders are Managing to Connect with Customers from Home
It was March 6th when I remember going last to office in 2020. Since then, I have locked myself down at home to support the Indian Government's initiatives to fight the global pandemic.
The best part of my job is that I lead Marketing for Collaboration portfolio at Cisco and I use Cisco Webex suite extensively to work from home. In my previous blog on Remote Working Quickly Becoming the New Norm, I did mention that working from home (WFH) culture is in Cisco's DNA and not a new culture for Cisco employees.
While I am WFH, I also wanted to understand other people's perspective on how other functions are managing to work from home, specially the daily customer engaging roles.
I had a chat with Mr. Sudhir Nayar, Managing Director – Commercial Sales, Cisco India & SAARC to understand his perspective of remote working and how Sudhir is managing interacting with customers during these unprecedented times. Read further to learn from Sudhir about his experience working from home.
Are you facing too much of a change in the way you are managing your official work from home?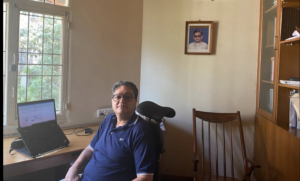 One of challenging tasks to work from home is that my family has to adjust to my timings.
My wife and children (my twins are in grade 10) are at home.
On regular days, they have a set schedule. Due to my continuous meetings at home these days, they are making adjustments.
On the flip side, I get more time with my family now, since I don't have business travels and I am managing all my customer interactions and team meetings from my home office.
Also, my commute to office usually takes 2 hours. I am able to utilize those extra hours for my personal coaching.
How are you managing your meetings with customers and employees?
Customer meetings have been productive. My customers are spread across India and SAARC region.
With our existing customers it is business as usual. I have built strong relationship with existing customers and during these lock down situations, working with customers has been seamless experience.
However, with potential customers I do spend the first few minutes of the call setting the context. Sometimes there are disturbances on the call due to background noise and connectivity issues.
Once the context is set, we have 5 minutes to build the trust with the customer. It's important that we stay focused and get to the point as quickly as possible. Productive conversations with customers can be achieved, if we do our homework – we should study the company profile, customer requirement and on how Cisco solution will be beneficial to them, in advance.
Also, when working with Indian customers, they prefer sitting down face-to-face during deal negotiation.
Remote working has been a lot of learning. It is good that customers are able to quickly adapt to video meetings and connect virtually. Face-to-face meetings run up to few hours; the virtual meetings are shorter, to the point and effective.
"The ecosystem is moving fast towards the New Norm – Remote Working Culture. We will see more companies equip their employees to work remotely with modern video tools to be productive. This is the power of technology and digital transformation will take an exponential growth".
If you have to call out one differentiation in Cisco products, what would that be?
Cisco thrives in providing the most secure platform to customers. Security feature is enabled in all Cisco solutions and products.
I use Cisco Webex for video meetings. Likewise, Cisco Webex is enabled with multiple levels of security. All confidential data is encrypted.

This is the reason you will observe that most public sector organizations including Government of India, Delhi High Court, Police commissioners are using Cisco Collaboration for their high profile and critical board meetings, working remotely during lock down.
We, also have doctors and other medical practitioners in healthcare using Cisco Collaboration to interact with staff and patients to solve problems, while maintaining social distancing.
Recently, MillenniumIT in partnership with Cisco Sri Lanka donated an AI-powered Cisco Video Conferencing Solution to the Healthcare sector in order to assist with the fight against the COVID-19 outbreak in the country.
How has Cisco enabled you to Work from Home?
I am using Cisco Webex Meetings for video calls and interacting over Webex Teams with customers and employees.
In addition to Webex applications and devices, our computer system is installed with Cisco Security applications such as Cisco AnyConnect, Cisco Duo and Cisco Umbrella to connect over the VPN, securely.
---
I appreciate the time taken by Sudhir to talk to me about his working from home experience.

How about you? How is are you managing WFH? It will be interesting to hear from you too. Please share your views in the comment box.

Tags: