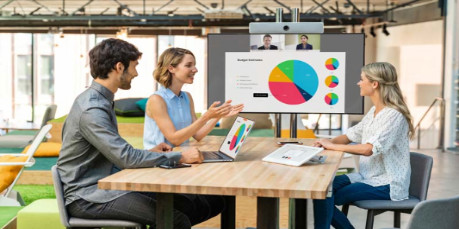 Digital Transformation
Cisco Collaboration – The more intuitive way to work
"Teamwork is the ability to work together toward a common vision. The ability to direct individual accomplishments toward organizational objectives. It is the fuel that allows common people to attain uncommon results." – Andrew Carnegie
The biggest of the achievements in human history could not have been possible without successful teamwork and partnerships. Partnership within team, cross-functional, between organizations, industries, brainstorming, huddling, discussions and celebrations, all are very much the integral components of today's business of any scale and capacity, in any industry. And, without any second thought, Collaboration is the heart of it.
Today, organizations need Collaboration Solutions which is more intuitive to use, agnostic of devices, locations or medium of collaborations. This is key to drive productivity and enable business seamlessly.  Cisco's constant endeavor is to bring simplicity in the way our customers have been leveraging the collaboration tools and solutions to drive their business.
With the more intuitive easy-to-use collaboration technologies of Cisco, we can converge the much-needed audio, video and web conferencing meetings with a simple click of a URL link. You don't need to remember complex numeric codes and siloed bridges for the same.
Cisco Webex Meetings & Teams
Collaboration enables businesses immensely to simplify the way employees work and collaborate in their day to day operations. To make it incredibly more powerful and extend the business continuity like never before, Cisco Webex offers a 360-degree engagement model for our customers meetings i.e. before the meeting, during the meeting and after the meeting phases with Cisco's Webex teams and meetings at no extra cost.
With this, we can have a pre-context of meeting contents shared in a persistent and secure chat space called Webex Teams to improve the efficacy of live-meetings. After the meeting, we can use the same space for post meeting discussions and minutes of meeting, polling, etc. for the seamless and outcome driven experiences.
Innovations does not stop here. The Artificial Intelligence integrations with Webex unlocks a lot of intuitive features that facilitate a better way to know the people attending a meeting and facial-recognition improvements that helps customers to more effectively collaborate from any location, ant time.
So, come and experience the whole new world of simplicity with Cisco's Award-winning Collaboration suite of solutions!