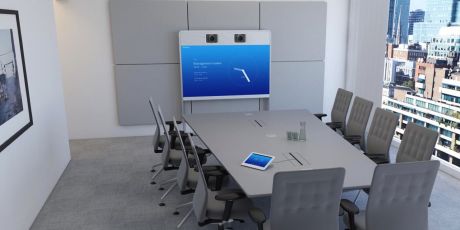 Collaboration
The Meeting Room – designed by Cisco
At Cisco, we believe collaboration is not a set of technologies – it's a human activity focused around getting teams to work better together to reach common goals.
Cisco's mission is simple : we want to provide a no-compromise collaboration experience into Every Room, on Every Desk, and into Every Pocket. In this post I will concentrate on the Meeting Room designed by Cisco.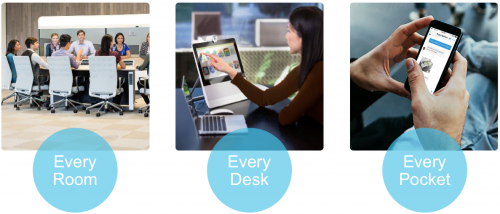 When it comes to Collaboration, the focus is on getting the experience right – it's not just about IT making sure that things are deployed. If employees don't adopt your new technologies, where's the return on investment?
Meeting Rooms today
Currently we see a lot of meeting rooms around in business and organizations like this one, or with similar siloed technologies and usage applications. One solution for local meetings, one for audio conference, one for multimedia, one for video and one for whiteboard and content creation.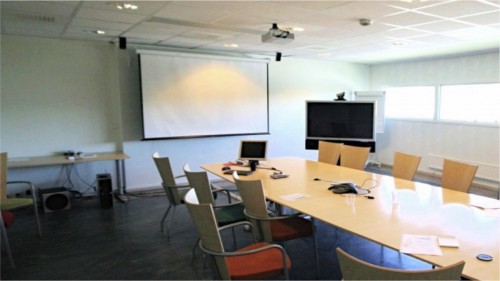 This is the typical meeting room I personally see when I visit customers. You can find an audioconference endpoint with external microphones. This audioconference device has an audio corporate directory and can be reached via a PSTN phone number. In one corner, there is a "wheel base" videoconference endpoint also with its own external microphones and a remote control. This device can be reached by dialling an H.323 IP address and also has a video corporate directory. For local meetings, you also have ceiling speakers in addition to the beamer which adds another remote control on the table. Also, fifty percent of the time this beamer has a PC connected which adds keyboard, mouse, webcam, etc.
When an end-user enters this room, the first thing which comes to its mind is "oh, my god ! It looks difficult, I'm gonna call IT to setup my meeting". If you think about it, it's not really obvious for most of the business users : I'd like to show my content locally but also remotely for people joining via video, which VGA cable do I use ? which remote ? which video source ? I'm doing a videoconference, but I also need to bring someone on its cell-phone, should I use the audioconference device in parallel ?
Things does not work very well together or not at all, and it is a lot of friction and pain to utilize everything in an efficient manner, and overall this creates a very bad user experience.
The Meeting Room designed by Cisco
We worked at redefining the meeting room experience, making it simpler, more user centric and optimized for user scenarios, but also more intelligent and capable, and here is the result :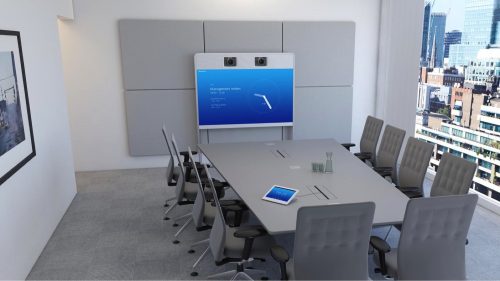 Basically, we took every accessories from the previous room and integrate them into a single device : the Cisco MX Series.
The MX series integrates the beamer, the speakers, the microphones, the audio and video conference endpoints, the different cables inside a single device.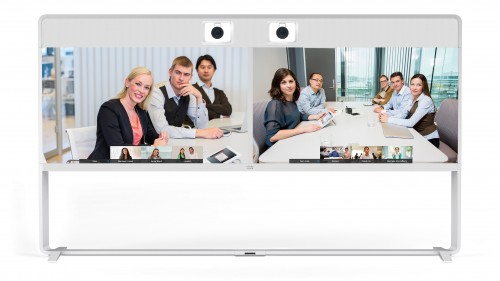 Remote controls  have been replaced by a Touch panel which gives access to a single audio/video corporate directory, a dial-pad, and the list of scheduled meetings. You don't see any phone in this room, because you can reach the MX via a PSTN phone number as well as a SIP address such as room1@company.com.
The iconic aluminium frame encloses the speaker grill with integrated camera and the large screen area while concealing the cables. There is no VGA/HDMI cables on the table because users can share content from their laptop screen wirelessly with the room system using Cisco Proximity. This is useful both for local meetings, where content is presented only to people in the same room, and during video calls, when you can present both locally and to remote participants.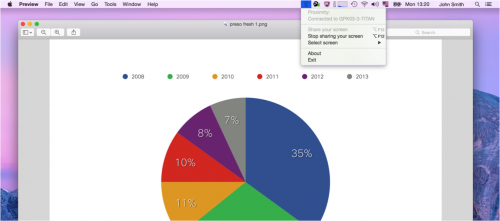 Cisco MX700 and MX800 endpoints employ a unique dual-camera approach named SpeakerTrack. With one camera, it quickly locates the active speaker and presents a close-up of that speaker. At the same time, the other camera readies to seek and display the next active speaker. This results in very fast camera switching and an uninterrupted meeting experience.
Industrial Design
The new industrial design language is developed hand in hand with a new user and graphical interface. It is designed to blend into the office environment with reduced, clean surfaces and carefully crafted details. The overall design combines light and minimalist aesthetics with a calm and inviting expression.
By the way, Cisco's industrial design was recognised in 2014 by multiple Red Dot Design Awards.
Just like when you go to Apple Store, it is emotional ! End-users get attracted and immediately give a try because they have the feeling this is going to be easy use. Purpose built: Designed with video collaboration in mind. All aspects of the system, from the height of the camera, the size of the screen, and the positioning of the loudspeakers have been considered to make sure you have the best possible quality and consistent user experience every time.
If you would like to live this delightful experience from our offices in Rolle (VD) or Wallisellen (ZH), do no hesitate to contact us !