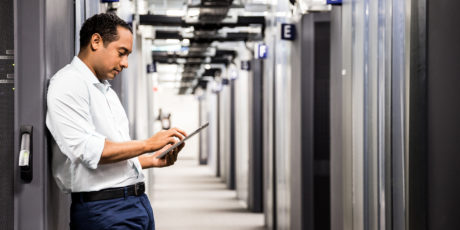 Country Digital Acceleration
Is your network secure and intelligent?
Solutions for a new era of intent-based networking.
The world is fast changing. Your network needs to keep up with it, including the demand of fast advancing security threats, evolving IoT, Cloud and mobility integration.
Cisco networks have moved data for 80 percent of the Internet for the last three decades. And we don't just move data. We study it. We work continually to understand it. We apply that knowledge when we design our next generation  switches.
And there is more data coming. Every year more devices connect to your wireless network and more data is transmitted and that means that the demand for a network to be fast and secure never waivers.
The  result:  a  network  that  constantly  learns,  constantly  adapts,  constantly  protects powered by the Cisco Catalyst® 9000 portfolio.
Benefits for you, our customers :
Twice the  density  at  a  lower cost.
New features packed with Cisco IOS XE Software.
End to end integrated security
Detect and stop threats, even with encrypted
Simplified automation  and assurance:  goal-based   policies  are  created once  centrally,  applied network-wide.
Acceleratechanges  with programmability,  supporting open standards and APIs.
Top  three  reasons  to upgrade to Catalyst 9000  family ?

Secure :

With access to Cisco's best in class security portfolio anchored by Talos, Encrypted Traffic Analytics, Trustworthy Solutions, MACsec encryption and segmentation, the product family provides advanced security features that protects the integrity of the hardware as well as the software and all data that flows through the switch and the network.

Always on :

The Catalyst 9000 family provides enterprise- level resiliency to keep your business up and running seamlessly. Options like FRU power supplies and fans, modular uplinks, modular patching, perpetual and fast PoE, and the industry's highest MTBF. Catalyst 9800 wireless controllers can be deployed as redundant or cloud-based options for additional wireless control redundancy.

IT  Simplicity :

Combine the application visibility of full flexible NetFlow with telemetry and the open APIs of Cisco IOS XE and on switches, the UADP ASIC programmability, and Catalyst 9000 portfolio gives you the best experience provisioning and managing your network now with investment protection on future innovations.

You want more Insights and improve your end-to- end security ?

With our integrated Catalyst portfolio and industry- leading threat intelligence, Cisco gives you the scope, scale, and capabilities to keep up with the complexity and volume of threats. Putting security above everything helps you innovate while keeping your assets safe. Cisco prioritizes security in all that we do, and only with Cisco can you attain effective network security to face tomorrow's evolving threats.

Now you can do more in less time :

With Cisco DNA Center and Software-Defined Access, the Cisco Catalyst 9000 product portfolio can operate as part of one fabric,   for faster, more secure network access. No more constant cutting, pasting and tweaking device by device. Create once, apply network-wide using cross domain policy enforcement and automation.

The Catalyst 9000 family also offers multiple programmability options to further simplify configuration and adapt to changes. Plus you can put your data to work. Get 360-degree contextual insights across users, devices, and applications. Assure network performance with real-time and historical data analytics, to learn, adapt, and even detect problems before they happen.

Feel free to contact me Erick Caron,  to discuss Demo, Pilot or Proof of Concept for your organization with the support of Cisco CDA (Cisco's Country Digital Acceleration Program).

Tags: