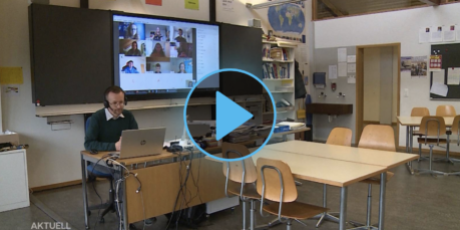 Collaboration
Chestenberg District School – School with Cisco Webex
The global situation has forced Chestenberg District School to seek a solution as to how school operations can be maintained. A usable and user-friendly, secure, digital solution for communication between teaching staff, tutors, and students, as well as for the school board, had to be found.
Webex stood out for its user-friendliness
Teachers with little IT knowledge raised huge concerns. However, Webex won them over also with its simplicity. After the first meeting, the initial concerns were blown away. The program was immediately established as standard at the school. Class sessions are held with teaching staff where content is explained (learning inputs), but they are also used merely for the purpose of seeing each other again. – One student explained that he had now created his own account and was chatting with his four closest friends in the evenings. As such WebEx is also for private use as a way to keep in touch with your family and friends.
How Chestenberg District School is using Webex
Sharing the screen, the chat, and different view options make Webex a very useful tool to work with, which we don't want to do without in this time of distancing. Click on the image below for the TeleM1 post on how the school uses WebEx.
Cisco Webex security
Cisco Webex also convinced due to its high security standards. Cisco's guiding principle is always "collaboration without compromise." With this in mind, we want to support customers in maintaining or growing their productivity, connectivity, privacy and security at the remote workplace in three different ways:
security is never a compromise between convenience and speed!
Cisco applies proven processes to ensure security and data protection are integrated.
Cisco is transparent: When vulnerabilities occur, it is vital that these are immediately resolved and proactively discovered. Cisco's practice of exposing all vulnerabilities, including those we find in our own penetration tests, is part of our philosophy.
The Bottom Line
We are now all in the fourth week of this unprecedented situation where our public life has been transferred to the home. Just like Chestenberg School, we've found a way to keep your life up and running as much as possible. The "Home Office" is possible in many professions and can be simplified by Cisco Webex. Due to the global pandemic, Cisco is offering a 90-day trial for businesses, schools, colleges, and universities. You can download the free version here. We are also offering a comprehensive security package as a free trial, more information can be found on our "Working from Home" page.

If you have any questions about the versions or installation, please contact us via the contact form or by phone on 0800 179 317

Tags: