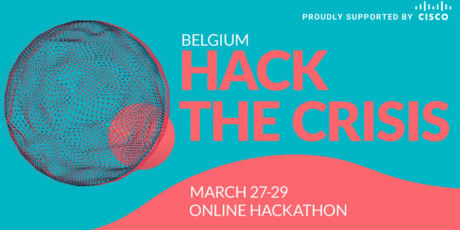 Social Responsibility
Coronavirus pandemic doesn't stop innovation: Cisco joins forces for Hack The Crisis
Experiment to better adapt. There will be a before and after this COVID-19 crisis. Our working habits and the way our businesses operate will deeply change. We are experiencing a new normal that will settle in time. We see over the days that mentalities are rapidly changing. The whole society is indeed forced to think and act differently by using all the tools and technologies at our disposal. And co-creation and innovation are not an exception. They were exposed this weekend from March 27-29, 2020.
100% digital, 100% remote, 100% isolated, rapidly set up and without budget
6 days to bring together hundreds of people ready to collaborate and find solutions to the coronavirus crisis: this was the crazy idea of the 6 organizers of the 100% online hackathon Hack The Crisis Belgium. Imagine yourself alone at home, away from your teammates and only equipped with digital tools. You have never met some of your teammembers and you will collaborate and co-create for two days. The energy and motivation of each participant made it possible to achieve results quite equivalent to those obtained in a classic on-site hackathon. And this without a huge budget apart from the time of each participantand mentors. The solidarity of several partners including Cisco made it possible by providing all needed technological tools to the organizers.
When we have no choice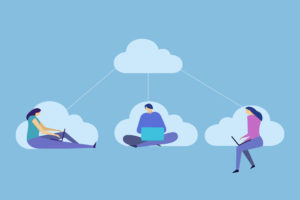 In unprecedented times, the TECH & INNOVATION community is ready to take on any challenge to help. Last weekend, Belgian developers and entrepreneurs came together virtually for Hack The Crisis, an exceptional hackathon to face COVID-19.
Following similar initiatives launched among our European neighbors, Belgium was ready to contribute with its first fully online hackathon. The goal was to work out concrete solutions, focusing on five important areas of the coronavirus crisis: health, education, business continuity, well-being and logistics.
The event was open to all volunteers, whether as a developer, coach, partner or simply by submitting challenges. More than 600 people joined the challenge, including nearly 350 participants divided into 36 teams, assisted by hundred mentors, to respond to several of the 86 submitted challenges. The three best projects were rewarded with 22k€ donations.
Cisco, innovation partner
Cisco quickly reacted by supporting the event with different contributions. My colleagues, all members of the Cisco Belux Innovation Studio, Antoine Engelen, April Bilbrey, Julio Molina Soler and Jelena Kljujic joined as mentors:
"What I take with me from those days is the amazing people involved with their positive energy. It is true that we as humans can do harm, but if you come over and look at innovator's angle you'll see why there is room for hope and with the right people and the right tools there is no such thing as impossible. By the way, we are all innovators. This experience was a true silver lining on what is coming in our way!"
Julio Molina Soler – TAC Engineer
"It was an amazing experience: high energy, and really creative!  The two teams I coached reached the top 10, and both teams are still moving forward with their solutions. It's important to give what we can in times like these, even though it's atop all of the other adjustments we're making. I'd like to see good order established, and a deep look at our lessons to be learned from this pandemic crisis."
April Bilbrey – Business Innovation Architect
"Innovation, pandemic and privacy are each a challenge on their own. Bring them together in a meaningful way and you are on your way towards a sustainable solution! This is exactly what #HackTheCrisis did this weekend, awarding all of its participants with desperately needed morale boost. It was a demonstration of powerful co-creation which was made possible by like-minded people who have never met before and who were not afraid to ask difficult questions to arrive to solutions that benefit us all. Privacy enables innovation, together they beat pandemic."
Jelena S. Kljujic – Privacy Engineer
"I am very happy to have participated in Hack The Crisis. This allowed me to feel useful despite the comfort of being confined to my home. It is actually quite possible to co-create as a team via videoconference. I hope that our project will succeed. I recommend everyone to have this experience. "
Antoine Engelen – Programmability Lead
For the logistics part, we deployed an important communication system via Webex to connect all the participants together and broadcast the kick-off briefing and the closing ceremony in both Webex & Facebook live. Finally, a team made up of members of Intersysto, Cisco, Proximus, BCG and CHU de Liège was part of the competition.
We are proud of our team which has reached the final top 10 thanks to the Homecare Emergency project. This mobile application, based on the Intersysto 3S Homecare solution, provides assistance to COVID-19 patients at home to avoid unnecessary overloading of patients in hospitals and especially to avoid saturating the emergencies.
A Belgian first
Thanks to Hack The Crisis, we have seen that it is possible to organize such events entirely virtual and remote. We are also delighted to see all the people who are ready to collaborate to find solutions and innovate. We congratulate the teams that have reached the top 3: Corona Hometest, Wecare and Analysis mode who will be supported in their realization respectively by EY, Storyme and Lemon. We also thank all the participants and volunteers for their excellent projects and their precious contributions. We hope to see soon the outcome of the solutions and applications that were developed last weekend.

Hack The Crisis is a great initiative that we greatly welcome. The idea is gaining more and more acceptance all over the world. Similar hackathons have already been organized or are being organized in 27 countries. Two weeks ago, the German version notably brought together 43,000 participants. The Belgian community is now preparing for a second HackCOVID.co initiative which will take place from April 13 to 17. More information and registration here.

Hack The Crisis was a logical follow-up to the other hackathons we organized at Cisco BeLux. The latest, HackforGood, was held last November. Community events that can make a difference are close to our heart and will continue to support them. In addition, the next edition of the Cisco Belgium Giving Back program will take place in June. The week of corporate volunteering is adapting to the current situation: the number of days dedicated to charitable actions has been doubled from 5 to 10 and employees are invited to provide Giving Back contribution online.

The world is changing and we have to adapt. At Cisco, we want to do everything we can to collaborate on this change and keep moving forward.

You can replay the Hack The Crisis competition here and via the livestream of the closing ceremony available here.

Tags: