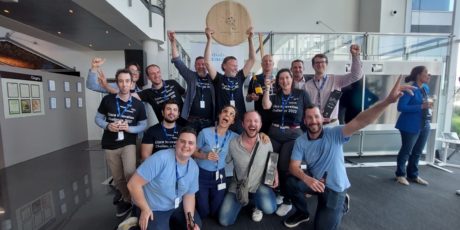 Digital Life
AI solution to predict waste container fill level wins Innovation Challenge 2022
Stronger and better. The pitches of this year's Innovation Challenge (4-5-6 May) were extremely convincing: concrete, well-articulated and substantiated. Most of the teams had CxO involvement and that helps to go from the 'mere' development of ideas in our previous hackathons, to a well-defined strategy with concrete action planning, validated solutions and even a funding outlook to deploy the proposed solution. To this end, the hybrid edition with two days on site at customer premises closer to the business and operations and one day at Cisco's office, proved to be a success. And it's the team of CILE and Intradel, supported by their partners NTT & Contraste, that impressed the jury the most. Congratulations!
Water company CILE and waste management organization Intradel, both public organizations, decided to collaborate on the optimization of recycling sites (container parks). Their goal was to improve the citizen experience at the Recyparc starting by guaranteeing there will always be an available container whatever you need to dispose. To this end, they would need to order trucks to pick up the containers in use before these are completely full.
Instead of manually checking the fill levels of containers, they decided to automate this process with Meraki smart cameras and artificial intelligence. Trend analyses allow you to predict the moment of completion – even if you don't know how many disposals or how much waste will follow at any given moment for any given container.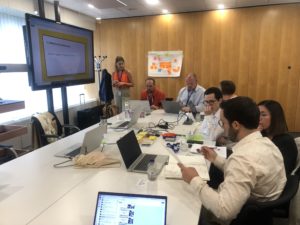 Whereas classic sensors can only communicate when a certain level is reached, an AI application like Modcam (now part of Cisco) helps our cameras automatically identify what they're looking at. Add a little bit of tailored programming and AI modelling, and Intradel is able to predict when maximum or 90% of a container's capacity will be reached, and improve its container planning.
"The jury applauded the sustainability and the potential for replication of their solution, that really improves the public service. Citizens will no longer be faced with full or covered containers anymore and waiting times are limited. The team had the full support of their CIO, presented a near-to-final demo solution and also a finance plan from development to implementation and maintenance. We were very impressed by the fact that they could realize all of this in under three days", said jury president Guillaume de Saint-Marc, Cisco.
(Don't) focus on the solution, but on the challenge
This was the first edition that we also worked on site, closer to the companies' businesses and challenges. In hackathons, people want to spend as much time as possible on the solution development. The best ideation is reached when you have thought over every single detail of the challenge itself.
This edition has underlined the value of our collaboration with innovation agency Impact Valley. Our twelve Impact Valley-trained innovation coaches have assisted the four contenders with the strong cocreation techniques they monitor and pass on, led by Design Thinking and Collective Intelligence. The feedback we received from the teams and our partners confirms why we keep investing in our Cisco Innovation Studio.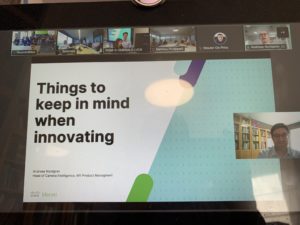 I would also like to congratulate Ethias, winner of the public vote. We cannot give away all the details yet, but the team decided to reflect on next generation insurance services and patient care management. Finally, Terumo has developed a solution for EV charging stations planning for staff and visitors and aviation company Safran wanted to virtualize their production floor with asset tracking in order to better pinpoint use or location of components in stocks or even in the production process. All of these challenges and solutions sound very promising.
Innovation challenge 2023
I'm amazed by both the engagement and the positive feedback of all four teams both during the hackathon days as on social media, with already first requests for participation next year. I can only welcome those. The innovation challenge is a strong human adventure with new team dynamics and cocreation techniques.

Last but not least I would like to thank keynote speakers Bruno Wattenbergh (chairman of EY's Innovation Board) and Andreas Nordgren (head of camera intelligence at Meraki) to inspire the participants.

And of course 'merci' to our jury members Adeline Michaux, Remco Lenstra, Johnny Waterschoot, Elisabeth De Dobbeleer, Guillaume De Saint Marc and Alexis Malchair, and to our partners NRB, NTT and spotit.

Tags: