Our People
There and back again: how Donald Mclaughlin is helping take Scotland to the world
"I have to ask… is that tuna and jalapeno?"
We're halfway through the hour I've been given to grill Donald Mclaughlin, Cisco's country manager for Scotland, and I've only just confirmed my suspicions about the contents of his lunchtime sandwich.
He responds hesitantly. "You're not going to put that in the piece, are you?" I mumble a vague promise not to, knowing immediately that I'll break it. "It just adds a little something extra to a tuna baguette," he continues. "I can highly recommend it. My sons are actually great exponents of jalapeno omelettes. They'll really wake you up in the morning."
It's not the last time that the subject of food arises during our conversation. But while it's clearly a passion of his, it's just one of many that Mclaughlin elaborates on during my time with him. Glasgow born and bred, he has a soft-spoken manner that belies the obvious joy he takes in everything from time spent with his family to the work he does.
Like many others, Mclaughlin is a Cisco long-timer. He's been with the company for more than 14 years, joining in February 2000 as a software account manager for the Contact Centre team. He came from Siemens, following some of his colleagues across. "They'd joined earlier," he notes, "and were good enough to recommend me."
That doesn't mean it was an open and shut case, though. "I'd actually been asked a couple of times before, but hadn't made the move because I had unfinished business where I was. There were projects that I wanted to see through to the end." One of those, as could be expected for any IT professional in the run-up to 2000, was the Millennium Bug.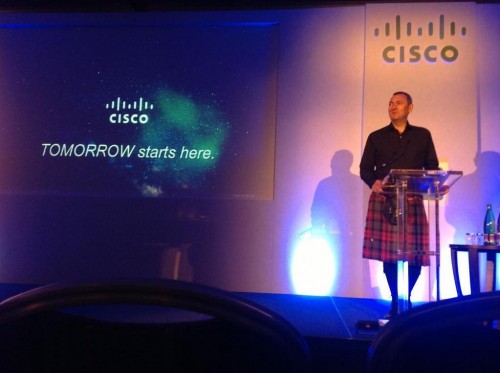 A mixture of responsibility and curiosity to see how things panned out kept him at Siemens for a while longer. "I wanted to see how things panned out," he explains. "We'd sold things to customers on the promise that they'd still work perfectly on January 1st 2000, and so I wanted to be around to make sure that they did."
When the strains of Auld Lang Syne rang out and the machines failed to rise up against their human creators, Mclaughlin knew that it was job done. And, he notes, the timing was more or less perfect. "It seemed like a good moment to be joining a company like Cisco," he continues. "It had been running in the UK for a little while by that point, and it sounded like an exciting place to be. It felt like Cisco was at a good stage in its life, with lots more exciting stuff to come."
Mclaughlin's an IT lifer, having joined Unisys upon graduating from the University of Glasgow in 1988. But it might not always have been that way. "I can't say that it was completely planned," he confesses. "Like many people, I started to think about what I might want to do with my life in my final year at university. I studied maths and statistics, and didn't really want to be an accountant or an actuary or anything like that."
"I was much more into the idea of corporate life, working for a big company," he continues. Chipping away further, I discover that ulterior motives may have driven his decision. "I knew someone who was a few years older than me who'd joined the same company as a salesperson, and they had a nice car and seemed to earn good money while enjoying what they did. So it seemed like a good place to start!"
A good place to start and, it turned out, a good place to stay. In 2008, he was made Director and Country Manager for Scotland, taking the reins for Cisco's operation across the whole of his homeland, something he describes as an "undoubted" career highlight, albeit one of many.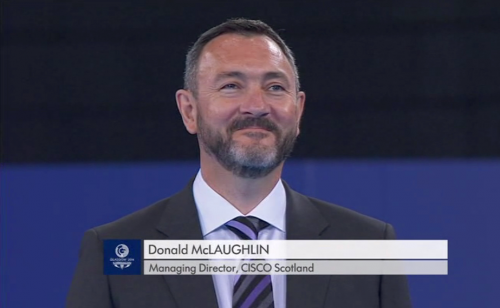 He's quick to cite another: Glasgow 2014. Cisco, as one of the sponsors, helped bring the event to life by delivering a mission-critical network. What did it mean, I wonder, to a Glasgow native to be involved in such a spectacular event in his hometown?
"As a Scot, I'm incredibly proud of what's been happening here," he responds. "I'm hoping that during 2014, the world will start to see Glasgow as a major city again; a city that can lay on and do a very, very good job of running such a big event. And I'm hoping the world has seen some aspects of Glasgow that they might not have seen for a while, like a thriving economy and a city that's on the map for innovation and entrepreneurship."

"That was my personal ambition for the Games," he continues. "That it would prompt people to say, 'wow, I'd forgotten what a great city Glasgow is and what a great country Scotland is for driving innovation and change'."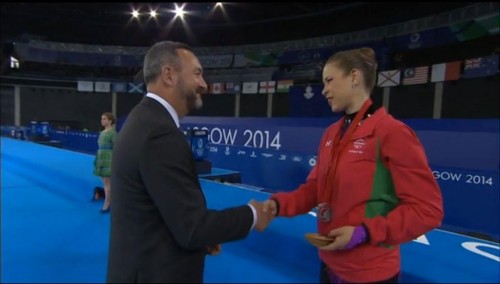 The innovation point is one that's close to Mclaughlin's heart. He's a passionate defender of Scotland's historical (and ongoing) contribution to the modern world, citing everything from penicillin to the television as evidence of the nation's ability to produce world-beating ideas. He's quick to reel off the full list, something that he's wont to do whenever the subject arises.
"I sometimes get a little tongue in cheek with it," he admits with a laugh. "I do tend to add a few things to the list whenever I get going. But it's not overstating it to say that most of the things I've mentioned have had a fundamental impact on the modern world. We'd be in a very different place if these things hadn't been invented."
Thinking about his personal ambition for Glasgow 2014, I ask him if he believes that culture of invention and innovation is still alive. "I do," he quickly responds. "I do, I just think that we as a nation can be naturally modest about things. Quite often people come up with ideas, and then other people commercialise them, and I think that what we need to do is just have confidence in our ability to innovate and turn that into something really meaningful."

"I think we've done that before, and I think that we can do it again," he continues. "It's definitely still there, but it probably needs a shot in the arm, just to get people to have the confidence to push for things." Has the Games been the spark for that, I wonder? "I hope so, yes."
Since the subject's turned that way and Mclaughlin readily admits that he can get a little exaggerated when discussing some of Scotland's inventions, I quiz him on what he thinks the greatest contribution the nation has made to the world. A long pause follows.
"Wow. That's a really good question, and I wasn't expecting it. I mean, I'd probably have to go for the telephone based on my background. Working for telecoms and IT companies and it being fundamentally about communication and collaboration, I'd have to say the telephone as it ties in so fundamentally. That's the one that means the most to me," he says.
A great answer in terms of one of Donald's own personal heroes in Alexander Graham Bell, but what about the rest of us?
"I'd probably go for penicillin, just because of the whole thing these days around ageing populations and the thought that healthcare is going to have to take a different approach as we go on. That's probably one of the biggest challenges the world has, not just Scotland or the UK. If you think about how many working people there are today compared to how many are retired, that balance is going to shift massively, and we have to think seriously about how we're going to address it."
His love of innovation and invention is clear to see, as is his enthusiasm for tackling issues like those above through technology. But I wonder if things had turned out differently, would he still be doing what he's doing now? Or would he have dusted off that abacus and gone into accounting?
"I don't think so, no," he says. "I mean, I've always been very comfortable with numbers, but not to the point where I felt it was a career in its own right. I did maths because I enjoyed it, and there's actually a strong link to music there as well."
His eyes light up at the mention of music. "Tell me more," I say.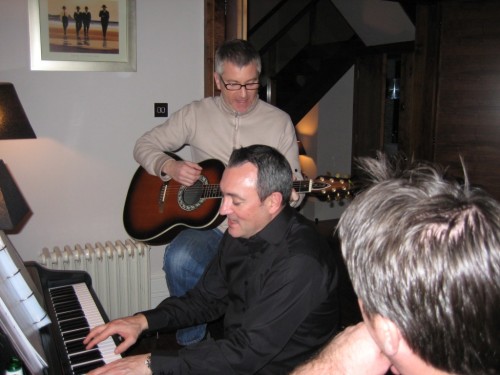 "I love music. I like playing the piano, playing my guitar, and for me there's always been that natural link between music and numbers. It was actually how I spent my first summer at university," he explains. "We had a small band – more of a folk group, I guess – and toured around getting gigs. We were getting paid, so I guess you could call it semi-professional, but it pretty much just covered our expenses."
"It was great fun, but it wasn't something that was going to be a career for me." While he might have parked dreams of rock stardom at an early age, however, Mclaughlin readily admits that he doesn't need much encouragement to tickle the ivories. "You'll usually find me at the piano if there's one at a social event," he says. "If I didn't ever have to work again, then that's what I'd be doing. Give me the opportunity and I'll play."
Without a Casio keyboard on hand to put him to the test, I instead opt to try and find out which artists Donald might be emulating when given the chance. "No-one in particular, but I suppose that's not going to help you," he notes. "I guess that it's just anything that sounds good on a piano, so Elton John, Billy Joel that kind of thing. But I'll have a go at most stuff and try and make it up as I go along if I don't know it," he adds, that Scottish modesty that he's mentioned in full swing.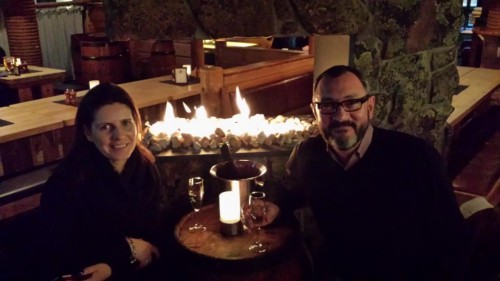 Music might be close to his heart, but then so are his family, he says. "We spend a lot of time together, which is something I really enjoy. As of September, both of my sons will be living away from home, which makes that time even more precious. Although on the plus side, it will mean that Lyzzy and I will have more time to spend with each other – we may even have to take up ballroom dancing or something! Our older boy has just finished his first year at university, studying Medicine at Aberdeen, and the younger one will be going to Edinburgh to study Chemistry."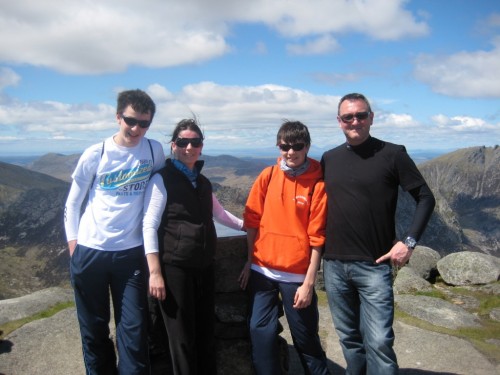 A pharma career lies ahead for both then? "Maybe," Donald responds. "But they're keeping their options open and at the end of the day I just want them to do something they'll enjoy. You know, you're at university for quite a while, and you're going to be working for a long time after that, so for goodness sake do something you'll enjoy."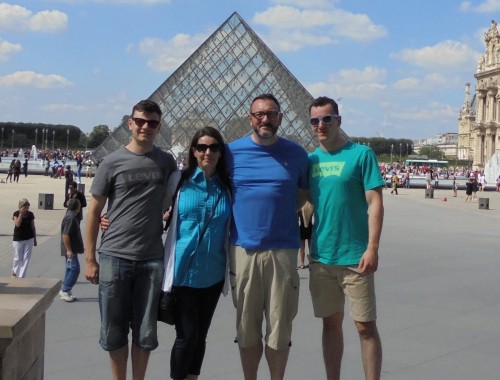 "There's no point being in a well-respected job with a healthy bank balance if you don't enjoy what you do," he notes. "Do something that you love and the rest is a bonus."

Doing things they enjoy seems totake up a lot of the family'stime together. "I like playing golf, and all of us in the family play so we do get the opportunity to do that, but never as often as we'd like," he says. "I played quite a bit when I was younger, but it's whenever I can fit it in now."
When they're not ruining a good walk, there's a good chance that family Mclaughlin can be found in one of Glasgow's many eateries. Donald reveals himself to be an 'eclectic foodie', though struggles to single out any specific cuisine as his favourite when pressed. "It doesn't sound good, but I'm struggling to think of anything I don't eat," he elaborates. "I will eat just about anything; a total omnivore."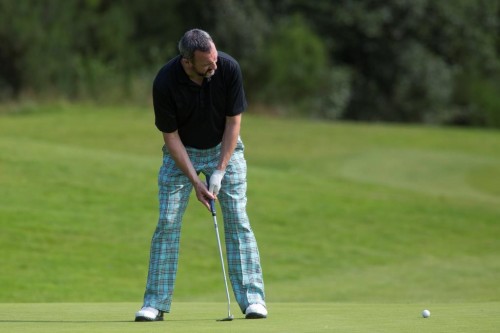 If not what, then, where? "The Ubiquitous Chip," he quickly replies, naming it as his recommendation for the best place to grab a bite to eat in Glasgow. Assuming it's not just chips, I press for more details. "I guess it's primarily Scottish influenced; very gamey, very seafoody," he continues.  "You'll get things like pigeon or venison. Everything's good, though if I had to pick one dish, I guess it would be the haggis."

It's a suitably patriotic answer. And for a man who's so clearly full of pride for his homeland and its long history of innovation, it's also the only one I'd expect.

Tags: