Cisco UKI
Richard Arkwright meets the Internet of Everything
Britain is a great nation of scientists, inventors, and innovators. Some of our finest creations came from the humblest of beginnings (the empty garages, the garden sheds) before going on to change the world…
To celebrate this all-round awesomeness, over the next three months I'm exploring some of the best British inventions, and why they are still changing our world today. This week, I kick off with a little known man by the name of Richard…
Sir Richard Arkwright, born in 1732, is widely considered to be one of the catalysts for the Industrial Revolution – a period which would reshape the face of Britain and the rest of the World.
Arkwright, the son of a tailor, earned himself some pretty impressive titles during his lifetime. Monikers including 'father of the factory' and 'cotton king' sound like they're taken from a 'near-modern' version of Game of Thrones.
His entrepreneurial spirit combined with a clear vision of how to improve and progress society.
The Englishman (hailing originally from Preston, Lancashire) started his working life as an apprentice barber.
His second marriage in 1761 gave Arkwright a small income, allowing him to set up his own barber's business. He picked up on a new method of dying hair, which saw him travel around the country to collect human hair for wigs. Sounds gross.
However, this put him in regular contact with the weavers and spinners of the day, and when the wig business fell flat he saw an opportunity to make a fortune through the industrial mechanisation of the textiles industry. Always handy when you've built up your network, right?
It was this work that sowed the seeds for Arkwright's modern industrial factory system, putting the technology in the hands of the workers, factory bosses and future innovators.
This approach drove significant change, completely altering our ways of life, and society marched forward.
Factories needed to be located close to rivers and streams, in order to power the great mills and the first automated factory machines.
Electricity was discovered in 1752, but it would be decades before a nationalised electricity grid arrived, and the rules changed again. A factory no longer had to rely on a running source of water, as the power came from the national grid and could be accessed as long as you were close to a power line.
*Need. More. Charge…*
In the modern world, offices have replaced factories. No longer powered by those whirring factory machines, it is the personal computer connected to the Internet which drives us forward.
The first generation (and many businesses now still do) ran this by having servers and all their data located on site.
Now, that data is held and managed in the cloud – allowing businesses even greater freedom to work from any location at any time. Can you imagine a world where you can't answer email in the bath? There is still a way to go, but businesses are now broadly realising the benefits of digital, and remote working/bathing.
We look to today right now, and you can see the similarities between the work of Arkwright and what we have today in our own modern digital revolution.
It is the Internet of Everything opening up this new digital frontier – an opportunity worth billions.
We now have the ability to connect just about everything to the Internet, allowing us to remotely collect data from any location.
The understanding of this data is the key, but you just have to take one look at some of the start-ups at IDEALondon to see the progress that is being made already. We also came face-to-face with the 20 semi-finalists of the Cisco BIG Awards last week who are on the very cutting edge of this technology.
From connected lighting, to smart cities, and everything else in between, the Internet of Everything is set to transform our lives the very way same way the Industrial Revolution did. Doesn't it make you feel a bit fuzzy that Britain is at the heart of that?
And that is why we're committed to driving this vision forward, announcing just a few weeks ago our commitment to investing $1 billion in UK tech over the next five years.
Just imagine if you could have told Arkwright the progress we would make in less than 300 years…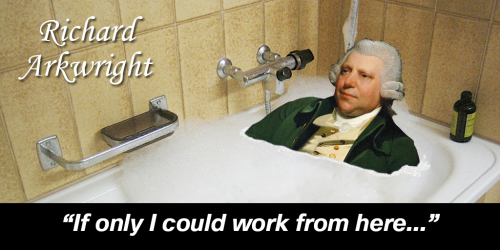 Tags: