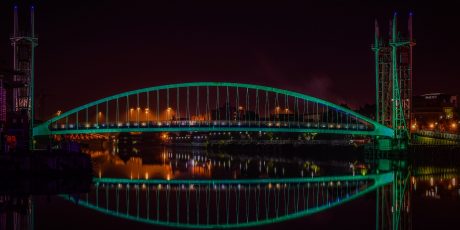 Digital Transformation
Massive IoT growth for UK and Ireland (and Manchester leads the charge)
There's no doubt about it: the internet of things (IoT) market is booming in the UK and Ireland.
Back in 2014, we carried out a piece of research on IoT opportunities for start-ups in this region. We discovered a young but thriving sector, spread across multiple industries in various locations.
In April this year, 18 months after the first report, we carried out that same research again to see how the IoT landscape had changed in that time.
The outcome looks incredibly positive for IoT in the UK and Ireland, and today I'm going to share some of the most exciting findings with you.
Huge growth for the UK and Ireland
The first thing to note is the overall growth of IoT has been huge, with the number of IoT start-ups highlighted in our research increasing by half (49%) since the 2014 census – from 244 to 362 in the 18 months following April 2014.
But it's not just the new additions we should be getting excited about. Almost a third (28%) of the companies we assessed in 2014 have shown significant progress, six of them have been acquired by larger companies and one has successfully launched an IPO. Conversely, only 9% have gone out of business.
All of this is hugely positive, and shows the UK and Ireland are well on track to contribute a significant chunk of the $14.4tn market IoT is set to create globally by 2022.
Health and transport biggest growth sectors
In terms of sectors, health and transport were two particularly strong growth areas, while industries such as agriculture and oil & gas remain relatively low.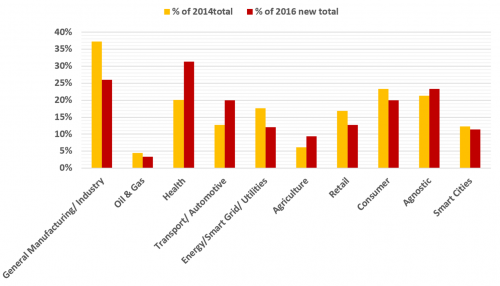 Again, these findings largely follow what we've been experiencing. Digital health, for example, is already a booming sector. 
As for the sectors that didn't perform quite so strongly, I'm hesitant to speak too pessimistically about them at this stage. Areas such as health or transport have perhaps had the greatest opportunity to benefit from IoT innovation in the short-to-mid-term, so it's not entirely fair to compare them to oil and gas on a like-for-like basis.
You also have to consider certain sectors are inherently faster-moving than others. The UK government launched a three-year, £40m funding plan in 2015, so there's plenty more time for innovation to happen.
It's not all about London
Perhaps one of the most exciting developments we've seen is the amount of IoT activity happening outside traditional tech hubs like London and Dublin.
69 of the 196 England-based IoT companies in our census reside outside the capital, with Manchester, Southampton and Cambridge seeing particularly strong growth.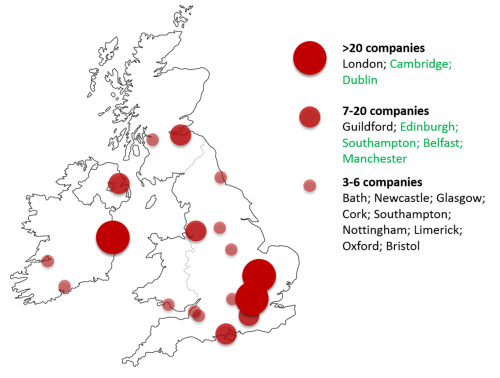 This reflects what we've seen when looking at start-ups generally. Our recent BIG Awards competition saw entries spread further across the UK than ever before, such as Manchester-based i2i Pipelines.

Speaking of Manchester, its growth (the most significant across the whole of the UK and Ireland, growing from just one company in 2014 to a mid-size cluster of seven this year) is particularly interesting given that it recently won a £10m government grant to become the UK's first IoT city demonstrator. The project will create a public-private consortium, in which Cisco is the industry lead, to establish Manchester as a world-leader in smart city technology and deployment.

As this progresses over the next two years, we'll no doubt see a big surge in IoT start-ups within this region as entrepreneurs look to secure their slice of the market.

Positive so far, but we're only scratching the surface

To reiterate what I said at the beginning of this post, our latest report shows incredibly strong growth in IoT across the UK and Ireland.

We've witnessed a big step towards this region becoming the world-leader in this field, but we're only at the very beginning of what is possible. If businesses step up and make the most of these opportunities, the future of IoT in the UK and Ireland will look very bright indeed.

How do you see the IoT market developing in the coming years? What do you see as the most exciting growth areas?  Let us know your thoughts in the comments below.

Download the full 2014 report for lots more insight.

Post updated 8th June, 2016

Tags: