Digital Transformation
Building a Vision for Growth
Last week we found the perfect opportunity to inspire a new generation of school kids – 1500 of them to be exact – in the technology that is driving the Internet of Everything. We exhibited at a Career's fair at Tomlinscote High School in Surrey where five schools came together to host an event for students aged between 14-18.
Along with other organisations, Cisco was supporting the Science, Technology, Engineering and Math's (STEM) zone of the event.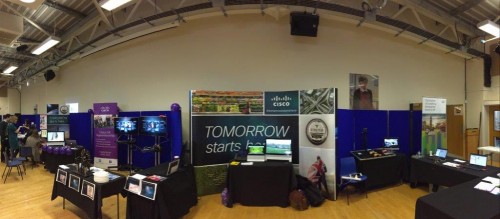 It was really important to showcase some of the featured demos we have at Cisco and with the help of different business units we were able to find suitable, yet relevant demonstrations.
We had our collaboration tech demonstrating our remote capabilities, as well as displaying videos on the Internet of Everything. Other highlights were the Wimshurst influence machine, which is an electrostatic generator, a machine for generating high voltages, and the Parent's favourite, a Facebook Hackathon to highlight safety online. We showcased how easy it is for phishing websites to take personal information and account details.
We also showed off Snowflake, the latest multi-screen TV experience with fun interactive activities that show the future of TV and the possibilities when creativity and technology combine.
The ever so popular Makey Makey, which allows you to turn the whole world into a keyboard, was also on display. It's a simple 'Invention Kit' for beginners or experts in art, engineering and everything in between.
And finally, the Apprenticeship Stand wasagreat way for the kids to begin an exciting career with Cisco. On our 3 year apprenticeship scheme they will have exposure to a huge variety of roles, giving them knowledge and experience to specialise in areas such as business, sales, project management, engineering and many others.
 We'd like to share one particular response to the questions we prepared in our introduction area: Meet Cornnia Smith – in year 9 and with a bright future ahead of her:

Describe yourself in three words?
CS: Confident, Friendly and Hardworking

If you worked for Cisco what would be your ideal job?
CS: Sales and Marketing

What is the internet of everything (IoE) and what does it mean you?
CS: How everything is connected to the internet in one way or another

 Our main objective was to inspire the next generation to consider STEM and the opportunities in IT, especially for girls. It was also the perfect platform to connect with the parents & teachers and help them understand why STEM could lead to successful careers in IT. We aimed to let a fresh batch of talent know about year's apprentice intake and the new connections we have made with the schools, kids & parents should do exactly that.

So we arrived with the aim to inspire about technology, and left feeling a little bit inspired ourselves. The opportunities for these kids are simply incredible and it was a pleasure to have worked with all the volunteers and teachers on the event.

Tags: