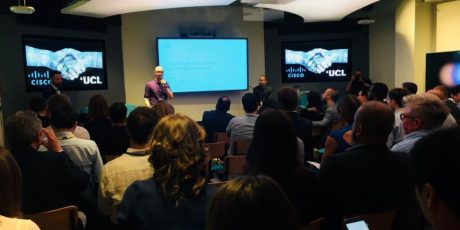 Innovation
Will blockchain really change the world? We partnered with UCL to break down the hype at Blockchain Unchained
'Why The Web Won't Be Nirvana' – thus ran the headline of a now-infamous Newsweek article published in 1995.
In the piece, journalist Clifford Stoll went on to make such claims as "no online database will replace your daily newspaper," and "no computer network will change the way government works." Hindsight, of course, is a wonderful thing – and poor Clifford has become a particularly frequency recipient of its teachings.
And the reason ex Procter & Gamble and now Swiss Crypto Advisors CEO, Francesco Abbate was talking about this article at the Blockchain Unchained conference we hosted at IDEALondon last week? Well, he explained, he sees many similarities between the position of (and hype surrounding) blockchain technology today and the internet 20 years ago.
This is, he said, because a) people don't yet understand the true potential of the technological applications of blockchain, b) there are bugs that cause people to ignore this potential, and ultimately c) people are too grounded in their current reality and suffer from a lack of imagination.
Just like Stoll in 1995, he said.
Just because you can, doesn't mean you should
According to the Gartner analyst house, blockchain technology is still as much as a decade away from mainstream adoption – and on the cusp of entering the 'trough of disillusionment'.
Accordingly, John Lovelock, vice president and distinguished analyst at Gartner, has advised that companies should be taking a cautious though exploratory approach to blockchain adoption.
Indeed, there's a lot of snake oil to be bought out on the blockchain market. Which is one of the reasons why Tom Davies, one of our DevNet senior architects at Cisco, decided to design his own applicability model on display at IDEALondon.
Showing off the model to attendees, he explained that it's based on an earlier model produced by researchers at University College London and aims to show not just when companies should be considering a blockchain-based solution, but also when they shouldn't be.
Baking on the blockchain?
But what exactly is blockchain? And, more to the point, what can we actually do with it?
As with lots of very complex things, blockchain is often best described by way of analogy.
Anoop Nannra, the head of Cisco's Blockchain Initiative (a programme that initially emerged out of the Cisco Strategic Innovation Group), had his own original take.
"Blockchain is like eggs," he said, to a somewhat bemused response. "Just as eggs provide cakes with structure and integrity in baking, so too does blockchain in its many possible applications," he continued. "But, critically, once the eggs are in the mix you can't take them out – the batter has been changed forever. And it's the same with blockchain."
As with any simple analogy, this doesn't tell the whole story, but it does an important job of simplifying a technology that is arguably going to have as much impact on how the world works as the internet already has.
It also points towards the versatility of blockchain as a technology – you can do a lot more with eggs than just bake a cake.
The many possible applications of blockchain were also on show at Blockchain Unchained, as a raft of start-ups working in the space presented ideas around interoperability, decentralised applications, AI communication, and crypto-currencies.
We also heard ideas for delivery drones that could communicate with each other, air traffic controllers and even people's homes to fly in prescriptions for housebound patients; or digital wallet systems in electric and autonomous cars that would not only allow passengers to pay for rides, but for the vehicles to pay for their own refills at charging docks.
All the transactions in these processes can be secured and validated on a blockchain in order to establish the trust required to make them work effectively and in a transparent and trustworthy manner.
Joining the chain 
But how do we get from this stage of exciting ideas and minimal proof points, to the world-altering era that blockchain offers the potential to usher in?

Again, it bears making a comparison to the internet here.

Interoperability was a dominant theme of the day's discussions, as people agreed that the internet has only delivered its value after moving beyond a disconnected, siloed setup.

Blockchain will be the same, and through consortium efforts like the Trusted IoT Alliance it's hoped that interoperability standards will be developed and the true potential of ideal bedfellows like blockchain and IoT will be achieved.

Ultimately, to paraphrase UCL provost Professor Michael Arthur, who also spoke on the day, we need to work together if we want to make a big difference to the world we live in.

That means fulfilling the ambitions of our academics, as well as the technologists and entrepreneurs being nurtured in spaces like IDEALondon.

If you're interested in hearing more about blockchain or attending one of our events, find us at @IDEALondon.

Tags: