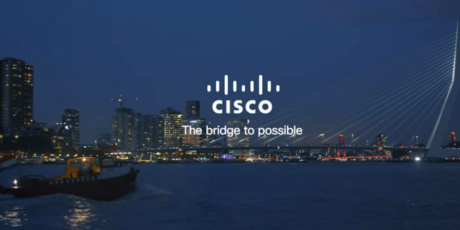 Cisco UKI
Why Cisco? Why Now?
Today, every business is seeking innovation, and success is measured in speed and business agility where the fast fish now eat the slow fish. Customers are transforming by innovating:
All of this, whilst maximising shareholder value by maintaining the profit and revenue streams from core businesses whilst transitioning and pivoting ready for new opportunities to create new forms of value.
The need to change is well understood, but too many companies see transformation as an episode they must endure, just like weathering a storm. Organisations need to perpetually evolve, as business model reinvention occurs every 1 – 3 years and lightning can and will strike the same place twice.
Customers are building the next-generation of digital experiences. Applications anywhere, any time with secure access to any information – Users, Devices, Applications and Data are changing constantly.
Cisco are helping customers achieve business agility – the capacity to change – by building an Architecture that securely connects any user, on any device, on any network to any application.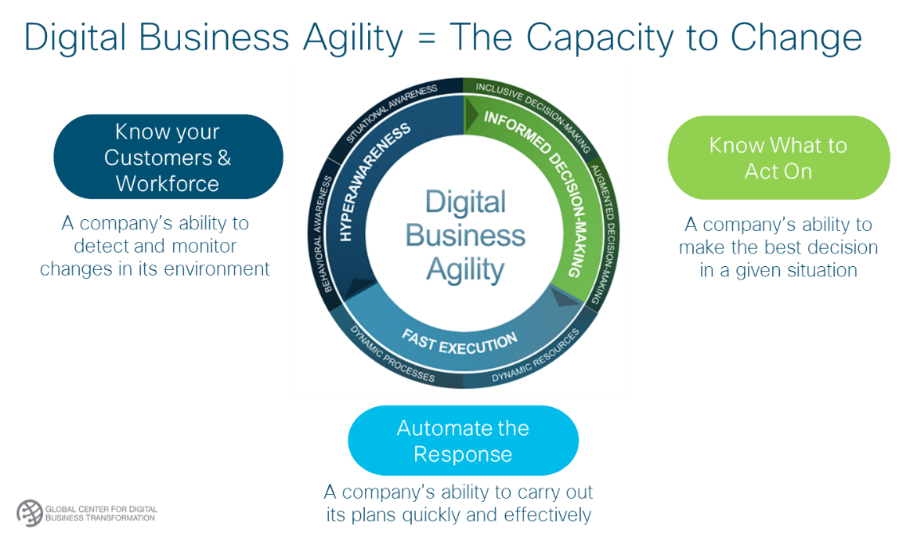 Customers need to simplify and scale IT Operations to deliver the customer experiences that are demanded from the business today, streamlining operations and doing more, with less manual tasks. The amount of devices connected to your business today is exponentially greater, and providing secure access, providing certainty of experience for employees, customers and guests, and speed is critical.
If you could gain analytical insights into connected people, such as visitors, guests and employees and things such as sensors, smart devices and other assets, it will help business to make better informed decisions. With Cisco, you can.
Many of our customers have embraced cloud, to drive speed and innovation, where applications, and data is delivered, and managed by third parties. However, these same customers have realised that 'relocating' to the cloud is somewhat problematic, and often now manage two environments, the legacy and new (cloud native). With Cisco, we can create the bridge. We can bring the tools to manage these environments whilst creating a new foundation, underpinned by modern IT systems, with characteristics such as flexibility, scale and optimised cost control.
Whilst managing transformation, customers need to unlock the Power of Data. Gain valuable insights anytime, anyplace to inform real-time decisions. Customers demand flawless performance and they're loyal to the brands that deliver it. That's the new reality and with Cisco, you can.
At Cisco we recognise that you win or lose on customer experience. Our collaboration portfolio serves over 300 million people worldwide and our mission is to create the Ultimate Experience for both customers and employees.
Our experiences make you feel like you're in the same room with someone even when they're thousands of miles away. Now with Cognitive tools we are bringing intelligence and context to the user across calling, video, meetings and Contact Centre solutions. It will become the foundation to deliver massively personalised experiences and will transform how we work.
And finally, Security Everywhere – Is your security effective? In a world with more data, more users, and more services, there's more to protect. Meanwhile, cyber threats are constantly evolving, getting smarter and more sophisticated. What's the answer? The traditional approach has been to bolt on the latest threat protection product in the hope that adding to the patchwork of security solutions does the trick.
In reality, an integrated approach is needed with industry-leading threat intelligence. Cisco gives you the scope, scale, and capabilities to keep up with the complexity and volume of threats. Only with Cisco can you attain effective network security to face tomorrow's evolving threats.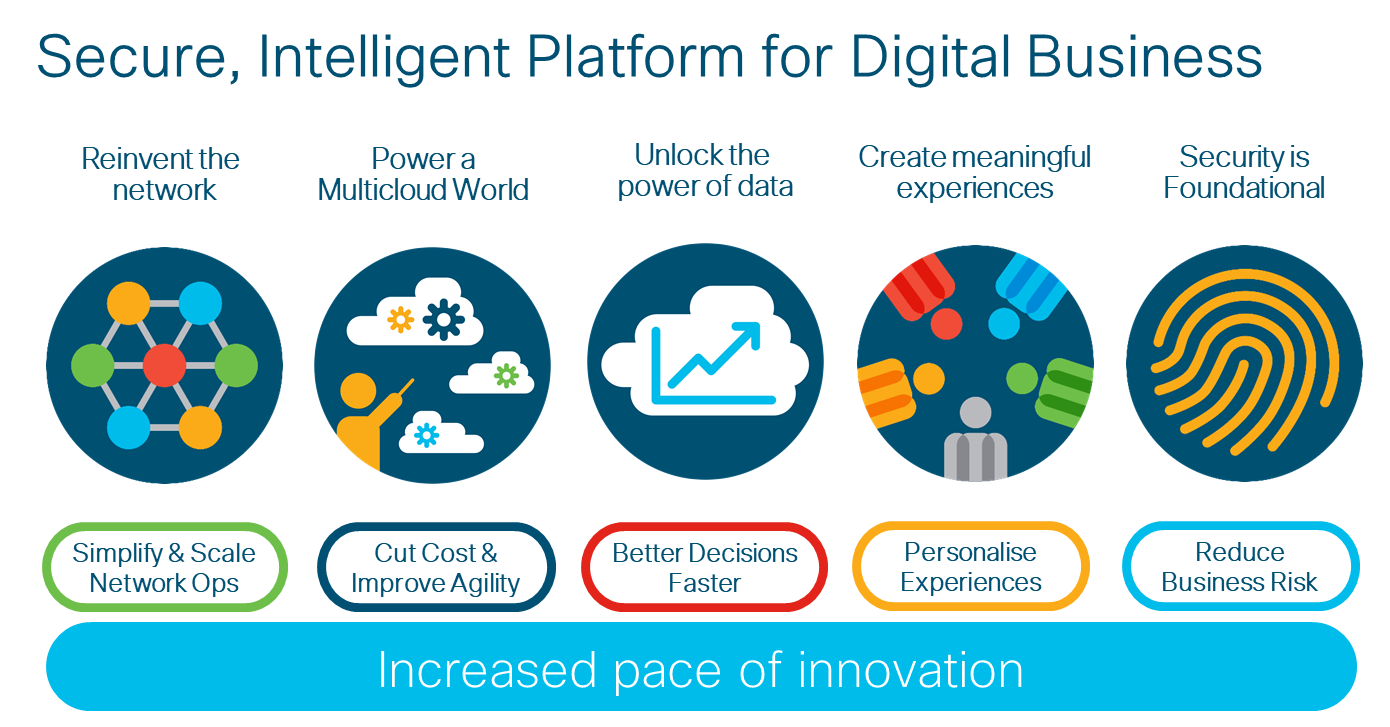 In summary, Cisco gives you a solid foundation for digital transformation. We bring software, processes, and systems together in a digital-ready infrastructure that is simple, intelligent, automated, and highly secure.
Simple – Cisco makes things simple. Our products and services are cloud ready with flexible consumption models;
Intelligent – We provide analytics to unlock the value of data. Its insights will help you make rapid decisions;
Automated – We can automate many parts of your business to help you become more lean and agile;
Secure – We help secure your infrastructure from end to end so you can detect and remediate threats quickly.
---
Additional Information
Simplify and Scale Network Operations:
Enabling Multi-Cloud:
Better Decision Faster and business insights:
Personalising Customer Experience and Employee Engagement:
Reducing Business Risk and enhancing security:
---
Customer case studies
Meraki – Simple Cloud Managed IT

AppDynamics – Business Insights

DC/Multicloud

Webex – Ultimate experiences

Network Transformation

Tags: