Digital Transformation
What makes a living, breathing, smart city?
The idea of a city being a living, breathing organism isn't a new one. In fact, the German urbanist Hans Reichow wrote about it back in 1948, comparing a city to an organism that is autonomous, and is "haemostatic, self-repairing and regulated toward a dynamic balance."
Smart cities owe a lot to this idea of being like a living organism. Systems must be joined up to a central nervous system; and citizens need to be able to move freely, like blood flowing around a body.
It's no surprise then that in 2016 smart cities are predicted use 1.6 billion connected devices, a 39% increase compared to 2015, according to research from Gartner. In 2018, the figure is expected to jump to more than 3.3 billion things.
We're starting to see signs of life – by more and more things becoming joined up. Does this mean that smart cities have finally arrived?
No…at least, not yet.
Right now we have cities that are already looking at interesting areas such as smart parking, monitoring healthcare, energy and environmental systems.
The truth is, nobody is yet bringing all this together in a truly smart city. What's missing is the integration piece. Truly smart cities monitor themselves, control themselves and make people happier. It behaves like an organic system.
Take a look at what we're developing in Glasgow right now with the CONSERVE project. Funded by Innovate UK, the UK's Innovation agency, the team at Cisco's CREATE laboratory are looking to see how the internet of things (IoT) could tackle the cost of flooding to the country. If successful, this will go further than just rising waters, and it could be applied to wider environmental catastrophes, operating as one living, breathing system.
How do we make all this work?
The way to successfully introduce technology is not to try and alter people's behaviour by 'educating' them. The technology needs to happen in the background from a user's experience. They shouldn't even be aware of the change – what they want to see simply is an improvement to services.
When looking to introduce new technology into a smart city environment, I see three clear steps:
Cut costs – Get rid of things that cities don't need to provide. This money can be reinvested in new areas.
Streamline processes – There are many things that are taking longer than they should. We can do these things better and faster.
Transform what people do – Provide people with better ways of doing things. Their commute, their healthcare provision, their entertainment and so on.
Our experience working with authorities around the world is that we can't rely on citizen satisfaction or altruism to provoke change; there needs to be a commercial model to motivate and benefit service providers. Just look at Citymapper – five years ago it launched in London, using data provided by transport providers. Now it's in 29 cities and has just raised £28 million in a new funding round.
What are the priority areas for making cities smarter today?
The smart cities have to address the problems that already exist. These include more efficient transportation, amazing connectivity, a more social interface, and more effective citizen services.
The key thing is bringing together disparate authorities responsible for areas like transportation, healthcare and education. We need to harmonise systems and share data more readily.
Looking a little further forward, a major area of advancement lies in lighting. Lots of cities are already working on this. Better, more intelligent lighting can be a stimulant for many of the other factors that improve quality of life for citizens.
Over the next ten years, we'll see major advancements in autonomous vehicles. Not the kinds you see in movies flying around the skies, but in areas like buses, trams and trains. There's also lot of traction now in connected vehicles. An area that most manufacturers are already working on lies in collision detection between cars. Again, there needs to be data integration with city authorities, providing other benefits like reducing congestion and improving air quality.
Cisco is working with cities today on these solutions and we feel that we're not far away from creating cities that could be regarded as truly 'smart'.
These will be cities that combine different technologies to provide better citizen services, security, transportation and health.
But as we've already seen so far, this can only be achieved by multiple partners working closely together – for commercial and altruistic benefits – to realise the potential.
How can smart cities improve our quality of life? Check out this blog from my colleague Stu Higgins who explains all.
See why there's never been a better time to build smart cities of the future here.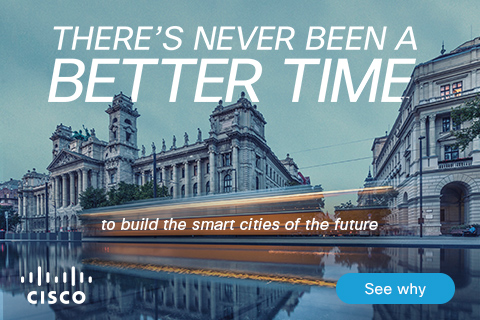 Tags: